Laboratory Services
Our blood bank, is divided into various sections:
Donor services

Apheresis services (donation and therapeutic)

Serological Laboratory

NAT lab

Component processing laboratory

Cross match and issue section

Immunohematology laboratory
DONOR SERVICES:
Committed to motivation, recruitment and retention of regular voluntary blood donors. Blood donations are taken both In-House (At Blood Centre) and at camps organized across NCR Region in association with various Government, Defence and Non-Government Organizations.
Donor Services

Year

Total No of Units Collected

Total No of Camps Organized

2018

33266

105

2019

51470

115

2020

38021

73

2021

36078

44
Timings for blood donation at Main Blood Bank :: 
| | |
| --- | --- |
| Monday to Friday | 9.00am to 5.30pm |
| Saturday | 9.00am-4.30pm |
APHERESIS SERVICES:
Apheresis is separation of whole blood into components. It is done by a specialized equipment celled 'Cell Separators'. It has both blood donor and therapeutic applications.
Donor Applications:
Collection of Single Donor Apheresis Platelets (SDAP) which are used for transfusion in patients with thrombocytopenia and Source Plasma, which was used extensively in COVID-19 pandemic as Convalescent Plasma when collected from those recovered after SARS CoV-2 infection.
Therapeutic Applications:
Used for Therapeutic plasma Exchange (TPE) in various conditions, Lipid or LDL Aphereis in patients with pathological triglyceride levels, hematopoietic stem cell harvest for bone marrow transplant, red cell exchange and others.
Same therapeutic principle in used, often in addition with Glycosorb to bring down the level of ABO antibodies in patients due to receive ABO incompatible renal graft.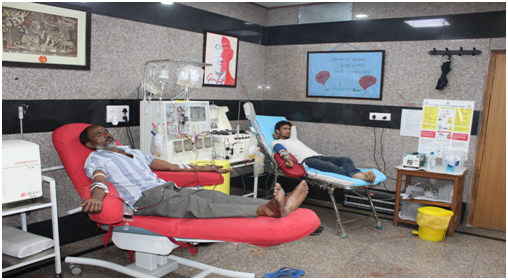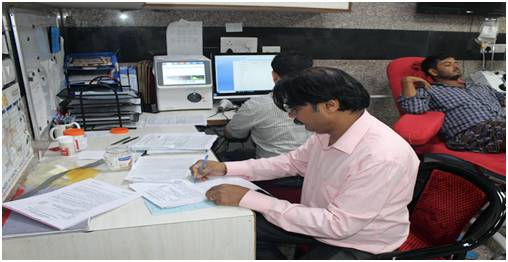 SEROLOGY LABORATORY:
Blood collected from healthy donors is screened for infectious markers of Hepatitis B, Hepatitis C, HIV and Syphilis using Chemiluminiscence technique and Malariausing rapid antigen testing. These tests ensure high sensitivity and specificity and are as per the national mandatory guidelines. The donors testing reactive for any such viral markers are informed about the test results, counseled and referred for treatment.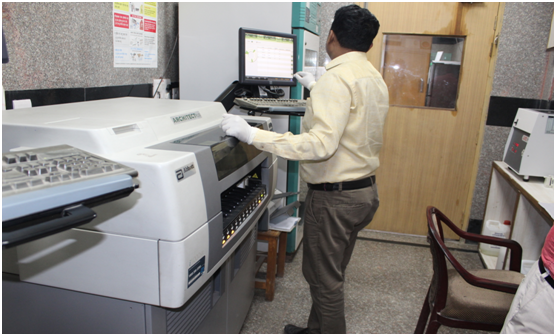 NAT LAB:
We were one of the first institutes to start screening of all the collected blood units by nucleic acid testing using ID-NAT, which was inaugurated in 2008. During all these years, we have been upgrading the lab with newer technologies as and when they were available. This lab is fully automated with versatility, user-friendly software while minimizing lab space and minimizing operator interaction.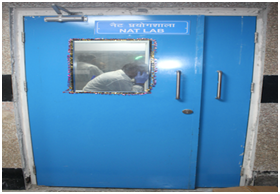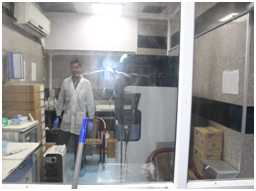 COMPONENT PROCESSING LABORATORY:
DrAmbikaNanu started component preparation in the 1970s. We are one of the transfusion services who are processing almost 100% of the collected blood into components. The following components are available round the clock:
-         Packed red cells
-         Fresh frozen plasma
-         Platelet concentrates
-         Buffy coat pooled platelets
-         Cryoprecipitate
-         Cryo-poor plasma
Following modifications are also available on request of clinician:
-         Leucodepleted red cells
-         Leucodepleted platelets
-         Irradiated blood and blood products
-         Pediatric units
-         Blood for intrauterine and neonatal exchange transfusions.
Quality control of all blood products is done regularly as per the regulatory guidelines.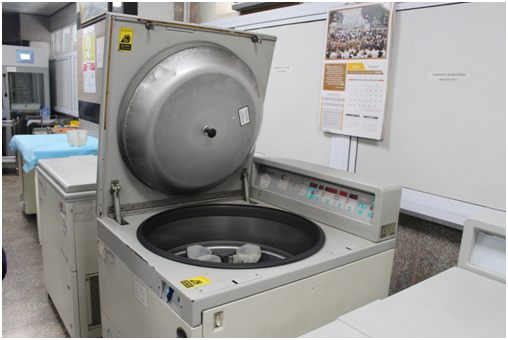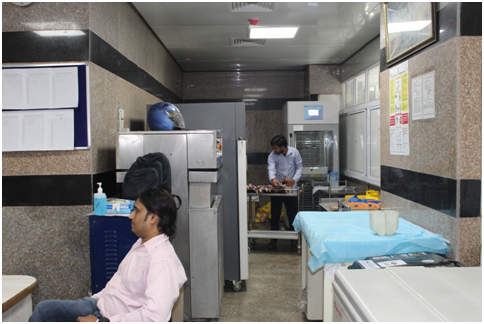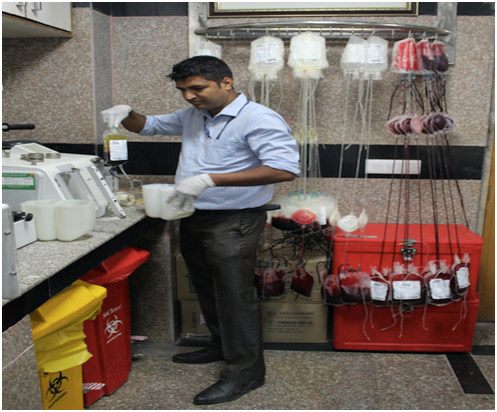 CROSS MATCH AND ISSUE SECTION: 
CrCross match and issue section deals with request for different blood components from clinicians. Packed red blood cells are issued after screening of irregular antibodies and a full cross match. Platelets and plasma components are issued as per patient requirement.The turn around time varies from less than 15 minutes for emergency transfusion to 4-5 hours for routine cases.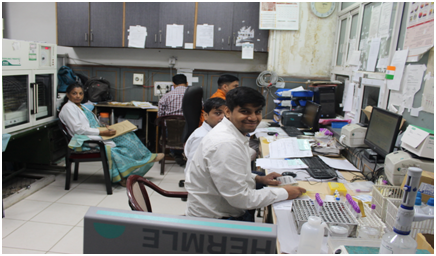 IMMUNOHEMATOLOGICAL LABORATORY:
The department started performing antibody screening from the year of 1988. Currently, the laboratory is equipped with fully automated immunohematological analyzer for blood grouping and antibody screening which is based on Erythrocyte Magnetization technology, which is done for all the patients.The laboratory also performs various tests such as DCT, ICT, resolution of various blood group discrepancies, antibody identification, work up of transfusion reactions, saliva secretor status, adsorption, elution studies and immunohematological support in various clinical conditions such as AIHA patients, multi transfused patients and various solid organ and bone  marrow patients.