International Contribution of Repute of Dr Sushma Bhatnagar
          She attended the meeting of Lancer Commission report on Palliative Medicine as member of the implementation task force of the recommendations around the world.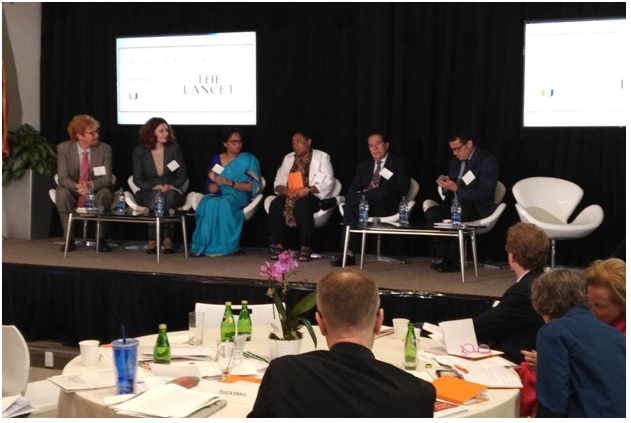 Conference Brief
International Conference on Perioperative Care of Cancer 2017
The Department of Onco-Anaesthesia and Palliative Medicine, DR BRA IRCH, AIIMS, New Delhi had organisedthe first 'International Conference on Perioperative Care of Cancer'. This educational program was held at JawaharLal Nehru Auditorium, AIIMS,the apex tertiary care hospital of New Delhifrom 14-15th October 2017 over a period of 2 days.
The conference theme was 'Perioperative care of cancer patients - What's New'. It was concerned with the role of an individual healthcare provider in the area of perioperative cancer care. Perioperative care is gaining an utmost importance as evidences are suggesting an association between the perioperative care and the cancer recurrence.It included 65 faculties and 200 participants from different parts of the country and the world.In this special gathering, faculties from all over the country and world shared their vast and rich experiences. The chief faculties involved in this program were Dr Bernhard Riedel (Professor, University of Melbourne, Australia) and DrVijayaGottumukala( Professor, MD Anderson Cancer Centre, Texas, USA).
The aim of the program was to learn evidence based practical knowledge in standards of cancer care and to recognize the health needs of cancer patients to improve their quality of life. The ultimate goal was improving patient outcome and satisfaction perioperatively.
The target population for this course were all the health care physicians of India involved in perioperative cancer care from various specialities like anaesthesiology, medical oncology, surgical oncology, radiation oncology, radiologist, pain and palliative care physician. The program provided opportunity to bring together medical professionals from various specialities to participate in this interactive and clinical session and share their experiences in perioperative cancer care.
The program journey was divided into 10 sessions/panels over a period of two days with each session consisting of 1-3 lectures. Every day, the program started at 8:00 am in the morning and finished at 6:30 pm in the evening.
The first day was preceeded by the preconference workshop of 5 hours on Ultrasound guided nerve blocks for pain management and Ultrasound for airway and ICU management.Around 40 candidates had registered for the workshop. The workshop was preceeded by interactive lectures on USG knobology, basics of USG for nerve/plexus block and USG basics for airway and chest assessment. This was followed by5-minute video session onvarious interventional blocks for cancer pain management like brachial plexus, TAP Block, rectus sheath block, caudal / lumber epidural block, paravertebral nerve block and intercoastal nerve block. There were 6 skill stations of 30 minutes each that are as follows:
1.      Airway assessment by Ultrasound
2.      Ultrasound in ICU including lungs, pleura and heart
3.      Upper limb Blocks: Brachial Plexus Block, Radial, Ulnar and Median Nerves
4.      Lower limb Blocks: Femoral, Sciatic and Popliteal nerve block
5.      Abdomen: TAP, Rectus Sheath, Celiac Plexus and Hypogastric Plexus Block
6.      Caudal / Lumbar Epidural block and Paravertebral Nerve Block
The main highlights of the program on the first day were:
1.      Introduction of Onco-Anaesthesiology as a super-speciality
2.      Pre-assessment for cancer patients
3.      Prehabilitation
4.      Airway assessment and management in difficult airway
The workshops were followed by lecture sessions. After a brief welcome and introduction, the program started with the Introduction of Onco-Anaesthesiology as a super-speciality. The program further moved on to the pre assessment and optimization of comorbidities in cancer patients. The last session was on airway assessment and management in head and neck cancer patients and airway considerations in paediatrics.The participants were given opportunities to ask for any querries from the faculties at the end of the lectures . The delegates were also guided on applying the clinical knowledge practically depending on the availability of the resources. Finally, the first day of the conference ended with the inauguration followed by gala dinner.
The main agenda of the program on the second day were:
1.      Multidisciplinary team approach
2.      Recent advances in techniques of perioperative cancer care
3.      Anaesthesia for various cancer surgeries
4.      Onco-critical Care
5.      Anaesthesia and cancer recurrence
6.      Palliative Onco-surgery
7.      Perioperative cancer pain management
8.      Need for super-speciality and society for Onco-Anaesthesia
The highlights of the second day were recent advances in perioperative cancer care, onco-critical care and perioperative pain management. The session also touched the untouched topics like cancer recurrence, modulating the adrenergic-inflammatory-immunomodulatory pathway for optimal cancer surgery outcomes and opioid induced hyperalgesia. The evening session included persistent post-surgical pain and thesafe use of opioids. This wonderful program ended with the same initial topic of discussion on the  need for superspeciality and society for Onco-Anesthesia. Finally, the program dispersed  with the vote of thanks and high tea.
Each session was followed by submission of feedback form in order to assess the effectiveness of the program and for future improvement. Every participants and faculties were provided with the book on 'Update in Onco-Anaesthesia' contributed by many national and international anaesthesia specialists in this area. The session ended and the participants dispersed to various parts of the country in the hope that their knowledge will  bring a change to the perioperative cancer management.
This unique program was a great success. The hard work and the sincere efforts of both the faculties and the participants were the key factors for success of this program. It also motivated many anaesthetists to pursue onco-anaesthesiaspeciality as a career. Hope that the delegates will apply the knowledge learned through this program in their day to day clinical practice and will make a difference at their centre.
Glimpses of the conference: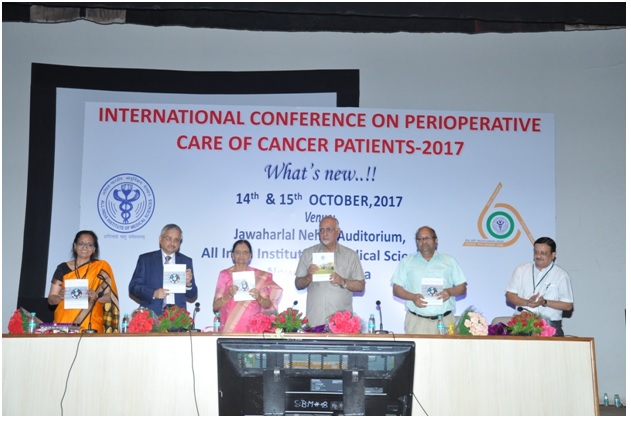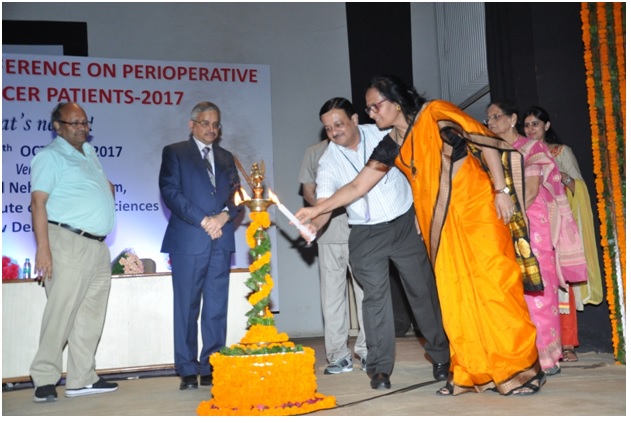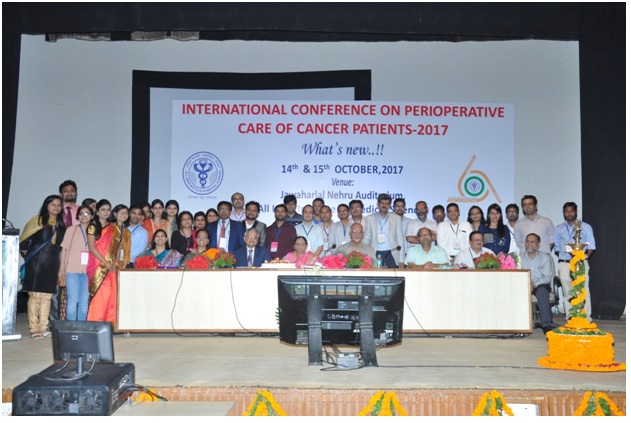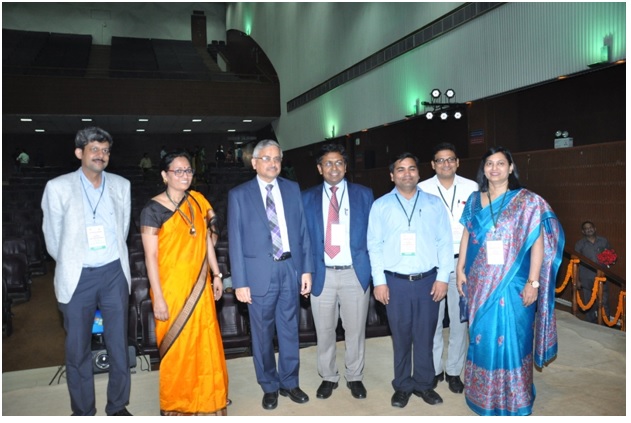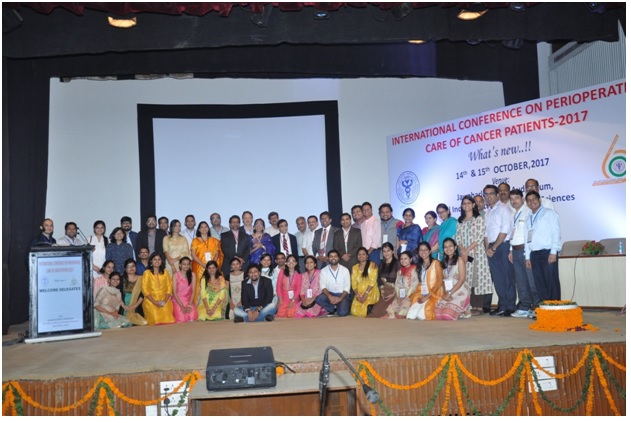 Conferences Brief
IAPCON 2018
The successful mega event of the Silver Jubilee International Conference of Indian Association of Palliative Care 2018 was held at AIIMS, New Delhi from 23rd -25th February, 2018. As asserted in the conference theme, "Create, Communicate and Collaborate", the event provided anexceptional oppournityfor the Doctors, Nurses, Social workers, Counselors and Researchers from different parts of world to discuss how to create, collaborate and communicate new ideas and to facilitate the integration of palliative care in the multi-disciplinary management of patients across healthcare systems.
The conference was organized by the Dr. B.R. Ambedkar Institute Rotary Cancer Hospital of All India Institute of Medical Sciences in academic collaboration with renowned international and local organisations such as Stanford University (USA), Cardiff University (UK), International Association of Hospice and Palliative care (USA), Indo-American Cancer Society(USA), Ministry of AYUSH,  Pallium India, CAN Kids, CAN Support. The scientific program comprised of 18 scientific sessions and 13 plenary sessions which were held over period of three days from 23rd -25th February, 2018. The conference was anteceded by11distinctpreconference workshopstargetingdelegates from different professional backgrounds attending the conference. Various competitions including debate, quiz, oral, poster, art poster and slogan presentation with intriguingprizes that constantly kept delegates in high spirits were held during the conference.
The 11 elucidating pre-conference workshops, led by famed national and international were held on 21st and 22nd February, 2018.The details of the workshops are as described below:                               1.EPEC India Trainers Workshop ((Education in Palliative and End-of-Life Care): aim to teach palliative care competencies, train the participants in effective educational techniques, case-based teaching, role-play, interactive lecturing and video-based learning.                                        2.Availability and Rational Use of Opioids:identification of barriers and development of action plans to improve access to and availability of opioids for legitimate medical use.                                                             3.Integration of palliative care in pediatric/neonatal intensive care: development of communication skills with children and their caregivers and advanced management of pediatric pain and intractable symptoms along with end of life care in PICU.4. Ultrasound guided palliative care intervention:elucidated bedsideUltrasoundguided palliative care interventions to improve symptomsand quality of lifepatientsreceiving palliative care.                                     5.Mindfulness Integrated Cognitive Behaviour Therapy (CBT) in Palliative Care:demonstratedMindfulness-Based Interventions and Mindfulness Exercises (Raisin Exercise, Mindful Walking, Mindfulness of Sound and Mountain Meditation).                                                                                              6.PC-PAICE India QI Improvement Workshop:focused on in person didactics to prepare teams for intervention, implementation and evaluation, as well as team building with a mentor.                                 7. Improving Dialogues - An Interactive Workshop for Physicians on Communication:focused oncommunication in difficult situations-Breaking bad news, Collusion and Denial.8.Research methodology workshop: helped early career researchers to turn their research ideas into research protocols through a persuasive, exhaustive session andfocused on Mixed Methods research in palliative care.9. Nursing issues in palliative care10.ELNEC session for nurses (End of Life Nursing Education Consortium):focused on Pain and Symptom Management in Nursing and Ethical Issues in Palliative Care Nursing.11.Workshop by AYUSH-Ayurveda, Yoga and Naturopathy, Unani, Siddha and Homoeopathy: focused on how to Integrate AYUSH into Palliative Care.
After the completion of pre-conference workshops on 22nd February, 2018,Public lecture with open interaction- "Cancer Pain is Treatable, No Need to Live in Pain" was organized. The lecture was attended by public and conference participantsgave an opportunity to interact and strengthenawareness about palliative care and signified he role of NGOs and policy makers in bridging the gap towards an improved quality of life which will be devoid of suffering.  Many college students belonging to disciplines outside healthcare put forward an engaging discussion which provided an important insight into the importance of network building and community participation with the help of youth from various professional and cultural backgrounds. This was followed by faculty welcome dinner where all the faculties were felicitated.
The multifariousscientific content of the conference included expert lectures by eminent national and international faculties. The conference proceeded simultaneously in JLN Auditorium (Hall A), Conference Hall (Hall B) and Dr Ramalingaswamy Board Room (Hall C). The first day of conference started at 8 am with oral presentation session in which six presenters presented their research work on different topics related to palliative care in each hall. These oral presentations were scheduled for three days in all three Halls. Approximately 54 presenters presented their research work over three days. As the conference progressed further,Plenary session 1, Palliative Care-Yesterday, Today and Tomorrow: The Forever Challenge by Dr Robert Twycross and Plenary session 2,Reaching those left-behind: Palliative Care for the Vulnerable Population by Dr M.R. Raj Gopal highlighted the development and the goals of palliative care. After the plenary sessions, the conference moved further with parallel sessions in all Halls. The session in Hall A focused on the history and evolution of palliative care all over the world and in India. The parallel session in Hall B included the role of interventions to improve quality of life of patients in palliative care. The parallel session in Hall C covered the role of AYUSH interventions in palliative care with the help of expert lectures onRole and integration of Yoga, Ayurveda and Siddha Medicine in Palliative Care. On one hand, parallel sessions proceeded timely inside all Halls and on the other JLN Auditorium Foyer were flooded with 74posters, out of which 10 were presented in detail to 7 different judges during the poster walk session. All the conference faculty members and delegates were offered beverages including tea and coffee alongwith snacks during the tea break. After the tea break, parallel sessions continued in respective Halls. The session in Hall A focused on complex issues of palliative care in chronic non-cancer conditions and included lectures on Dialysis in End of Life Care, Challenges faced in Integrating Palliative Care in Chronic Non-Malignant Pulmonary Conditions, Palliative Care in the era of Anti-retro viral Therapy and Multi drug resistant TB, Palliative Care in Chronic Neurodegenerative Conditions and Palliative Care in Chronic Heart Failure. The parallel session in Hall B was on the role of complimentary therapies like Philosophy, Spirituality, Psychotherapy, Occupational Therapy and TENS Therapy in palliative care. At the same time, the session in HALL C explored various issues related to research in palliative care. All theconference attendees then headed for the mouthwatering lunch during the lunch break. After the completion of the lunch break,plenary sessions on Team-working, Team-building, Searching for the Ideal Palliative Care Model and Celebrating 25 years of Symbiotic Creativity, Collaboration and Communication were held. As the plenary sessions got over, sessions on Opioids in different settings, Caring for care givers and Physiotherapy intervention in palliative care proceeded in Hall A, B and C respectively. The conference moved further with thrilling Quiz competition in which one team each from north, south, east and west zone competed with one another. The inaugural ceremony immediately followed the completion of quiz competition and was graced by the presence of distinguished dignitaries .The exhaustive day ended with the delicious dinner at the conference venue.
The second day of academic event started at 8 am with six oral presentationson different topics related to palliative care in each hall. The oral presentation session was followed by plenary sessions on Research and Publishing in Palliative Care, Challenges and Opportunities for Introducing Early Palliative Care in Cancer Care and Create, Collaborate and Communicate: the 101 of Establishing Collaborative Programs. In the meantime, 75 posters were mounted in the JLN Auditorium Foyer and were judged during the poster walk session. The excitement surged further with the heated debate competition on "Inclusion of Palliative Care Concepts in Non-cancer Conditions is a Threat to Medical Specialists". After having delectable lunch, all the conference attendees assembled in Hall A for plenary sessions on Global Impact and Need for Sustainable Palliative Care Education and Training, Many Fears and Phobias in Palliative Care - Assessment and Interventions and Chronic Pain Remained Unaddressed throughout the World. After the conclusion of plenary sessions, the program proceeded with parallel sessions in respective Halls. The sessions in Hall A, B and C focused on NGOs working in palliative care in India and globally, Developments in Paediatric palliative care and Nursing issues in palliative carerespectively. Though the sessions ended, but the enthusiasm of conference attendees was sky high at the Community centre of AIIMS, New Delhi during the Cultural programme,Art Poster andSlogan competition. The cultural program was preceded by Felicitation of Past Presidents, IAPC Award Ceremony of "Excellence and Leadership in Palliative Care amongst SAARC Countries" by Cancer Aid Society. The exciting day ended with the Banquet dinner.
The third and the last day of the conference started sharp at 8 with oral presentations in all the Halls simultaneously. The conference moved further with the discussion on Integration of palliative care in health care system globally during the plenary sessions on Challenges for the Integration of Palliative Care in the Health Care Systems in the Low and Middle Income Countries and Lancet Commission Report on Palliative Medicine. Just after the plenary sessions, much awaited Valedictory function and prize distribution was held. As soon as the function got over, parallel sessions started in respective Halls. The sessions on Intensive and palliative care-joining hands together,Intractable Symptom Management and 'Palliative care in action – making the change happen' - Developing the advocacy skills for your team proceeded in Hall A, B and C respectively. Finally, the last moved to its last parallel session on Integration of palliative care with other specialties in Hall A, Palliative care in day to day life in Hall B and Safe use of opioids in Hall C. The last academic session was followed by scrumptious lunch.
This unique program was a great triumph. The hard work and sincere efforts of faculties and delegates were the key factors that contributed towards success of this program. It helped delegates to interact and enrich themselves with the knowledge passed on by the pioneers in the world of palliative care from all over the world. We sincerely hope that the knowledge gained through this conference will be translate into practice, so that palliative care reaches every single suffering cancer patient in the world and relieves them of their sufferings.
Last but not the least, we took an initiative to make this academic event "plastic-free" by providing bottles in conference kits and keeping water-filled container at multiple places at the conference venue. We hope  that our small initiative will bring big change in future.