DR. CHANDRA PRAKASH PRASAD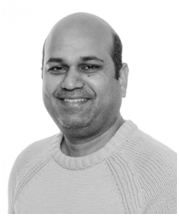 Name: DR. CHANDRA PRAKASH PRASAD
Designation: ASSISTANT PROFESSOR
Address:
Department of Medical Oncology (Lab), Room No. 411, Fourth Floor,
Dr. B.R. Ambedkar IRCH, AIIMS, Ansari Nagar, New Delhi-110029
Tele: +91-11-29575430
E-mail: यह ईमेल पता spambots से संरक्षित किया जा रहा है. आप जावास्क्रिप्ट यह देखने के सक्षम होना चाहिए. ; यह ईमेल पता spambots से संरक्षित किया जा रहा है. आप जावास्क्रिप्ट यह देखने के सक्षम होना चाहिए.
Research Areas:
Canonical & Non-canonical WNT signaling
Cancer cell Metabolism
Heterotrimeric G-protein and Small GTPase signaling
Cancer cell migration and invasion
Cancer Therapeutics
Research Experience:
March 2014- August 2016

:Laboratorieforskare (Laboratory Scientist), Department of Translational Medicine, Lund University, Sweden.

March 2010-March 2014

:Post-Doctoral Fellow, Department of Laboratory Medicine, Lund University, Sweden.
Awards:
Good Clinical Practice certification applied to Clinical Trial (from KliniskPrövningsledare, FOU-Centrum Skåne-2016
International Travel Grant from AllmännaSjukhusets I Malmö Stiftelse, Sweden for Keystone Symposia on 'New Frontiers in understanding Tumor Metabolism' in Banff, Canada-2016.
YOUNG SCIENTIST AWARD-2008 (Certificate & Cash Prize) from Society for Histochemistry, Europe- for the excellence in the field of Cell Biology & Pathology.
International Travel Grant from John och Augusta PerssonsStiftelse, Sweden for 'EMBO Meeting on Cellular signalling' in Croatia- 2014;
International Travel Grant from Maggie Stephens Stiftelse, Sweden for 'Wnt Meeting-2012' in Netherlands;
International Travel Grant from Charité, Germany for 'Biomedical Entrepreneurship Summit' in Berlin-2009;
International Travel Grant from Society of Histochemistry, Europe for 'Annual Meeting for Society of Histochemistry' in Switzerland-2008;
International Travel Grant fromAsia-Pacific Microscopy Committee for 'Microscopy Conference-2008' in Jeju, S. Korea
Prestigious JRF fellowship from Council for Scientific and Industrial Research (CSIR-JRF), Government of India (2002-2007)
Selected Publications:
Linnskog R, Mohapatra P, Moradi F, Prasad CP, Andersson T. Demonstration of a WNT5A-IL-6 positive feedback loop in melanoma cells: Dual interference of this loop more effectively impairs melanoma cell invasion. Oncotarget. 2016 Jun 21;7(25):37790-37802. doi: 10.18632/oncotarget.9332. PubMed PMID:27191257;PubMed Central PMCID: PMC5122349. (IF- 5.0)
Prasad CP*, Chaurasiya SK, Guilmain W, Andersson T. WNT5A signaling impairs
breast cancer cell migration and invasion via mechanisms independent of theepithelial-mesenchymal transition. J ExpClin Cancer Res. 2016 Sep 13;35(1):144. doi: 10.1186/s13046-016-0421-0. PubMed PMID: 27623766; PubMed Central PMCID:
PMC5022188. (IF- 4.357)
Moradi F, Berglund P, Linnskog R, Leandersson K, Andersson T, Prasad CP*. Dual
mechanisms of action of the RNA-binding protein human antigen R explains itsregulatory effect on melanoma cell migration. Transl Res. 2016 Jun;172:45-60.doi: 10.1016/j.trsl.2016.02.007. PubMed PMID: 26970271. (IF- 4.557)
Mehdawi LM, Prasad CP, Ehrnström R, Andersson T, Sjölander A. Non-canonical
WNT5A signaling up-regulates the expression of the tumor suppressor 15-PGDH and
induces differentiation of colon cancer cells. MolOncol. 2016Nov;10(9):1415-1429. doi: 10.1016/j.molonc.2016.07.011. PubMed PMID: 27522468. (IF- 5.331)
Prasad CP, Mohapatra P, Andersson T. Therapy for BRAFi-Resistant Melanomas: IsWNT5A the Answer? Cancers (Basel). 2015 Sep 17;7(3):1900-24. doi:10.3390/cancers7030868. Review. PubMed PMID: 26393652; PubMed Central PMCID:PMC4586801. (IF- 5.12)
Prasad CP*, Chaurasiya SK, Axelsson L, Andersson T. WNT-5A triggers Cdc42activation leading to an ERK1/2 dependent decrease in MMP9 activity and invasive
migration of breast cancer cells. MolOncol. 2013 Oct;7(5):870-83. doi:10.1016/j.molonc.2013.04.005. PubMed PMID: 23727359. (IF- 5.331)
(Total Research Publications: 20; h-index: 11; Citations: 712)
External Links:
https://www.researchgate.net/profile/Chandra_Prasad
https://scholar.google.co.in/citations?user=S0DacM0AAAAJ&hl=en