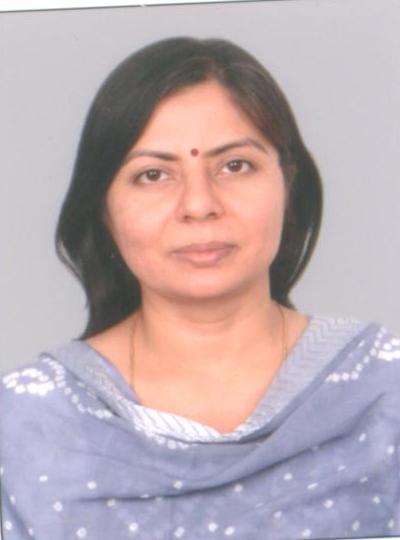 Designation:                           Professor
Office Address:                     Department of Pharmacology, All India Institute of Medical Sciences, Ansari Nagar, New Delhi  110 029 
Office Tel:                              011-2654 6476;  26593282
E-mail:                                    यह ईमेल पता spambots से संरक्षित किया जा रहा है. आप जावास्क्रिप्ट यह देखने के सक्षम होना चाहिए.
Education:                             MBBS (Lady Hardinge Medical College, New Delhi, 1995) 
                                                MD Pharmacology (UCMS-GTB Hospital, Delhi, 1999)
Departmental duties:            Engaged in teaching of  MBBS (3rd, 4th and 5th Semester), BSc Nursing (Hons), MSc, MD and PhD students
Field of Research:                 Herbal (Indigenous) Pharmacology
                                                Cardiovascular Pharmacology
                                                Nephrotoxicity
                                                Pulmonary fibrosis
Awards
AIIMS Excellence Research Award 2015 Commendation Certificate for the year 2014-2015.
ISH 2014 International Forum Poster Prize for the Asia and Australasia Region at Athens, Greece, 2014.
Research Publications
Gamad N,  Malik S, Suchal K, Vasisht S, Tomar A, Arava S, Arya DS, Bhatia J. Metformin alleviates bleomycin-induced pulmonary fibrosis in rats: Pharmacological effects and molecular mechanisms. Biomed Pharmacother  2018; 97: 1544–1553.
Khan SI, Malhotra RK, Rani N, Sahu AK, Tomar A, Garg S, Nag TC, Ray R, Ojha S, Arya DS, Bhatia J. Febuxostat Modulates MAPK/NF-κBp65/TNF-α Signaling in Cardiac Ischemia-Reperfusion Injury.Oxid Med Cell Longev. 2017;2017:8095825. 
Tomar A, Vasisth S, Khan SI, Malik S, Nag TC, Arya DS, Bhatia J. Galangin ameliorates cisplatin induced nephrotoxicity in vivo by modulation of oxidative stress, apoptosis and inflammation through interplay of MAPK signaling cascade. Phytomedicine.2017;34:154-161.
Malik S, Suchal K, Khan SI, Bhatia J, Kishore K, Dinda AK, Arya DS. Apigenin ameliorates streptozotocin-induced diabetic nephropathy in rats via MAPK/NF-κB/TNFα and TGF-β1/MAPK/Fibronectin pathways.Am J Physiol Renal Physiol.2017;313(2):F414-F422.
Suchal K, Malik S, Gamad N, Malhotra RK, Goyal SN, Bhatia J, Arya DS. Kampeferol protects against oxidative stress and apoptotic damage in experimental model of isoproterenol-induced cardiac toxicity in rats.Phytomedicine. 2016;23(12):1401-1408.
Malik S, Suchal K, Bhatia J, Khan SI, Vasisth S, Tomar A, Goyal S, Kumar R, Arya DS, OjhaSK.Therapeutic Potential and Molecular Mechanisms of Emblica officinalisGaertn in Countering Nephrotoxicity in Rats Induced by the Chemotherapeutic Agent Cisplatin. Front Pharmacol 2016;7:350. eCollection 2016.
Rani N, Bharti S, Tomar A, Dinda AK, Arya DS, Bhatia J. Inhibition of PARP activation by enalapril is crucial for its renoprotective effect in cisplatin-induced nephrotoxicity in rats.Free Radic Res 2016;50(11):1226-1236.    
Malik S, Suchal K, Bhatia J, Gamad N, Dinda AK, Gupta YK, Arya DS. Molecular mechanisms underlying attenuation of cisplatin-induced acute kidney injury by epicatechingallate. Lab Invest.2016; 96(8):853-61.

Malik S, Suchal K, Gamad N, Dinda AK, Arya DS, Bhatia J .Telmisartan ameliorates cisplatin-induced nephrotoxicity by inhibiting MAPK mediated inflammation and apoptosis.Eur J Pharmacol. 2015; 748:54-60.  
Malik S, Bhatia J, Suchal K, Gamad N, Dinda AK, Gupta YK, Arya DS. Nobiletin ameliorates cisplatin-induced acute kidney injury due to its anti-oxidant, anti-inflammatory and anti-apoptotic effects.ExpToxicolPathol. 2015;67(7-8):427-33.