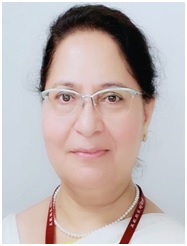 Dr. Urvashi B Singh MD, PhD, FAMS
Professor, In-Charge, Tuberculosis Division, Department of Microbiology,
All India Institute of Medical Sciences, (AIIMS), New Delhi 
Dr Urvashi B Singh's research interests include adult and pediatric tuberculosis, Drug resistant TB, TB treatment and novel regimens, TB epidemiology, TB diagnostics, novel biomarkers, HIV-associated TB, Non-tubercular mycobacteria and Mycobacterium avium-paratuberculosis. The research work includes multiple domains in Mycobacterium tuberculosis including understanding the epidemiology and pathogenesis of tuberculosis, molecular insights into spread of multidrug resistant tuberculosis, designing of novel rapid detection method for multidrug resistant tuberculosis, rifampicin resistance, molecular typing and whole genome sequencing. Her research has expanded knowledge of drug resistance mutations and molecular epidemiology of TB in India. Her pioneering work for detecting viable TB bacteria in treatment failure patients and subsequent work on therapeutic drug monitoring in this group of patients have direct policy relevance. She has ongoing research for newer drug regimens for Rifampicin sensitive and resistant TB. Her collaborative work on therapeutic use of the Indian vaccine against TB (MIP) paved the way for a Prevention of Disease vaccine trial. Her research on Biomarkers has yielded new molecules, which hold promise. Her work in the field of MDR contact tracing has yielded novel data and some novel hypothesis for relapse and reinfection TB and disease transmission. Her research has led to several patents, which are in different stages of translation to companies. One novel cost effective diagnostic tests for rapid detection of MDR and XDR TB has been validated by ICMR and will be taken up by a manufacturer shortly.
Her laboratory is NABL accredited, fully equipped to offer complete diagnostic services for diagnosis of tuberculosis (TB), Non-tubercular Mycobacteria (NTM), and drug resistance to various anti-tubercular drugs by molecular as well as conventional methods. The laboratory offers microscopy, culture (both liquid and solid), PCR and Gene-Xpert for diagnosis of TB and NTM. In addition, the conventional drug sensitivity testing in liquid and solid culture media, Gene-Xpert,Truenat, Line Probe Assay are available for detecting resistance to both first line and second line drugs. The laboratory is equipped with state of art molecular typing techniques for TB. All the techniques are quality assured.The laboratory carries out research under several funded schemes (Extramural funding support for Whole Genome Sequencing, Early Bactericidal Activity, Therapeutic Drug Monitoring, Point of Care tests (Aptamer based), Novel biomarkers, Rapid molecular drug resistance detection, Molecular Epidemiology of MDR-TB).  
She is a Member, National TB Expert Group, National TB Elimination Program, GoI; Member, Subject Expert Committees, CDSCO (DCGI), GoI; Member, Diagnostic Committee, India TB Research Consortium, ICMR; Member, Operational Research Committee, National TB Elimination Program, GoI; Member, Project Review Committees of DBT, ICMR, TDB, GoI; Member, ICMR Task Force on Genital Tuberculosis; Member Editorial Board, Associate Editor, Frontiers in Medicine, Frontiers in Public Health and Frontiers in Microbiology; Scientific Collaborations with Several International and National Institutes; Reviewer for International and National Journals; More than 150 peer-reviewed Publications; Over 50 funded Research studi; Five patents
Publications:~150; Citations: 4017; H index: 29; I10 index: 60 
Patents/Innovations:
S.no.

Title

Status

1.

An assay for identification of mycobacterial antigens in urine of pulmonary TB patients

Full patent granted

2.

Rapid detection of MDR-TB by reverse line blot assay

Full patent granted

3.

Development of oligonucleotides (probes)

For detection of XDR-TB

Full patent granted

4.

Rapid, safe, amplifiable DNA from Ziehl-Neelsen stained microscopic slides

Full patent awaited

5.

Indigenous gold standard kit for MDR and XDR-TB

Full patent awaited