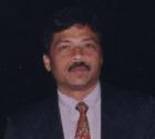 Dr. Bijay Ranjan Mirdha
Professor of  Microbiology
 In Charge Section of Parasitology , AIIMS
Ansari Nagar, New Delhi
E-mail:  यह ईमेल पता spambots से संरक्षित किया जा रहा है. आप जावास्क्रिप्ट यह देखने के सक्षम होना चाहिए.
Mobile: 9899679399
ACADEMIC  QUALIFICATION:
 MBBS MD; FAMS,
Fellow, National Academy of Medical Sciences (2015)
Fellow, Indian Academy of Tropical Parasitology (2013)
Fellow, Indian Society of Malaria and other Communicable Diseases (2007)
SPECIALIZATION:
Research Area of Interest: 
Molecular epidemiology of  Cryptosporidiosis  and other Coccidiosis
Molecular epidemiology pf Free-Living amaoeba
Epidemiology of Luminal parasites
Molecular epidemiology of Malaria and other parasitic diseases of public health importance
ADDITIONAL SPECIALTY WORK:
            Molecular diagnosis and Genomic studies of Pneumocystis jirovecii
Prof. Bijay Ranjan Mirdha, MD, FAMS, FIATP, FISCOD, is heading the parasitic research facility and laboratory diagnostic services of the Department of Microbiology, All India Institute of Medical Sciences, New Delhi, India. He completed his MD Microbiology in 1990, from AIIMS, New Delhi and  joined as  Assistant Professor on 2nd September 1993 after completion of senior residency from the parent institution  
His major area of research is primarily on Pneumocystis jirovecii pneumonia (PcP) and  Human Cryptosoporidiosis.  His team is working on molecular  aspects  Pneumocystis pneumonia   for more than a decade  and   has been successful in   delineating  the prevalence of PcP, circulating genotypes  and drug resistant strains of P.jirovecii for the first time in the  country.  His team has also  developed a  Dot –blot hybridization technique for  detection of cryptosporidiosis. His other research areas are on Free-Living amaoebae, Malaria and Luminal parasites   He has many extramural projects to his credit and guided 11 PhD and  many MD students. 
He has  been awarded  the "AIIMS Excellence Award -2013 " for his significant contribution to research  besides  numerous  other national (Bharat Jyoti Award-2008" The Best Citizens of India Award-2008 ) and international awards . He is a member of many International societies and was secretary of Indian Association of Medical Microbiology (IAMM) Delhi Chapter for a period of three years (2011-2013) and Joint Secretary of Indian Academy of Tropical Parasitology (2011-2012)
 He has published over 101 papers in peer reviewed, indexed, national  and international journals and has contributed 12 chapters in books and some in monographs.