Biography- Prof. Dr. Adarsh Kumar
Prof. Dr. Adarsh Kumar
BSc, MBBS, MD, PGCHM, FIAMLE, FISCA, FIST, FIAFM
Double Commonwealth Fellow, Dundee, Scotland UK
Professor, Forensic Medicine & Toxicology
In-charge Forensic Anthropology & Forensic Radiology Chairman Disability Medical Board, Trauma Centre AIIMS, New Delhi-110029 INDIA
Primary: +919868438856; यह ईमेल पता spambots से संरक्षित किया जा रहा है. आप जावास्क्रिप्ट यह देखने के सक्षम होना चाहिए.
011-26546467, Fax 011-26106826, 9999877146; यह ईमेल पता spambots से संरक्षित किया जा रहा है. आप जावास्क्रिप्ट यह देखने के सक्षम होना चाहिए.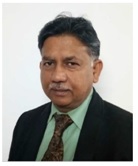 Prof. Adarsh a Gold medallist is currently Professor, Forensic Medicine & Toxicology and also In-charge Forensic Anthropology & Forensic Radiology, AIIMS, New Delhi. He is lone member from India in International Academy of Legal Medicine, British Association in Forensic Medicine, The International Association of Forensic Toxicology and Canadian Society of Forensic Sciences besides being life member of many scientific associations from India and abroad. He was awarded Honorary Diploma in Legal Medicine by International Academy of Legal Medicine at Portugal in 2009. He is the first person in world to receive Commonwealth Fellowship at UK twice in year 2011 (Forensic & Legal Medicine) and 2015 (Forensic Anthropology). He is also a Fellow of Royal Society of Medicine, London, Indian Association of Medicolegal Experts (2014), International Science Congress Association (2015), Indian Society of Toxicology (2016) & Indian Academy of Forensic Medicine (2020). He is honorary medicolegal Expert to National Human Rights Commission and Central Bureau of Investigation-topmost agency of criminal investigation in India since more than a decade where he has handled around one thousand complicated and high profile cases of death like Sushant Singh Rajput, Sunanda Pushkar, Sheena Bora,    Badayun two sisters death, Batla House encounter, Tamilnadu custodial deaths, Telangana encounter case, Unnao gangrape and murder, Gopinath munde , Rohit Shekhar Tiwari, Bhandara three sisters deaths & Nithari serial killings to name a few.
Prof. Adarsh is Visiting Faculty to Anglia Ruskin University, Cambridge, UK, National Piragov University, Vinnitsya Ukraine, National Police Academy, Hyderabad, CBI Academy Ghaziabad, National Institute of Criminology & Forensic Sciences, New Delhi & Central Detective Training School, Chandigarh. He has more than 22 years of teaching experience and medicolegal field work. Has guided 20 PhD/postgraduate students and conducted around 5000 autopsies. His PhD students have been from field of forensic toxicology and forensic anthropology who have done their MSc in Forensic Sciences from various universities. Has been examiner and subject expert in Forensic Medicine & Toxicology in various universities of 15 states of India as well as Nepal, Mauritius & New Zealand. Delivered 2 orations & about 100 lectures in various scientific conferences all over the world, published 75 papers, written 5 chapters in various textbooks of forensic medicine, acted as Editorial board member and peer reviewer in 20 journals of speciality from India and abroad including Romanian Journal of Legal Medicine, Egyptian Journal of Forensic Sciences, HSOA Journal of Forensic, Legal and Investigative Sciences USA, Adli Tip Bulletin Turkey, Journal of Forensic & Legal Medicine, UK, Biomedical and Biosocial Anthropology Ukraine etc. Currently also Editor of Indian Journal of Forensic Medicine & Toxicology.
Representing the country at highest level as Governing Council Member of 3 International scientific organisations viz. International Academy of Legal Medicine (IALM), Indo-pacific Association of Law Medicine & Sciences (INPALMS) & Asia Pacific Association of Medicolegal Agencies (APMLA). Earlier was General Secretary of Indian Academy of Forensic Medicine for 3 years (2010-13). Developed online courses (MOOCs) in three subjects ie Forensic Medicine, Forensic Anthropology & Forensic Serology & Biology under Digital India Mission for Ministry of Human Resource and Development which are now freely available on YouTube for learning by police personnel, forensic science and medical students all over world .
He was honoured with Commendation Certificate for his exemplary work in field of Forensic Investigations & Human Rights by National Human Rights Commission in 2014. He was awarded with Education Award for Excellence by Indo-US Global Foundation in 2016. Honoured with International Cooperation Medal by Government of Ukraine in 2020.