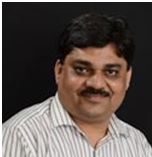 Dr Praveen Vashist- MD (Community Medicine)
MSc (Community Eye Health, LSHTM)
Professor and Head
Community Ophthalmology Department, Dr.R.P.Centre,
All India institute of Medical Sciences, New Delhi, India-110029                                                                                   
Contact details: email address: This email address is being protected from spambots. You need JavaScript enabled to view it.
Telephone number: 9999975072, 011-26593140, 9868398410
As Head of Community Ophthalmology, I have been instrumental in developing community outreach programmes and along with strengthening epidemiological research & training in the field of community eye care. The outreach eye care services includes regular primary eye care clinics through 20 vision centres in urban slums catering to nearly one million population; routine outreach camps for screening cataract and other blinding conditions in rural areas and ensuring free cataract surgeries to poor patients; school based vision screening in schools and dedicated camps for screening of diabetic retinopathy, childhood blindness and glaucoma. The community outreach services through the department have been extended to more than 100,000 people in last year.
I have been actively involved in research in community eye care and have nearly 50 publications in international and national journals. I have supervised 15 candidates for research in community eye care involving PhD scholars, WHO Fellow in community ophthalmology and post-graduates in ophthalmology. I have been Principal investigator of 17 research and community eye care projects, most significant of them are Sightsavers Innovation Fund study on developing a low cost model for screening diabetic retinopathy, Vision Delhi Project on primary eye care services in urban slums, LSH&TM study "Epidemiology of Age-related eye disease in India (INDGEN), multi-centric-ICMR study on impact of Global warming and UV radiation on ocular health and development of Operational model for utilizing ASHA (Accredited Social Health Activists) for primary eye care in rural areas.  
I have been involved in planning, implementation and monitoring in all major NPCB-surveys in last 10 years and coordinated National Surveillance Unit at RP Centre for monitoring post-operative outcomes amongst cataract patients and ocular morbidity from 22 sentinel surveillance units operating all over the country.  I have been technical support to Government of India in planning and conduct of major surveys in the country and was involved in NPCB-Trachoma Rapid assessment surveys in 2006-07, Car-Nicobar trachoma survey in 2010 and 2013. I was involved in the national blindness survey during 2006-07 undertaken in 16 districts across the country. Currently I am leading National Trachoma survey for 24 districts in the country supported by Govt of India. I am also Principal Investigator for the National Blindness Survey to be conducted in 30 districts all over the country.   
I have been actively engaged in teaching & training of community ophthalmology and have delivered more than 170 lectures as resource person/faculty in conferences and CME programmes organized by eye care organizations at International and National level. I have trained a large number of programme officers, ophthalmologists, medical officers, ophthalmic assistants and other paramedical staff working in different aspects of community ophthalmology.
1. Principal Investigator/Principal Coordinator in Research & Community Eye Care Projects: -
S. No

Project Title

Source of Funding

Year

Total Amount (INR)

1

NPCB- National Blindness Survey- 30 districts

MoHFW, GOI

2015-2018

5,28,000,00

2

NPCB National Trachoma valence Survey and Trachoma Rapid Surveys- 24 districts

MoHFW, GOI

2014-2015

1,51,55,140

3

Vision Delhi Project for strengthening refractive error services in Delhi slums- A community eye care initiative

Sightsavers

2012-2016

1,73,34,220

4

Cost effective strategies for screening of diabetic retinopathy in urban slums of Delhi- Innovation fund project

Sightsavers

2012-2014

66,51,141

5

Situational analysis, Evaluation of existing programmes for screening and Treatment for Diabetic Retinopathy

 

PHFI-Queen's Elizabeth Diamond Jubilee Trust

2013-2014

400,000

6

A pilot study on health education intervention for modifiable factors affecting myopia among school children in Delhi

DST

2013-2015

19,92,000

7

Prevalence of Trachoma in Nicobar Island and Rapid Assessment of Trachoma in Andaman districts

NPCB, Govt of India

2013

110,000

8

Study on Awareness and health-seeking practices

about common blinding eye diseases in urban slums of Delhi"

DST

2013-2015

19,52,000

9

Role of ASHA- volunteers- in primary eye care in India

LSHTM, UK

2011

70,000

10

Sentinel Surveillance Unit , Delhi under NPCB

NPCB, Govt of India

2010 onwards

300,000

per year

11

National Surveillance Unit under Sentinel Surveillance Unit programme

NPCB, Govt of India

2010 onwards

300,000

per year

12

ICMR Multi-centric Collaborative Study on the impact of Global warming and Ultra Violet Radiation(UVR) exposure on ocular health in India 2010-2014

ICMR

2010-2015

2,09,00,000

13

Comprehensive Primary eye care Services in Rural

areas of Delhi

DDJS

2012-2017

27,18,000

14

Reach in Services for the cataract and refractive error in NCR.

MAF

2010-2015

1,500,000

15

SSMI- RPC project on Comprehensive eye care services in urban population of West Delhi.

Swami Shivanand Memorial Institute

2010-2015

44,73,291

16

OEU-RPC Eye Care Services in Urban Slums in West Delhi

Operation  Eyesight Universal

2009-2013

1,080,000

17

Control of avoidable blindness by Comprehensive eye care services in Urban slum Population of Delhi

Sightsavers

International

2007-2011

37,40,000
Awards&honors:-

·         Awarded for AIIMS Excellence Research Award 2014 (Second Prize, best in clinical research) for my publication on "Rapid Assessment of Trachoma in Car-Nicobar Island" presented in the ceremony of AIIMS Annual Day on 24th September 2014. 

·         "Association of Community Ophthalmologists of India (ACOIN) GOLD MEDAL" for my services in community eye care and trachoma surveys and will be felicitated in the  Vth. Annual Conference of ACOIN  & International  Assembly  of Community Ophthalmologists in Kolkata, West Bengal , India on 01st.  November, 2014.

·         Community Ophthalmology Society of India awarded me the "G. Venkataswamy Memorial award" for the year 2014 in appreciation for exemplary individual contribution in the field of "Community Eye Care."

·         Awarded Commonwealth scholarship for the MSc Community Eye Health Course at London school of Hygiene & Tropical Medicine, London, UK. For the year 2010-2011

·         Best published paper in Indian journal of public health "Work Capacity and Surgical Output for cataract in the National Capital Region of Delhi and Neighboring Districts of North India, IJPH 52(4) Oct-Dec, 2008: 177-184.

·         Awarded Sightsavers Innovation funds project for the study "Developing a cost-effective model for community-based screening of Diabetic Retinopathy in urban slums of Delhi. "in 2012.

·         Awarded by Vision2020-Right to Sight in the 8th National Conference of Vision2020 Right to Sight India-2012 for my services as voluntary resource person in Eye care programmes of Vision 2020.

·         Appointed as Chairperson of Academic and Research Committee for ACOIN (Association of Community Ophthalmologists in India) in 2013 and 2014-16.

·         Awarded best paper presentation in Asia ARVO 2013, Delhi for the paper entitled "Incidence and progression of myopia among school children in Delhi

·         E.T. Selvam Award for Best Poster on population prevalence of corneal diseases at AIOS, 2014

·         Shri Kalu Ram Award for Best Paper in community based research (Trachoma in Car Nicobar Island)at IAPSM, 2014

·         Third Prize for poster on Burden of Blindness and Visual Impairment in Delhi at ASIA ARVO, 2013

·         Member of National Task force for Retinopathy for Prematurity, Diabetic Retinopathy and Expert Advisory Committee , Trachoma.