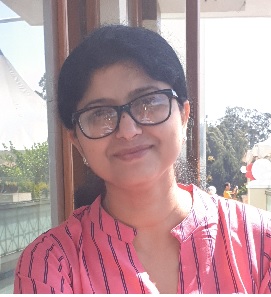 Name: Dr. Nishat Hussain Ahmed
Designation: Associate Professor of Microbiology
Email ID: This email address is being protected from spambots. You need JavaScript enabled to view it. , This email address is being protected from spambots. You need JavaScript enabled to view it. , This email address is being protected from spambots. You need JavaScript enabled to view it.
Brief CV:
Dr. Nishat Hussain Ahmed aims at working on a holistic approach for management, prevention and control of infectious diseases. She is dedicated for continuous improvement in patient care, and had been instrumental in NABL accreditation of Ocular Microbiology section. Herself a Gold medalist from Mumbai University for her exceptional performance in MD Microbiology, she is a passionate teacher and exults in teaching and mentoring undergraduate, postgraduate and super specialty medical students. Her research interests revolve around clinical research in infectious diseases, which is of immediate benefit to the patients. Notable are, her award winning works on novel subspecies of Staphylococcus hominis in blood stream infections of patients with underlying malignancy; and development of a molecular test to simultaneously detect five ocular viral pathogens. She has more than forty publications in indexed medical journals and has presented papers and delivered talks in various national and international conferences.
Qualification:
MBBS- Tirunelveli Medical College, Dr. MGR University, Tamil Nadu
MD (Microbiology)- Grant Medical College, Mumbai University, Mumbai, Maharashtra
Senior Resident- Department of Microbiology, All India Institute of Medical Sciences, New Delhi
Publications and papers presented and research:
More than 40 publications in peer reviewed Pubmed indexed international and national journals
Author of one undergraduate manual and one post graduate workshop manual
Reviewer in 10 Pubmed indexed international and national journals
More than 30 papers/ posters presented/talks delivered in international and national conferences
Awards:
2009- Dr. CK Deshpande and Mumbai University Gold Medal for obtaining distinction and highest aggregate marks in MD Microbiology
2013: Certificate of appreciation by honourable Vice Chancellor of Jamia Hamdard, New Delhi
2014: VMMC and Safdarjung Hospital "Young Scientist Award" in IAMM Delhi Chapter
2015: Invited as faculty in "IAMM Symposium" on "Vaccines" in the National Conference of Indian Association of Medical Microbiology
2018: Received award for her original work on 'Establishment of Multiplex PCR for Detection of Herpes Simplex Viruses Type-1 and Type-2, Cytomegalovirus, Varicella-Zoster Virus and Adenovirus in Ocular Viral Infections' at the National Conference of the Clinical Infectious Diseases Society
2019: Diagnostic services at Ocular Microbiology got accredited by NABL (National Accreditation Board for Testing and Calibration Laboratories), in accordance to ISO 15189:2012; certificate no. MC-3267.
Membership:
Lifetime membership of Indian Association of Medical Microbiologists
Lifetime membership ofClinical Infectious Diseases Society
Lifetime membership of Society of Indian Human and Animal Mycologists
Lifetime membership ofHospital Infection Society-India
Lifetime membership of Indian Association of Medical Microbiologists, Delhi Chapter
Member of European Society of Clinical Microbiology and Infectious Diseases (ESCMID)