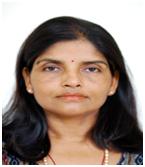 Dr. Gita Satpathy
Professor In Charge Ocular Microbiology &
Professor  & Head, Deptt. of Microbiology , AIIMS
Prof.Gita Satpathy is the Professor and Head of the Department of Microbiology at AIIMS from June 2015 and  ProfessorIncharge. of Ocular Microbiology, Dr. R.P. Centre for Ophthalmic Sciences from 1988. Dr.Satpathy  completed her MBBS from SCB MedicalCollege, Cuttack, Orissa in 1977 and MD (Microbiology) from All India Institute of Medical Sciences in 1981. She worked as Post Doctoral Research scholar in Immunology at INSERM , France in 1983-84 and in Chlamydial infections in , Institute of Ophthalmology, London, UK in 1990 and 1994.
She joined as Faculty In Charge,    Ocular Microbiology, Dr. R.P. Centre for Ophthalmic Sciences in 1988 and is continuing  ever since. Her research over  last 30 years has been on human Chlamydial infections involving eye, reproductive and cardio vascular systems. She has  worked on different aspects of eye  infections particularly on Pneumococcus, Acanthamoeba, HSV eye infections & viral epidemic conjunctivitis. She has co developed a DNA chip for simultaneous detection of 15 different  pathogens under a collaborative project. The chip has been patented in India and other countries for eye and CNS infections. si RNAs for conjunctivitis causing viruses have been developed. She has  expertise in both standard laboratory technology as well as in advanced molecular biology used for research and diagnosis of  infectious agents. She is currently working on use of metagenomics in diagnosis of culture negative infection. She was awarded the YS Narayan Rao Oration Award in Microbiology for the year 1996 from Indian Council of Medical Research andMosellioSchacter Distinguished service award(honorable mention) for the year 2010 byAmerican Society for Microbiology. She was elected as a fellow of National Academy of Medical Sciences in 2014.
           She has 139 publications in indexed journals. She has till now undertaken 14 extramural research projects  from National and International agencies as Principal Investigator and 4 funded projects from AIIMS.