Introduction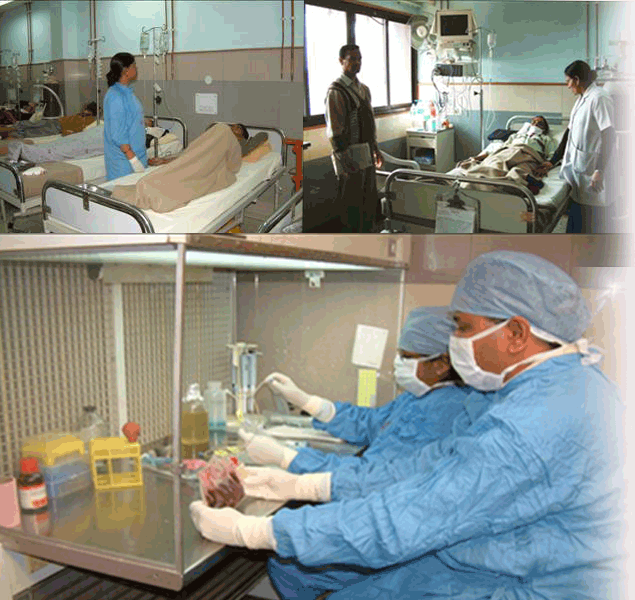 Department of Medical Oncology excels in clinical, teaching and research activities. From its inception in 1984, work-load has consistently increased: currently out of about 70,000 cases registered at IRCH per year, medical oncology manages about 37,000 by itself. In addition, medical oncology department is involved in patient care services in different clinics – including breast, Gastroenterology, Head & Neck Surgery & ENT, Pediatric oncology, Pediatric Surgery, lung cancer, ophthalmic Ca, Bone & soft tissue & Urology clinic. It has a very busy day care service where around 60 patients are managed per day. In addition, patients are admitted in the regular ward also, more than 7000 patients get chemotherapy on an outpatient basis and OPD based procedures are carried out 3 times a week.
Medical Oncology department is running a DM and PhD programme
This department has its own laboratory where many of the technologies such as RT- PCR, FISH, cytogenetics, tissue culture, and Flowcytometry etc. have already been standardized. Stem cell storage is carried out; routinely also blood component therapy is provided with the help of cell separator.
This is one of the few centres in the country to have established hematopoietic stem cell transplant programme. About 350 transplants have already been carried out to treat malignant and non-malignant hematological disorders. In collaboration with Department of CTVS, stem cell transplant program has been extended to treat myocardial Ischemia also. Currently, phase II studies are also being performed in collaboration with Dr. R.P. Centre and paediatric surgery to explore role of stem cells in the treatment of Retinitis pigmentosa and spina bifida.
We have also investigated an alternative source of hematopoietic stem cells namely fetal liver. Here in, we have demonstrated the secretion of certain cytokines which induce recovery in aplastic anemia patients.In addition, Department has spearheaded a program to reach out to the communities for cancer awareness and cancer detection. Doctors and paramedical staff of neighbouring states and Delhi have been trained. Screening program for common cancers in Urban slum dwellers have been conducted and over 10,000 people have been screened.
Medical Oncology has been actively working with various NGO's to increase cancer awareness in schools and in the communities. Medical oncology faculty has been participating in many Continuing education programs/workshops/symposia conducted by Medical Oncology on various topics regularly over the last several years including hemato-oncology, cancer screening and awareness, lung cancer, cancer team management, colorectal cancers, hematopoietic stem cell transplants etc. Many of these program were funded by WHO.
Medical Oncology has also taken the initiative to carry out research in our traditional methods, namely Pranayam, yoga, meditation and Sudershan Kriya. Research has shown beneficial effects of these techniques on brain, endocrine system and immune system. Antioxidant defence also improved following these practices. International Symposium was organized in 2002 at AIIMS to discuss these findings. Several faculty from within and outside country made their presentations, program was attended by more than 1000 participants. An International Conference on 'Expanding Paradigms: Science, Consciousness and Spirituality' was also organized in February, 2006 at New Delhi on this subject. Several faculty members within and outside country made their presentations and there were approximately 1500 participants.
Medical Oncology has also investigated the role of antioxidant vitamins to treat lung cancer. This is a rather innovative area of research; part of the work has already been published.