2022
Two days orientation programme for Faculty Members, JR and SR of Jay Prakash Narayan Trauma Center after opening of the new Trauma Centre Library.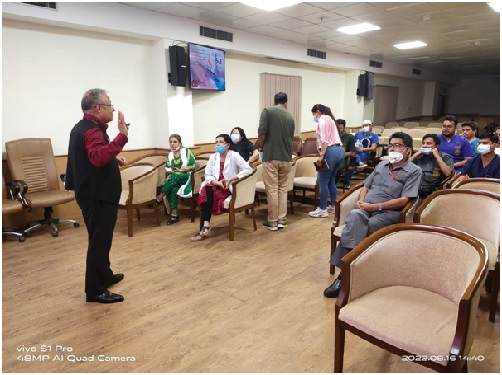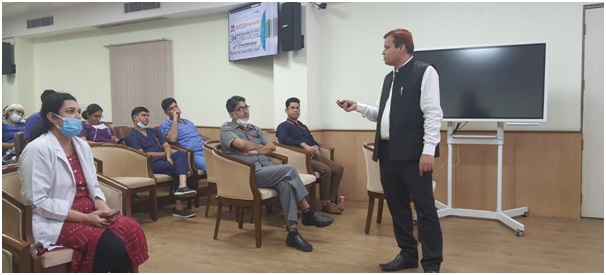 National Librarians Day celebrated with lot of interactions and deliberations by the users. I have delivered a talk on Digital Transformation in Library Service Quality. In the session, I have Prof Randeep Guleria, Director, AIIMS, New Delhi; Prof J B Sharma, Professor or Obstetrics and Gynaecology; Prof Pooja Gupta, Additional Professor, EcoToxicology; Dr Jaswant Jangra, President, Resident Doctors Association. On this occassion 3 awards were also conferred to 1 Senior Resident and 2 Junior Resident.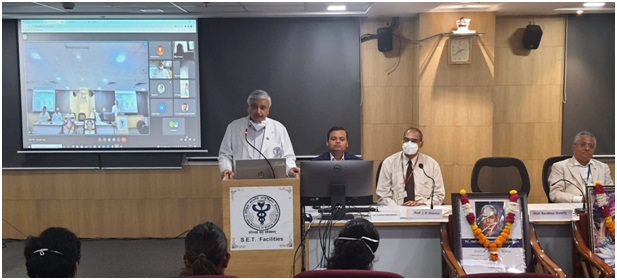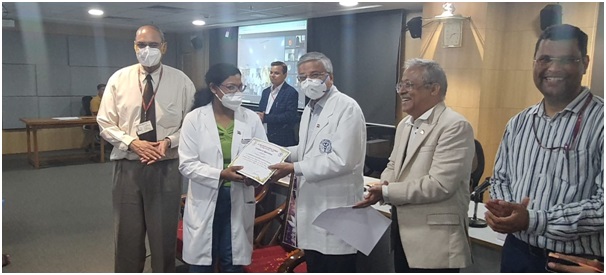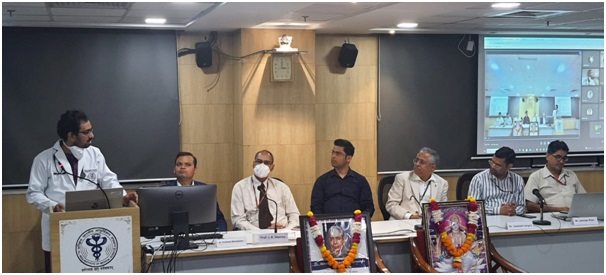 Digital Health Knowledge Connect 2022
Knowledge 4.0: Re-visioning through Co-creation and Collaboration
June 21, 2022 | Tuesday | National Cancer Institute (NCI), AIIMS, Jhajjar
Jointly organised by National Cancer Institute, AIIMS, Jhajjar and B B Dikshit Library, AIIMS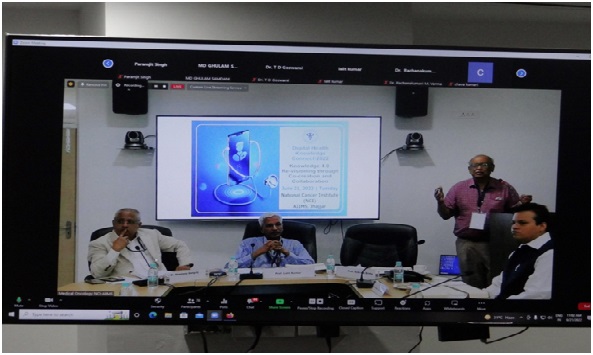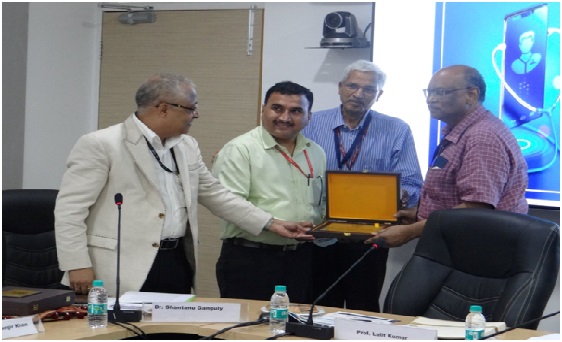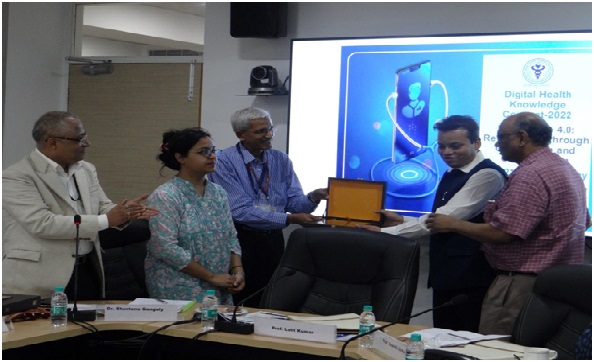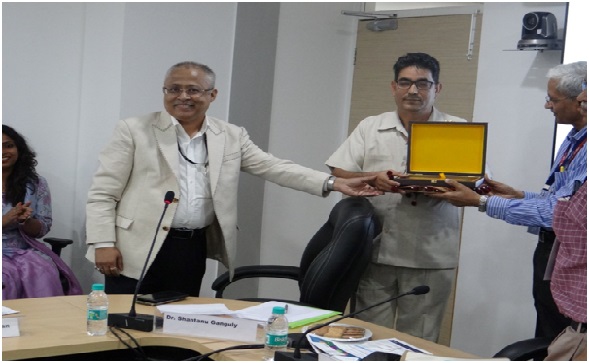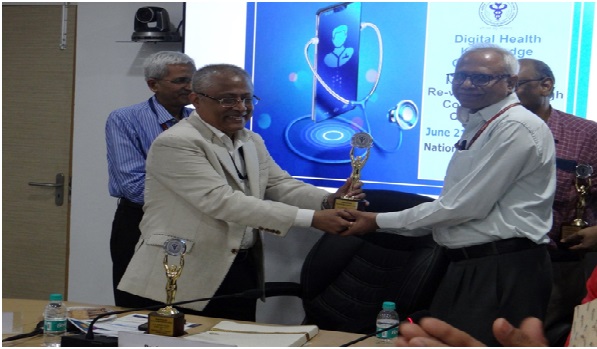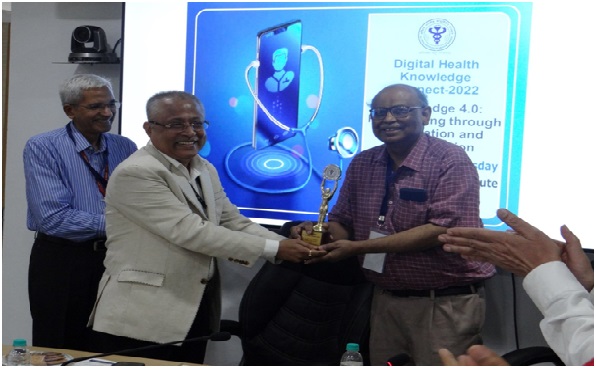 Webinar on Research Information Management Systems jointly organized by AIIMS and The World Bank on 27 April 2022.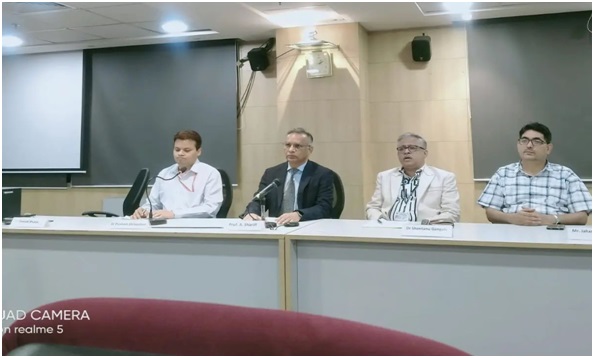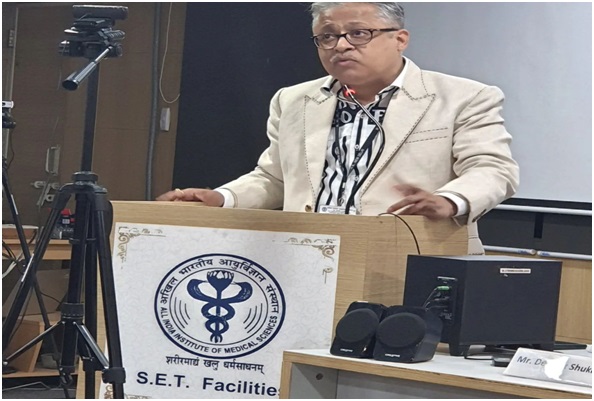 On the eve of the National Conference on Digital Knowledge Health Connect 2022: Linking Knowledge Resources and Services with Research and Practice on 25 February 2022. During this event a E-Newsletter was launched by Prof Neena Khanna, Dean (Academics) and Prof S Rajeshwari, Prof and HoD Anaesthesiology and Professor-in-Charge (Library Committee).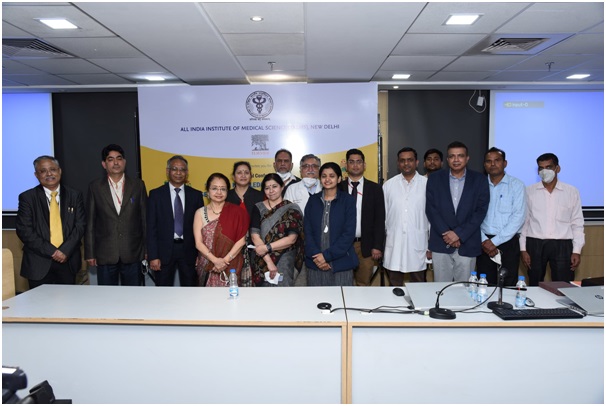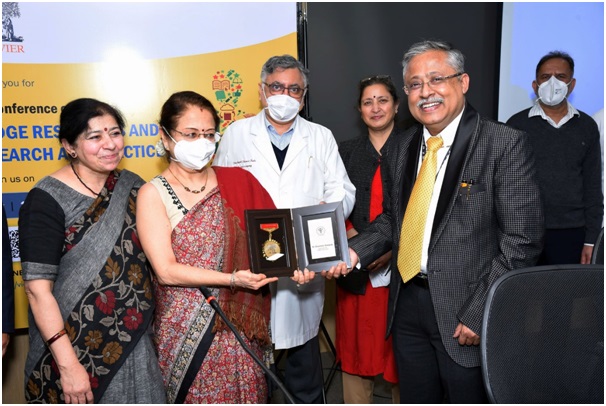 On 25 February 2022 B B Dikshit Library organised their flagship programme under the banner of Digital Knowledge Health Connect 2022: Linking Knowledge Resources and Services with Research Practice. The keynote speakers were Prof A Shariff, Professor and Head, Anatomy and Computer Facility, Dr Jagdish Arora, Adviser, NBA, Prof Barnali Roy Chowdhury, Assistant Professor, NSOU and Dr Shantanu Ganguly.
During this event we also felicitated Prof S Rajeshwari on her superannuation from AIIMS New Delhi. In the event, Dr Shantanu Ganguly received a medal for his outstanding work in AIIMS New Delhi conferred by Elsevier. A citation was also awarded to B B Dikshit Library and Dr Kanwaljeet Garg, Additional Professor of Neurosurgery and Gamma knife for his extensive utilisation of resources of B B Library.
The event was attended by leading faculty members of AIIMS fraternity including Dean Academics, Associate Dean Research, Dean Examination,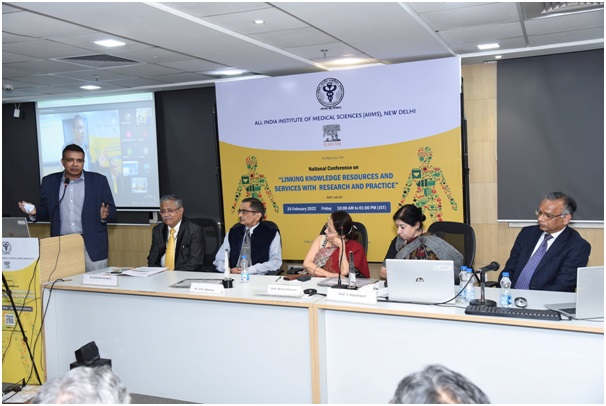 On 17 February 2022, we had our last Library Committee Meeting under the chairmanship of Prof S Rajeshwari, Professor-in-Charge (Library), Prof and Head of Anaesthesiology, Pain Management and Critical Care as she is superannuating this month. Some of the pragmatic issues were discussed at length. First time all the esteemed faculty members present physically in my board room. After that. B B Dikshit Library organised a get together with all the other senior officials, faculty, Dean and Registrar at B B Dikshit Library.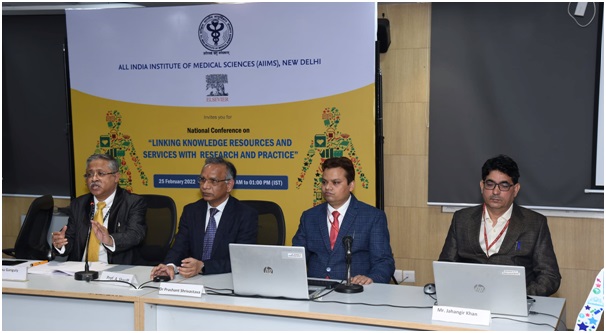 2021
Delivered an invited talk at Faculty Council Meeting of AIIMS Doctor's Fraternity. In the picture, Prof Randeep Guleria, Director, AIIMS and Prof Anita Saxena, Dean (Academics).  
Orientation Programme for Department of Gynaelogy and Obstetrics  
With all the Doctors fraternity of Gynae and Obstetrics of AIIMS. Seating with me is Prof Neerja BhatlaHoD. It was an exciting and interesting experience to address their queries and also delivering talk on Health Literacy. 
2019
1. Librarians' Day Seminar on "Utilization of E-Resources in Scholarly Communication, 09 AUGUST, 2019, 10.30 AM-03.30 PM.
2. OVID Day workshop on Scholarly Communication, July 11th, 2019 at 10:30 AM to 05:30 PM.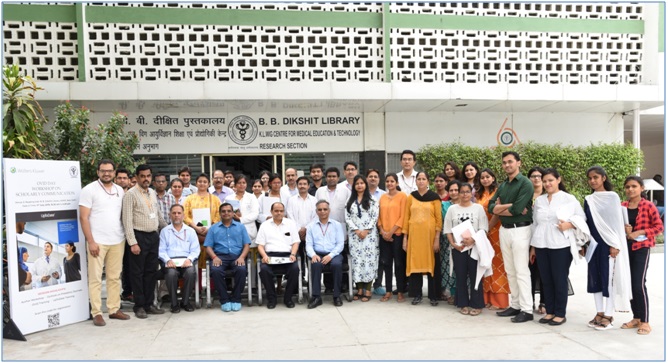 3. Seminar on "Emerging Trends of E- Learning in Health Care System".January 28, 2019 at 10:30 AM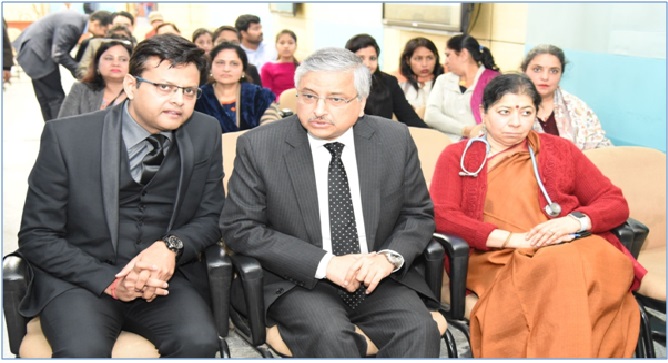 4. Access to Medical literature in Electronic Environment (AMLEE 2019), 02 to 03 Sep 2019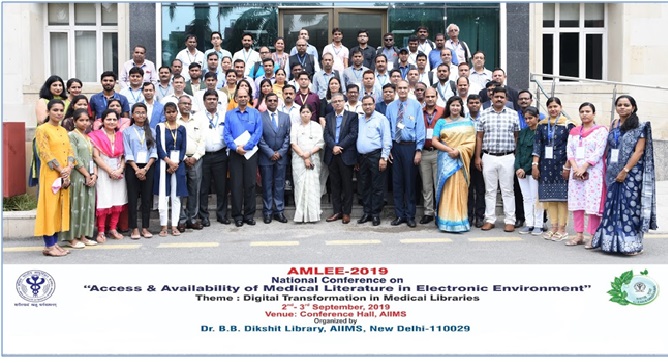 5. "Orientation Program for AIIMS Resident Doctors" in Collaboration with RDA AIIMS (April 2019)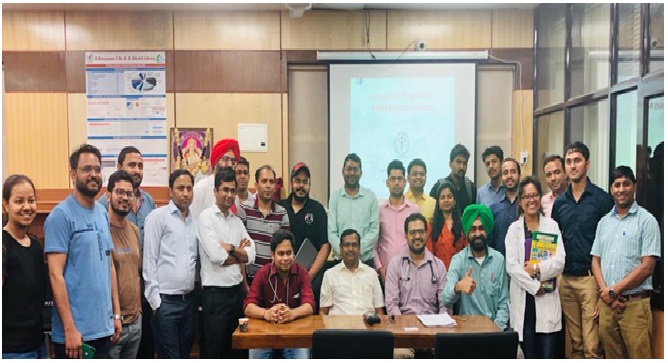 2018
1. Access to Medical literature in Electronic Environment (AMLEE 2018), 16-17 April, 2018.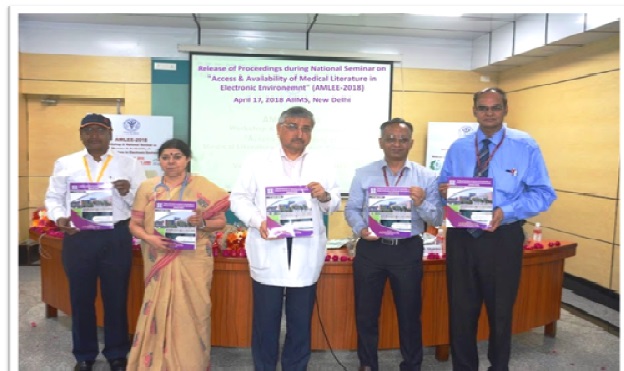 2. Seminar on "Efficient Use of E-Resources as a Research Tool for Scholarly Communication" on Basant Panchami, 22 Jan 2018.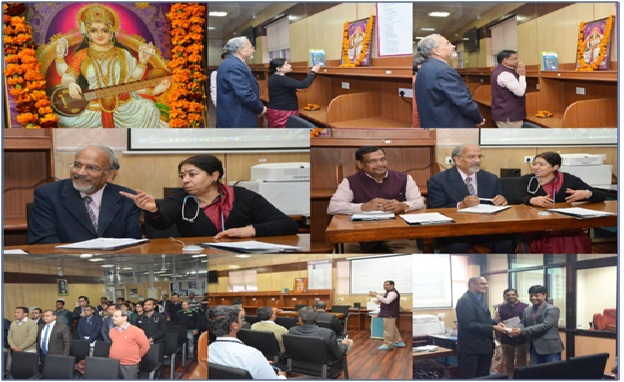 3. Librarian's Day Seminar on Utilization of E-resources in Doctor's Scholarly Communication. August 13, 2018.
4. "Author Workshop On Responding To Reviewer Comments" Dr. B.B. Dikshit Library, E-Reading Hall 2018.