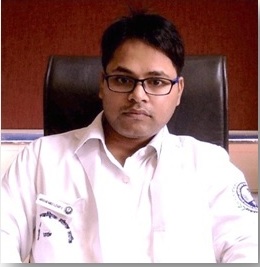 Dr. Prafulla Kumar Maharana completed his graduation (M.B.B.S.) in 2006 from the MKCG Medical College, Berhampur, Orissa and PostGraduation in Ophthalmology (M.D.) from Dr. R.P. Centre, AIIMS, New Delhi in 2010. He has completed his senior residency in the field of cornea, cataract and refractive services from Dr. R.P. Centre, AIIMS, NewDelhi.
Hehas joined as faculty of the Dr. R.P. Centre for OphthalmicSciences in 2016and currently working as Assistant Professor of Ophthalmology in Unit-3.Previously, He has worked as Assistant Professor of Ophthalmology at AIIMS, Bhopal & AIIMS, Bhubaneswar. His areas of specialization include Cataract, Cornea and Refractive Surgery. His field of interest includes Keratoconus, Corneal infections and Keratoplasty.
He has contributedseveral chapters (19) to National and International books on ophthalmology and published 27research papers in international peer reviewed PubMed indexed journals. In addition, he has published several non-index papers.
He has been awarded Gold medal by India Academy of Pediatrics in the year 2005. He is the recipient of (as co-author) the "Best Surgical Video" by FRANZCO, Australiatwice (2002 & 2015) in his career.
He can be reached at
Email- This email address is being protected from spambots. You need JavaScript enabled to view it. , This email address is being protected from spambots. You need JavaScript enabled to view it.
Twitter- praful@276