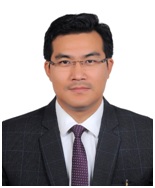 Dr Suraj Singh Senjam,
                                    Additional Professor                                     
Community Ophthalmology
Dr. R.P. Centre for Ophthalmic Sciences,
AIIMS, New Delhi-29, India
Email: This email address is being protected from spambots. You need JavaScript enabled to view it.    
Dr. Suraj Singh Senjam is Additional Professor working currently in Community Ophthalmology, Dr. Rajendra Prasad Centre for Ophthalmic Sciences, AIIMS, New Delhi. He received his MD degree in Community Medicine from the PGIMER, Chandigarh, India.  He also received a master's degree in public health for Eye Care (PHEC) from London School of Hygiene & Tropical Medicine, London, United Kingdom. He has been working on Assistive Technology for Visual Impairment and published more than 80 studies, inclduing abstracts, in peer-reviewed journals and conferences.  He is one the key member for the rapid assessment of assistive technology in India. He has delivered  many national and inernations invitated guest lectures on Assistive Technology and Disability. He has designed a simplified classification of Assistive Technologies for the education of students with visual imapriment.  He has edited a book entitled 'An Introduction of Assistive Technology'published by NOVA Science, New York, USA, and has written a handbook on Assistive Technology for students with visual impairment, developed many training manuals for vision rehabilitation and training. He is instrumental in establishing the National Research Training for Low vision & Rehabilitation Centre in Dr. RPC AIIMS. He is one of the key investigators for the National Blindness Survey in 30 districts of India and the National Trachoma Survey, India supported by the Ministry of Health Government of India.