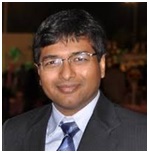 Dr. Vivek Gupta
Associate Professor, Community Ophthalmology
Dr Rajendra Prasad Centre for Ophthalmic Sciences (RPC),
All India Institute of Medical Sciences (AIIMS), New Delhi, 110029 India
E-mail: This email address is being protected from spambots. You need JavaScript enabled to view it. ,  This email address is being protected from spambots. You need JavaScript enabled to view it.
Phone: +91(11) 26594097, +91 9899410420
EDUCATIONAL QUALIFICATIONS
v Jan 2003 – Jan 2005: MD (Community Medicine), All India Institute of Medical Sciences, New Delhi
v Jul 1996 – Dec 2001: MBBS, University College of Medical Sciences, Delhi (64.9%)
July 2018-Current: Associate Professor, Community Ophthalmology, Dr RP Centre, AIIMS, New Delhi
6 June 2015-June 2018: Assistant Professor, Community Ophthalmology, Dr RP Centre, AIIMS, New Delhi
8 Feb – 5 June 2015: Operational Research Fellow, International Union Against Tuberculosis and Lung Disease (The Union), South East Asia Office, New Delhi
3 August 2012 – 31 Jan 2015: Assistant Professor of Epidemiology, Centre for Public Health, NIMHANS, Bangalore.
15 April 2009 – 31 July 2012: Senior Program Officer, The InCLEN Trust International.
1 February 2009 – 12 April 2009: Researcher, HISP-India
23 January 2006 – 22 January 2009: Senior Resident, Community Medicine, AIIMS, New Delhi
CONTRBUTION TO NATIONAL PROGRAMS
Member of MoH&FW Sub-Committee on legal and policy frameworks for the utilization of artificial intelligence in public health in India
Member of "Central Task Force at national level for policy planning and strategy Implementation for elimination of Trachoma from the country by the year 2020" set up by MoHFW, GoI
Member of "Monitoring Committee for monitoring and reporting of Trachoma cases in states for elimination of Trachoma from the country by the year 2020" set up by MoHFW, GoI
Member of the NPCB&VI "Group to prepare action plan for forming a sound IT platform for transparent monitoring of the field level performance and payments to NGOS through NPCB&VI MIS".
Actively collaboration with IIT Delhi for development of AI based algorithms for automated detection of glaucoma and diabetic retinopathy
Leading the successful developmenet and impllementation of online coding platform for RGI under the MINErVA Platform.
Led the field survey team conducting the Trachoma Prevalence Survey in Car Nicobar Island.
Trachoma Elimination in India – Data analysis of National Trachoma Survey and writing up of the report
Personally visited and supervised the implementation of National Blindness Survey in 22 districts.
Involved in generating evidence for Diabetic Retinopathy for the NPCB&VI
Working with IIT-Delhi on use of Vision Computing and Neural Network based Deep Learning technologies for AI based detection of Glaucoma and DR in screening programs.
Developed an Android Application for collection of glaucoma data by District Ophthalmologists who have been trained in management of glaucoma under the NPCB&VI Glaucoma control initiatives.
Universal Eye Health - Advocated for the inclusion of Visual impairment component in the name of the National Program for Control of Blindness to NPCB & VI.
Involved in Development of Disability Certification guidelines under Ministry of Social Justice and Empowerment, GOI.
Contributed to the National Mental Health Survey, the largest ever survey of Mental Health Disorders in India.
Improving control and management of Tuberculosis in India.
AWARDS, HONOURS, AND SIGNIFICANT EVENTS
ET Selvam Award for Best Physical Poster in the AIOC 2017 – Title - Innovative use of WhatsApp Messaging and Free Software for GIS Mapping in Ophthalmic Surveys
AIIMS Research Excellence Award 2018 for co-authored publication - Incidence and Progression of Myopia and Associated Factors in Urban School Children in Delhi: The North India Myopia Study (NIM Study).
Best Free Paper in Community Ophthalmology session at AIOC 2019 2018 for co-authored presentation "Primary Eye Care Training Evaluation for ASHAs in Urban India".
Reviewer: PLoS One, Global Health Action, Indian Journal of Ophthalmology, BMC Health Services Research, JNAMS
Certificate of Merit from Central Board of Secondary Education for being the top 0.1% of successful candidates in AISSE 1994 in Science.
Fourth position in "Science Open Merit Test 1994" organized by the Delhi State Science Teachers Forum Regd.
Certificate of Excellence in "All India Talent Search Examination, 1992" organized by Children's Education Trust of India.
Travel Grant for 14th World Conference on Tobacco or Health, Mumbai, 2009
Travel Grant for 8th AGM, INDEPTH, Dar-es-Salaam, Tanzania, 2008.
Plaque of Honour, 34th National Conference of the Indian Association of Preventive and Social Medicine held at AIIMS from February 22-24, 2007.
Ongoing Projects
Sr

Title

Role

Period

Funding Agency

1.

Epidemiological Study of Avoidable Blindness in India

Co-Investigator

2015-2018

MoHFW, Govt. of India

2.

Retrospective and prospective audits of the phenotype, causes and correlates of Trichiasis-WHO Trachoma Collaborative Study

Co-Investigator

2015-2018

WHO

3.

Patterns and pathways of care seeking for cataract and common ocular morbidities and impact of local volunteers on the pathways among urban vulnerable population settings of West Delhi

Principal Investigator

2017-2019

SSMI

4.

Diabetic Retinopathy: An Epidemiological Study of its Risk Factors and Biological Markers in Delhi

Co-Investigator

2017-2019

MoHFW, Government of India

5.

Multi-centric study of the impact of exposure to Ultra Violet Radiation (UVR), and aerosols exposure on ocular health in India

Co-Investigator

2018-2023

ICMR, Government of India

6.

Health-Related Quality of Life and Costing of cataract surgery for treatment of age-related cataract in India

Co-Investigator

2017-2018

DHR, Government of India

7.

To evaluate the effect of increased outdoor activity on the incidence and progression of myopia in school children

Co-Investigator

2016-2018

Department of Science and Technology

8.

Development of a culturally appropriate health literacy instrument and assessing its validity in Hindi speaking patients receiving general and primary eye care services in New Delhi

Principal Investigator

2016-17

AIIMS Intramural

9.

Operational research project on strengthening integrated primary eye care in urban vulnerable populations of Delhi

Co-Investigator

2016-2018

Sightsavers International

10.

SNOMED-CT: NRCeS – Development of National Drug Repository database

Co-Investigator

2017-2018

MoHFW & C-DAC Pune

11.

Establishing a Technical Support Unit (TSU) for Verbal Autopsy based Cause of Death Ascertainment in the Sample Registration System, Registrar General of India - MINErVA - N1715

Co-Investigator

2017-2022

Registrar General of India

12.

Epidemiological study of Childhood Blindness in Delhi

PhD Thesis Co-Guide

2016-2019

PhD Thesis

13.

Community based Operational Research Study on involvement of Accredited Social Health Activist (ASHAs) in Strengthening Primary Eye Care Services for Urban Vulnerable Population of Delhi

PhD Thesis Co-Guide

2015-2019

PhD Thesis

14.

A Population based study to assess the prevalence of glaucoma in Delhi

PhD Thesis Co-Guide

2017-2020

PhD Thesis

15.

Tools to Diagnose – Eye- Development and assessment of image analysis tool for identification of glaucoma

Principal Investigator

2017-

PhD Collaborative IIT-Delhi

16.

Tools to Diagnose – Eye- Development and assessment of image analysis tool for identification of DR

Co- Investigator

2017-

PhD Collaborative IIT-Delhi

17.

Comprehensive primary eye care services in rural areas of Delhi

Co- Investigator

2017-2020

DJJS

18.

Vision Screening and Eyeglasses Dispensing Program for Students in Delhi Schools

Co- Investigator

2017-2018

VisionSpring

19.

Community Ophthalmology Programme in South Delhi

Co- Investigator

2017-2018

Deepalaya

20.

A Sustainable Model for Comprehensive Outreach Eye Care Service in NCR

Co- Investigator

2017-2018

Deepalaya

21.

A Sustainable Model for Comprehensive Outreach Eye Care Service for underserved population in Delhi Slums and resettlement colonies

Co- Investigator

2017-2018

Deepalaya

22.

A Sustainable Model for Comprehensive Outreach Eye Care Service in NCR

Co- Investigator

2017-2018

Hero Motocorp

23.

A Sustainable Model for Comprehensive Outreach Eye Care Service for underserved population

Co- Investigator

2017-2018

Sparsh

24.

A Community based Assessment of Disability among Adult Population in Delhi using WHO-ICF framework

Ph.D Thesis

Co-Guide

2019

Ph.D Thesis