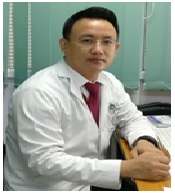 NEIWETE LOMI
MD (OPHTHALMOLOGY)  
Current Designation: ASSOCIATE PROFESSOR
Education & Training:
MBBS: BRA Bihar university, Muzaffarpur
Post Graduate MD: Dr. R.P. Center, AIIMS, New Delhi
Senior residency: Cornea, Cataract, & Glaucoma, PGIMER, Chandigarh
Assistant professor (Comprehensive Ophthalmology): Sikkim Manipal institute of Medical Sciences, Sikkim
Work Experience, Research, Achievements:
            Experience for more than 5 years in diagnosis & management of ocular tumors with special interest in retinoblastoma and uveal melanoma at AIIMS, New Delhi.
One of the first ophthalmologists to do maximum number of cases of plaque brachytherapy for ocular tumors in a government institute in India.
Currently undergoing institute grant research on choroidal melanoma and retinoblastoma
Books & Key Publications:  
Singh L, Singh MK, Rizvi MA, Bakhshi S, Meel R, Lomi N, Sen S, Kashyap S. Clinical relevance of the comparative expression of immune checkpoint markers with the clinicopathological findings in patients with primary and chemo reduced retinoblastoma. Cancer Immunol Immunother.2020; 69(6): 1087-1099.
Kashyap S, Singh L, Kumar N, Singh MK, Pushker N, Sen S, Lomi N, Meel R, Chawla B, Bakhshi S. Combined association of Massive choroidal and Optic nerve invasion as a prognostic relevance in Primary Retinoblastoma: A 10-year study. Asia Pac J Clin Oncol. 2020 Jul 25.
Kashyap S, Singh MK, Jha J, Singh L, Pushker N, Sen S, Venkatesh P, Meel R, Lomi N. Prognostic impact of HERC2 protein and pink-eyed dilution protein in uveal melanoma. Hum Cell. 2020 Oct;33(4):1264-1272.
Lata Singh,Mithalesh Kumar Singh, Maria Cristina Kenney,Martine J. Jager, Moshahid Alam Rizvi,Rachna Meel, Neiwete Lomi, Sameer Bakhshi, Seema Sen, Seema Kashyap. Prognostic significance of PD-1/PD-L1 expression in uveal melanoma: correlation with tumor-infiltrating lymphocytes and clinicopathological parameters. Cancer Immunology, Immunotherapy. 2020 Nov 2. doi: 10.1007/s00262-020-02773-8.
J Jha , M K Singh , L Singh , N Pushker , N Lomi , R Meel , K Chosdol , S Sen , S Bakhshi , S Kashyap .Association of TYRP1 with hypoxia and its correlation with patient outcome in uveal melanoma. Clin Transl Oncol. 2021 Sep;23(9):1874-1884 
Contact email: This email address is being protected from spambots. You need JavaScript enabled to view it.  
Email id: This email address is being protected from spambots. You need JavaScript enabled to view it.