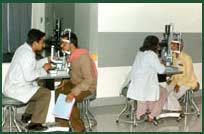 Cornea Lab at R.P Centre
A new cornea laboratory has been started this year (2000). It is equipped with the latest state-of-art equipment used for examination of various corneal disorders. These include :
Orbscan II
Humphrey Corneal Topography system
Non contact specular microscope
Slit Lamp with corneal endothelial counter
Ultrasonic pachymeter
Ophthalmometer
Humphrey auto refractometer
A and B scan ultrasound
Keratometer
Hand held keratometer (Nidex)
Corneal pachymeter (optical)
Auto lens meter
Lens analyzer
Non contact tonometer.