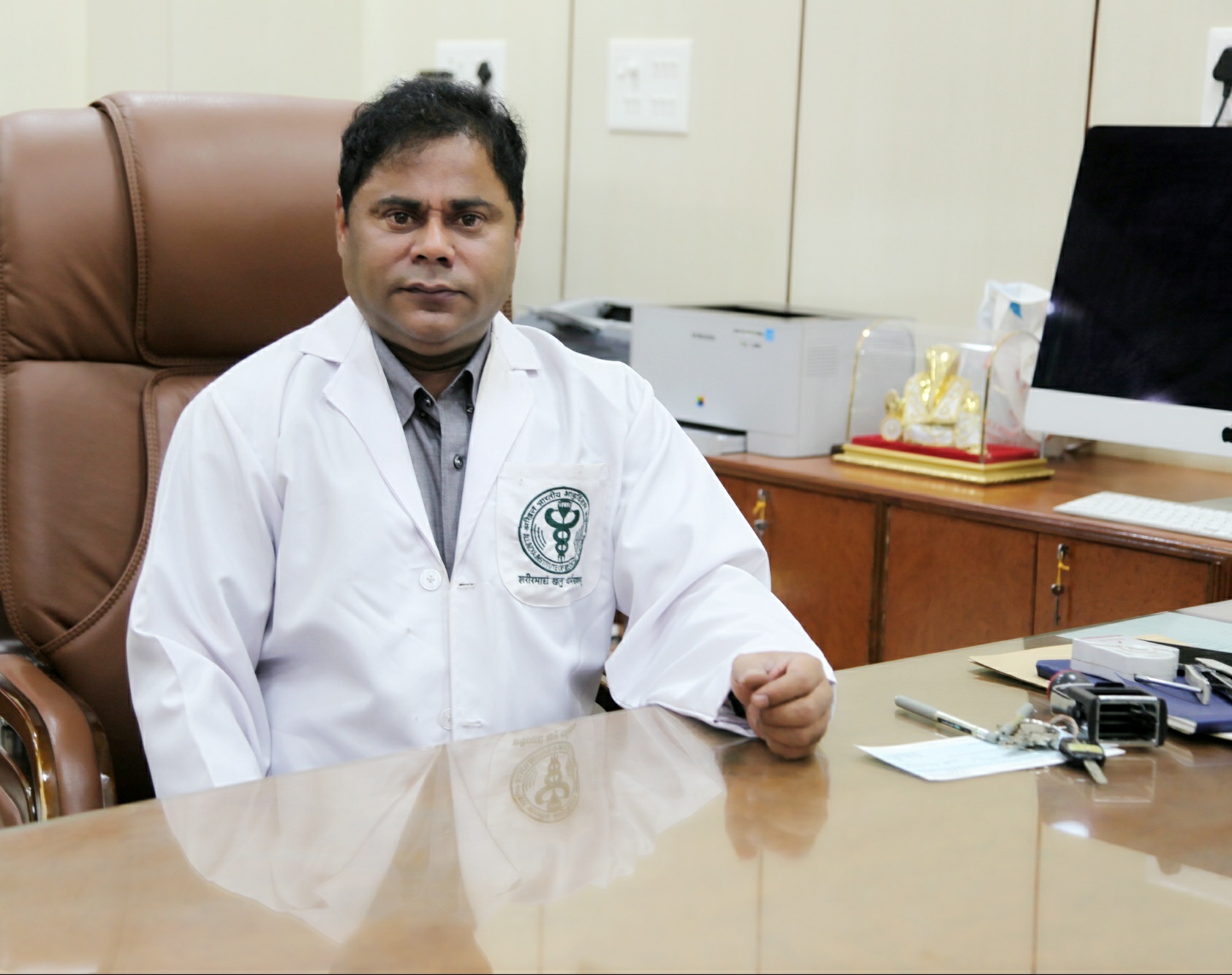 Dr Sudhir K Gupta
MBBS (Gold Medal), MD (BHU), DNB, MNAMS, FICS (CHICAGO)
Professor & Head, Department Of Forensic Medicine
All India Institute of Medical Sciences, New Delhi
E-mail Id: This email address is being protected from spambots. You need JavaScript enabled to view it.
Dr Sudhir Gupta believes in the dignified management of the Dead through means of legal autopsy and the preparation of the post-mortem report. In the past 27 years as practicing forensic surgeon, Dr Gupta has worked towards sensitization of the doctors working in the mortuaries to handle the deceased, he has inculcated an aura of respect and has taught the doctors how to treat their work with utmost dignity. He is the pioneer of Virtual Autopsy in India, by establishing a dedicated AIIMS & ICMR Centre of Advanced Research and Excellence in Virtual Autopsy, a first of its kind in India and South Asia. Ever since he took the mantle of the Head of Department of Forensic Medicine in 2013, he started to work towards converting the AIIMS Mortuary into a Centre of Excellence for Forensic studies. Four times he has worked in AIIMS as a member of Dean Committee which decides all medical standards in AIIMS. He also worked with the MCI to develop Post Graduate course curriculum. He remains member of many State service commission and Union service commission in confidential assignments.   
Dr Sudhir K Gupta has been associated with AIIMS for more than a quarter of century and has used the opportunity to promote progress in the field of Forensic Medicine. He has served the Nation and has helped in bringing justice through Forensic investigations in various challenging cases in partnership with the CBI, NIA, NHRC, Delhi Police, various state police and all the levels of judiciary. He has served at AIIMS teaching MBBS, MD, PhD students and providing specialized training to National and International doctors. Besides India, he has also received recognition for his work in the field of Forensic Medicine by Coroners Association of Europe, America, Scotland Yard Police-UK, FBI and police of other countries like Australia, Taiwan, Singapore, and all Asian countries. He has been recognized by American Association of Surgeons and was invited in USA for training in Emergency and Trauma Care in 2005 with CME credit and was even made a member of technical specification committee for initiating Trauma Centre, AIIMS in 2005.
 Dr Sudhir Kumar Gupta excelled as a medical student securing a Gold Medal in the MBBS University examination. He completed his Post-Graduation, MD Forensic Medicine from the prestigious Banaras Hindu University, Varanasi, and was awarded Diplomate of National Board in 1997 by the Government of India. He has more than 27 years of Medical teaching experience and standing in Medical Profession as a distinguished teacher and researcher and has also been recognized by the Indian Association of Medicolegal Experts. He has also been awarded a fellowship from the Windsor University, Canada. His work has been internationally recognized across the globe from Australia to the United States of America.
Below is the list of the prominent cases of National and International repute handled by Dr Sudhir Gupta for CBI and other Investigating agencies:
CBI Kolkata/ Investigation of Post-Poll Violence Deathsof Kolkata in 2021.

CBI Delhi/ Investigation of Bakoria Encounter case.

CBI Delhi/ Death investigation of Late Dheeraj Ahalawat, Vice President, Yes Bank, 2021.

Death investigation of Priyanka Sharma case, Triple murder by Thallium poisoning, 2021.

CBI Delhi/ Investigation of alleged Medical negligence in death of Ms. Rosy Sangma.

CBI Vishakapatnam/ Investigation of death of Ms. Ayesha Meera in Vijaywada, 2021.

CBI Delhi/ Investigation of Child sexual abuse in Goa and Bhiwandi Maharashtra, 2021.

CBI Delhi/ Investigation of Online Child Sexual Abuse &exploitation (OCSAE) Prevention, 2021.

CBI Delhi/Investigation of Chitrakoot Child Sexual Abuse Case/ examine the accused and 30 abused children, 2021. 

CBI Kolkotta/Investigation of a suspicious hanging death of a girl student in her school hostel in Manipur, which created public unrest in the state 2020.

CBI Delhi Online Child Sexual abuse and Exploitation (OCSAE) Prevention/ Investigation Unit/ Cases of Child Pornography 2020.

CBI Chandigarh Case/ murder case of Sukhamnpreet Singh@ Sippy Siddhu, 2020.

CBI Lucknow/ Death investigation of Mr PravishChman who died in a Rock Concert in Greater Noida, 2020.

Death Investigation of Sushant Singh Rajput 2020.

Disha Gangarape and Murder Case/Appointed as Chairman of Medical Board to conduct Second Autopsy of four accused killed in exchange of fire, 2019.

Homicide of Mr Rohit Shekhar Tiwari S/O Veteran Politician Late Mr N D Tiwari, 2019.

CBI/Investigation of Gang Rape and custodial death of father of victim in Unnao 2018.

CBI/ Death Investigation of Finnish Citizen Mr Felix Dahl Valdimar in Goa.

The Demise of Mrs Sunanda Pushkar.

Supreme Court monitored CBI enquiry in more than forty cases of extrajudicial killings in Manipur.

Death of Cabinet Minister Sh Gopi Nath Munde in road traffic accident by CBI.

CBI/Sheena Bora murder case Mumbai.

CBI/Death of IAS officer Anurag Tiwari in Lucknow / CBI.

CBI/Investigation of Promila Gandhi mysterious death Case Chennai.

CBI/Inquiry in Sara Singh Murder case, Lucknow.

CBI/Shimla gang rape and custodial death case, Kotkhai.

CBI/ Investigation in Suicide by IAS officer DK Ravi./CBI Investigation

Reinvestigation by CBI in Death of Dr Y S Sachan, an accused in NHRM scam.

Jessica Lal murder case. The High court of Delhi

NIA investigation of  Vidyacharan Shukla ex Union Minister  Bomb blast death

Scribe Nirupma Pathak Case.

Uphaar fire Tragedy cases.

Nitish Katara Murder case.

BMW Lodhi Road accident case.

Shivani Bhatnagar murder case.

Judicial inquiry in Ram Singh death main accused in Nirbhaya case, Tihar Jail.

CBI/ Invesigation of Dy SP Mangalore, M K Ganpathy death, Karnataka.

Deputed by the High Court of Madras to supervise the autopsy in custodial death of P Ramkumar, the accused in public hacking of a female Infosys employee. 

 Deputed by the High Court of Madras for third autopsy of Ilavarsana Chennai. 

CBI/Geetanjali Garg, wife of Chief Judicial Magistrate, Gurgaon, death case.

CBI/Death of journalist Akshay Singh, /VYAPAM Scam in Madhya Pradesh.

CBI/Puja Mishra Death case.

CBI /Denisye Carole Sweeney death investigation/British citizen found dead in Goa.

Death investigation of a teenage couple in a suspected rape/drowning in Jind and Kurukshetra which shocked the entire Haryana State.

CBI/Suicide of AIIMS Rishikesh Student.

CBI/Suspected Gang rape and murder of a minor girl in Haridwar. 
 The Forensic Medicine Department has attained new horizons under his stewardship and has established various new facilities such as the 24 hours embalming facility, forensic radiology unit, Virtual Autopsy unit, DNA laboratory and modern toxicology laboratory. He has promoted the establishment of cadaver organ retrieval facility for therapeutic transplantation. Several other facilities like modular odourless autopsy suite are also in the process of being established. Recently the Delhi High Court expressed its gratitude and appreciated his efforts for preserving and conducting a third autopsy on an Indian Citizen about 14 months after his death in Saudi Arabia. He has published more than 150 scientific papers in different National and International Medical Journals and has six Chapters in Books and Textbook of Legal Medicine. He has authored two Books titled, 'Forensic Medicine and Toxicology' and a book titled, 'Forensic Pathology of Asphyxial Deaths' by CRC Press of USA. Under his headship, a record number of cornea donations has taken place in the time period of 2013 to 2021 at AIIMS, New Delhi. He is working on a research project to assess the viability of different organs and tissues after death for transplantation purposes. As a doctor one of his missions is to establish a breakthrough cadaver organ retrieval facility which would save countless lives. He has collaborated with an NGO to provide free hearse van services to help in the cremation of the deceased who belong to the poor section of society.
  ACHIEVEMENTS
Dr Sudhir Kumar Gupta holds the record of being the first autopsy surgeon to be awarded fellowship diploma by International College of Surgeons, Chicago.  

He is an Appointed Visiting Professor of AIIMS Rishikesh.  

He has been recognised as Member of National Academy of Medical Sciences (MNAMS).  

Appointed Chairman of multidisciplinary National Medical Appellate Board for Sports Authority of India Medical-to redress age dispute cases in Young athletes at National Level.  

Dr Sudhir Kumar Gupta holds record of being the youngest Faculty Member to be nominated to various prestigious committees of AIIMS like Deans Committee, Casualty Monitoring Committee and Technical Specification Committee for establishment of JPN Trauma Centre.  

He had been awarded Certificate of Appreciation by Dr RP Centre for Ophthalmic Sciences, AIIMS for Corneal Donation Program in 2007, 2013 and 2017. During his headship record number of corneal donation have taken place in AIIMS.  

He established a new concept of virtual autopsy with a state of the art Forensic Radiology unit; this is first of its kind in South Asia and re-autopsies are being conducted in the cases which were earlier studied by Medical examiners abroad.  

He has developed an ultra-modern toxicology lab with analytical instruments like GCHS, HPLC, Trace metal analyzer, UV visible double beam spectro-photometry, TLC, Biochemistry analyzer, Microwave digestion unit. The laboratory is currently serving as a nodal centre for alcohol estimation in MLC cases of South and Southeast Delhi and is a registered center for estimation of Mercury in biological samples for global Mercury Lab databank as per UNEP.  

He has served on the Governing Body of two prestigious Delhi University institutions -- Maharaja Agrasen College and Shaheed Bhagat Singh College, as government nominee.  

10. He was awarded Medical Doctor of the year in 2010.