Major O.T. Services:
       Department of Surgical Oncology has four state of art major operation theatres for performing various kinds of  major cancer surgeries. An operation theatre is capable of instituting Intra-operative Radiotherapy (IOHDR). This technique involves delivery of precise radiation beams to the tumor bearing area   during   the   surgery after tumor removal. All the major operation theatres are well equipped with a range of modern and contemporary machinery and equipment required to perform various types of complex cancer surgeries involving various organ systems viz. intra-operative fluorescence imaging, gamma cameras, intra-operative nerve monitoring, HIPEC machines, ILP machine, laparoscopic units, modular OT tables, operating microscope, argon plasma coagulator etc. Robotic units are under the due process of procurement and will soon be operational..  
The special surgical programs being provided for in the major OT are Robotic and Minimally Access Surgery, Palliative Surgery, Peritoneal Surface Malignancies, Microvascular Reconstruction, Risk Reducing Surgery and Intra-operative Radiation Therapy.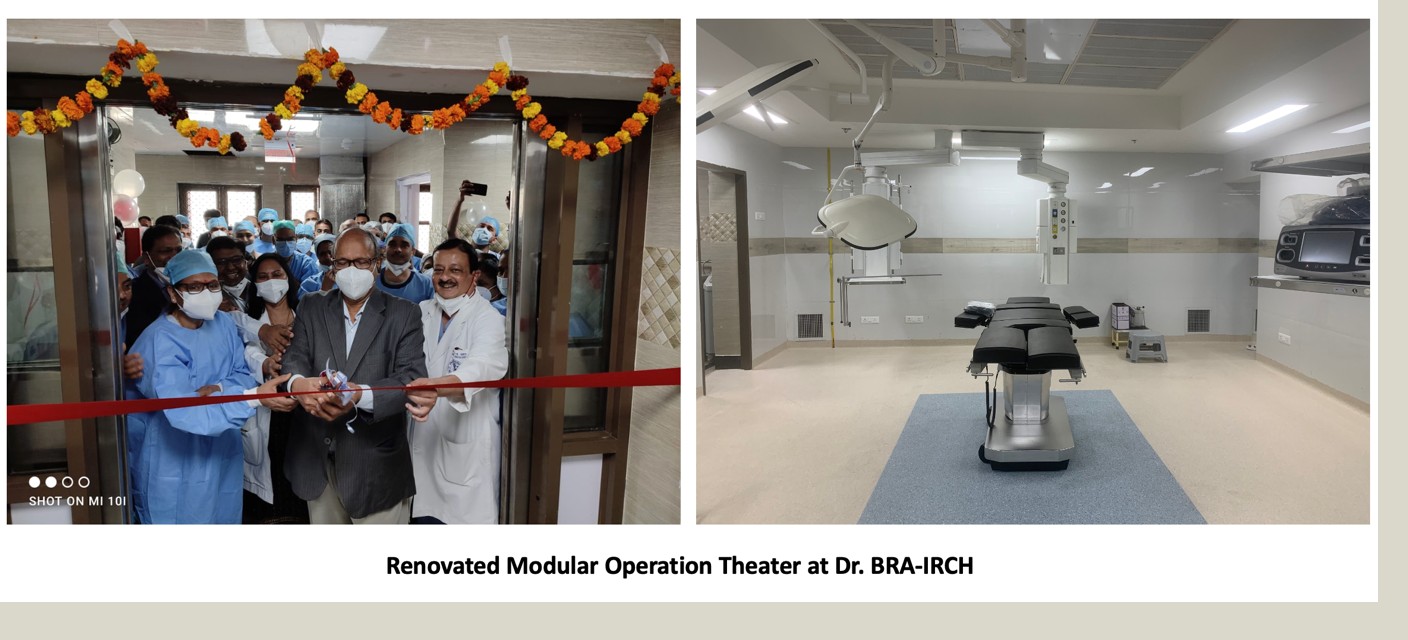 Minor  O.T  Services :  
The department has a separate Minor O.T complex in the ground floor of IRCH for wound care and minor operations. 
 Minor operative procedures:  
-          Biopsies for confirmation of cancer including Core needle, punch, incision or excision  biopsy & FNAC.  
-          Removal of small superficial cancers under local anesthesia .  
-          Placement of long term venous access devices for chemotherapy (Hickman catheters/Chemoport)
Endoscopy Suite:  
Patients of Gastro-intestinal, Genitourinary, Gynaecological, Thoracic and Head and Neck cancers require endoscopy procedure for confirmation and evaluation of cancer. The department of Surgical oncology is offering the  following  Endoscopy services for cancer patients at IRCH.
Diagnostic  Endoscopy :  
1.    Upper Gastrointestinal Endoscopy including side viewing endoscopy  
2.    Lower Gastrointestinal Endoscopy including sigmoidoscopy  and colonoscopy . 
3.    Bronchoscopy.  
4.    Cystoscopy  
5.   Nasopharyngoscopy  
6.   Laryngoscopy
 Therapeutic Endoscopy :  
1.    Endoscopy guided placement of feeding  tubes & PEG.  
2.    Dilatation of  Strictures  
3.    Placement of  Stents for G.I. Cancers.  
4.    Intra-luminal Radiotherapy tube placement for Esophageal cancer  
5.    Endoformalin therapy for radiation cystitis and proctitits.
 Operative Census  
Year

Census

Major OT procedure

Minor OT & Endoscopic Procedures

TOTAL

2008-09

632

6019

6651

2009-10

648

5569

6217

2010-11

706

5627

6333

2011-12

782

5303

6085

2012-13

1014

5811

6825

2013-14

1190

6411

7601

2014-15

1388

6814

8202

2015-16

1978

8372

10350

2016-17

1390

7908

9298

2017-18

1547

8782

10329

2018-19

1592

10477

12069

2019-20

1374

10493

11867

2020-21

977

3344

3221 (COVID)

2021-22

1697

5843