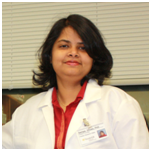 DR. SAMPA GHOSE
M. Sc (1996-1998)
Kalyani University, West Bengal, India
Ph.D. (1999- 2003)
Kalyani University, West Bengal, India
Postdoctoral Research
Research Associate at NIPGR New-Delhi, India (2004)
Post-doc Fellow at Department of Biochemistry and Molecular Biology. Medical University of South Carolina, USA (2005-2008)
Senior post-doc Fellow at Vanderbilt University Medical Centre, Department of Medicine, Radiation Oncology, USA (2009-2012).
CSIR-Pool Scientist at Special Centre for Molecular Medicine, Jawaharlal Nehru University, India (2013-2015)
Email
This email address is being protected from spambots. You need JavaScript enabled to view it.  
Research Interest
Angiogenesis, Lymphangiogenesis, Cancer Metastasis, Endothelial dysfunction, Pulmonary hypertension.
Summary of Research
Cancer metastasis is a hallmark of malignancy, contributing to about 90% of human cancer deaths. Tumor cells often uses vascular as well as lymphatic system for their metastatic spread. Therefore, understanding the underlying molecular mechanisms of angiogenesis and lymphangiogenesis is highly important.  Previously we have shown that C/EBP-d (CCAAT/enhancer-binding protein-d), a transcription factor along with hypoxia inducible factor 1 (HIF-1) plays a pivotal role in regulation of angiogenesis as well as lymph-angiogenesis through respective vascular growth factors.  Furthermore, inactivation of C/EBP-d in mice model led to a significant reduction of VEGF-C /VEGFR3 signalling in the lymphatic endothelium and pulmonary metastasis. Our findings also provided a molecular mechanism for supporting the role of C/EBP-d in cell motility, vascular network formation, cell survival in lymphatic endothelium and finally towards tumor progression.
Subsequent work also revealed that how an adherent junction protein, d-catenin regulates lymphatic endothelial cell motility and lymphangiogenesis with the involvement of RhoGTPase. Significantly there were a delay of tumor formation, growth and metastasis due to absence of single or both allele of d-catenin, suggesting vital participation of d-catenin in tumor metastasis.
Our work on endothelial dysfunction in relation to pulmonary arterial hypertension implicated the contribution of SRC kinase -dependent caveolar mis-trafficking in pulmonary endothelial cells during pulmonary endothelial barrier dysfunction among pulmonary arterial hypertension patients.
Ongoing project  
Investigating the angiogenic signalling pathway involve in hepato cellular carcinoma (HCC).
Find out the specific anti-angiogenic factors to develop strategies for effective antitumor effect.
My long term research goals:
Identify specific growth factors in blood or bone marrow, which can be useful as biomarkers for early diagnosis of cancer in new patients as well as in case of relapse.
CSIR-Pool Scientist, CSIR, India (2012-2015)
Travel award from INTERNATIONAL KYSTONE SYMPOSIA Pulmonary Vascular Disease Conference, California, USA (10-15th Sept 2012)
University (UGC) Fellowship (1999-2003)
National Scholarship, Assam Higher Secondary Education Council, 1993
Research PROJECTS as Principle Investigator (PI)
Intramural project entitled "Elimination of leukemic and angiogenesis ability with altered macrophages plasticity in Acute Myeloid Leukemia" AIIMS (2019-2021)
DST Project entitled "Studies of therapeutic potential of endothelial cells and angiogenic properties in hepatocellular carcinoma" DST-SERB: YSS/2015/000092 Duration 2016-2019
CSIR Project entitled "Role of Hyaluronan towards angiogenesis" CSIR: 13 (8600-A)/ 2012 Duration 2012-2015
Research PROJECTS as CO-PI
DST project entitled "Translational approach for reducing Hepatocellular Carcinoma through modulation of extracellular matrix protein Lysyl Oxidase (LOX) in tumor microenvironment" DST: (2019-2022)
ICMR project entitled "Translational approach to inhibit hepatoma cell stemness by altering survival signals to prevent recurrence of carcinogenesis" ICMR:(2019-2022)
Selected Publications published in International pear reviewed Journals
S Ghose

*,

S Biswas

,

Kasturi Datta

, Rakesh K. Tyagi (2018) Dynamic mechanism of Hyaluronan in liver endothelial cells towards angiogenesis. BMC cancer 11;18 (1):648. doi: 10.1186/s12885-018-4532-1IF: 3.3 (*Corresponding Author)  
S. Biswas and S. Ghose (2018). Divergent impact of Gender in Advancement of Liver injuries, diseases, and carcinogenesis. Frontier in Biosciences.  Jan 1; 10:65-100, 2018 IF: 3.5  
Andrea L. Frump, Arunima Datta, Sampa Ghose, James West, Mark P. de Caestecker (2016). Genotype-phenotype effects of Bmpr2 mutations on disease severity in mouse models of pulmonary hypertension. Pulmonary Circulation, Nov 2; 6(4): 597-607. DOI: 10.1086/688930. IF: 6.364  
Deepak Kotiya, Bharti Jaiswal, Sampa Ghose, Rachna Kaul, Kasturi Datta, Rakesh K. Tyagi (2016) Role of PXR in Hepatic Cancer: Its Influences on Liver Detoxification Capacity and Cancer Progression. PLoS One, October 19; 11(10): e0164087. IF:4.4  
Sampa Ghose, Yongfen Min, Laura DeBusk and P.Charles Lin (2015).δ-catenin regulates lymphatic endothelial cell motility and lymphangiogenesis through regulation of RhoGTPase. PLoS One, Jan 30; 10(1): e0116338. IF: 4.4  
Allison R Prewitt, Sampa Ghose, (Equal 1st author) Andrea L Frump, ArumimaDatta, Eric D Austin, Anne K Kenworthy, Mark P de Caestecker (2015). Heterozygous Bone Morphogenetic Protein Receptor Type 2 Mutations Promote Src-Dependent Caveolar Trafficking Defects and Endothelial Dysfunction in the Pulmonary Vasculature. The Journal of Biological Chemistry (JBC), 290(2): 960–971. IF: 4.6  
AnnamalaiPrakasam, Sampa Ghose, Natalia V. Oleinik, Yuri K. Peterson, Natalia I. Krupenko and Sergey A. Krupenko. (2014) JNK1/2 regulate BID by direct phosphorylation at Thr59. Cell Death and Disease (Nature Group), 5, e1358; doi:10.1038/cddis.2014. 316. IF: 6.1  
Suchandra DebRoy; Inga I. Kramarenko; Sampa Ghose, Natalia V. Oleinik; Sergey A. Krupenko; Natalia I. Krupenko(2013) A novel tumor suppressor function of glycine Nmethyltransferase is independent of its catalytic activity but requires the nuclear localization. PLoS One. Jul 30; 8 (7):e70062. IF: 4.4  
Yongfen Min*, Sampa Ghose*(*Equal 1st author), Kimberly Boelte, Jianhua Huang, Jingdong Li, Xiubao Ren, Li Yang and P. Charles Lin (2011) C/EBP-δ regulates VEGF-c induced lymphatic metastasis of lung cancer through HIf-1α transcription. Oncogene (Nature Group), 30(49):4901-4909. IF: 8.459  
Sampa Ghose, Natalia O Oleinik, Natalia I Krupenko, Sergey A Krupenko (2009) FDH-induced JNK pathway diverge at JNK substrate level in cells with different p53 status. Molecular Cancer Research, 7(1):99-107. IF: 4.5