v\:* { behavior: url(#default#VML) } o\:* { behavior: url(#default#VML) } .shape { behavior: url(#default#VML) }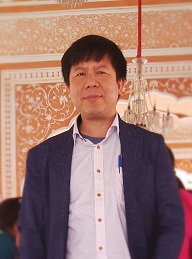 BIO-DATA
Name: Dr. THOUDAM DEBRAJ SINGH
Department of Medical Oncology (Lab)
All India Institute of Medical Sciences (AIIMS)
Dr. B.R. Ambedkar IRCH, 4th Floor, Room no. 411
Ansari Nagar, New Delhi-110029
Email: This email address is being protected from spambots. You need JavaScript enabled to view it. / This email address is being protected from spambots. You need JavaScript enabled to view it.
Contact: Office: +91-11-29575430, Mobile: +91-9599920045
Career after PhD
11/2016–Till present, Assistant Professor, Department of Medical Oncology (Lab), All India Institute of Medical Sciences (AIIMS), Dr.BRA. IRCH, New Delhi, India
01/2012–10/2016, worked as Research Professor, Department of Nuclear Medicine, Kyungpook National University, Daegu, Republic of Korea, in project "Leading-edge Research Center for Drug Discovery and Development for Diabetes and Metabolic Disease." (Chairman): Prof. Ahn Byeong Chul
09/2010 – 11/2011, worked as Post-Doctoral Fellow, College of Pharmacy, Chungnam National University, Daejeon, Republic of Korea. Supervisor: Prof. Sun Hee Woo
Education and Qualifications
2005–2010 PhD, Department of Biochemistry, School of Medicine, Kyungpook National University, Daegu, Korea. Thesis "MEGF10 functions as a receptor for the uptake of Amyloid beta in neuronal cells." Supervisor: Prof. In-San Kim
2001–2003  MS  in  Biotechnology,  Department  of  Biotechnology,  University  of Mysore, Karnataka, INDIA, Thesis Supervisor: Prof. P.V. Subba Rao
Area of interest:
Identification of Biomarkers for cancers (Thyroid, Breast, Colon, Ovarian)
Molecular imaging of apoptosis, cancer metabolism and inflammation
Cancer drug designing, discovery and delivery (Preclinical trials)
Molecular imaging of immune cell migration in cancer and inflammation model
Endocytosis and phagocytosis of apoptotic cells and Amyloid beta in neuronal cells
Field of specialization:
Molecular Imaging, Cell biology, Biochemistry, Molecular Biology, Immunology, Nuclear Medicine, Biotechnology
Research & Development / Industrial/Training experience
List of major projects involved:
1.    Leading-edge Research Center for Drug Discovery and Development for Cancer, Diabetes and other Metabolic Diseases
2.    Molecular imaging of immune cells using reporter gene system.
3.    Advanced technology cluster for diagnosis and prediction of metabolic disease. (Cellular phagocytosis)
4.    Identification of new channel proteins from rat atrial and ventricular cells.
5.    Tumor angiogenesis: A novel target for cancer therapy.
Training experiences:
1.    Expert in Radio isotope safety program and handling of radio-labelled compounds or biomaterials.
2.    Experts in animal PET/CT scan, IVIS imaging, Gamma camera
3.    Flow cytometry, confocal and fluorescent microscopy.
4.    Establishment of small animal tumor xenograft and orthotropic model, Experts in intra-peritoneal, intra venous injection and oral gavage etc.
5.    Pharmacokinetics and bio-distribution studies
International Scientific Publications (17) in last 5 years
Su-Bi Ahn, Sang-Bong Lee, Thoudam Debraj Singh, Sung Jin Cho, et al. "Multimodality Imaging of Bone Marrow-derived Dendritic Cell Migration and Antitumor Immunity." Translational Oncology, (2017) IF: 3.05
Sang Bong Lee, Ho Won Lee, Thoudam Debraj Singh, Yinghua Li, Sung Jin Cho, et al.  "Visualization of Macrophage Recruitment to Inflammation lesions using Highly Sensitive and Stable Radionuclide Embedded Gold Nanoparticles as a Nuclear Bio-Imaging Platform". Theranostics, (2017) IF: 8.85
Vijaya Sarangthem, Thoudam Debraj Singh*, et al. "Multivalent Targeting Based Delivery of Therapeutic Peptide using AP1-ELP Carrier for Effective Cancer Therapy" Theranostics, (2016) *Equal contribution, IF: 8.85
Thoudam Debraj Singh, Shin Young Jeong, Sang-Woo Lee, et al. "Inverse agonist of estrogen-related receptor gamma (ERRγ) enhances sodium iodide symporter function through mitogen-activated protein kinase signaling in anaplastic thyroid cancer cells." Journal of Nuclear Medicine, (2015)IF: 6.12
Thoudam Debraj Singh, Jaetae Lee, and Yong Hyun Jeon. "Non-invasive imaging of Natural killer cell-mediated apoptosis in a mouse tumor model." Methods in Molecular Biology (Springer),(2016) IF: 1.82
Thoudam Debraj Singh, Ho Won Lee, et al. "Non-invasive imaging of apoptosis induced by adenoviral-mediated gene therapy using a caspase-3 biosensor in living subjects." Molecular Imaging, (2014), IF: 3.42
Thoudam Debraj Singh, Park SY, Bae JS, Yun Y, Bae YC, Park RW, Kim IS. "MEGF10 functionsas a receptor for the uptake of Amyloid-beta in neuronal cells." FEBS lett, (2010) IF: 3.5
Seul-Gi Oh,Xian Li, Ho Won Lee,Thoudam Debraj Singh, et al. "Non-invasive visualization of mast cell recruitment and function in lung cancer by optical reporter gene imaging and glucose metabolism monitoring". Biomaterials, (2016) IF: 8.3
Ho Won Lee, Thoudam Debraj Singh, Sang-Woo Lee, et al. "Evaluation of therapeutic effects of natural killer (NK) cell-based immunotherapy in mice using in vivo apoptosis bioimaging with a caspase-3 sensor." FASEB,(2014) IF: 5.5
Kim HJ, Kim PK, Bae SM, Son HN, Thoudam Debraj Singh , Kim JE, Lee BH, Park RW, Kim IS. "Transforming growth factor-beta-induced protein (TGFBIp/beta ig-h3) activates platelets and promotes thrombogenesis." Blood,(2009) IF: 10.45
Yunju Choi, Seulgi Oh, Thoudam Debraj Singh, Sang-Woo Lee, et al. "Visualization of the biological behavior of tumor-associated macrophages in living mice with colon cancer using multimodal optical reporter gene imaging." Neoplasia, (2016) I.F 4.2
Kim Jina, Woo Seo Yeon, Im Chun Young, Yoo Eun Kyung, Thoudam Debraj Singh, et al.  "Insights of a Lead Optimization Study and Biological Evaluation of Novel 4-Hydroxytamoxifen Analogs as Estrogen-related Receptor Gamma (ERRγ) Inverse Agonists." Journal of Medicinal Chemistry, (2016) IF: 5.4
Ho Won Lee, Seung Yun Yoon, Thoudam Debraj Singh, Yoon Ju Choi, Hong Je Lee, Ji Young Park, et al.  "Tracking of dendritic cell migration into lymph nodes using molecular imaging with sodium iodide symporter and enhanced firefly luciferase genes" Scientific Reports,(2015) IF: 5.58
Min-Jeong Son, Joon-Chul Kim, Thoudam Debraj Singh, et al.  "Shear stress activates monovalent cation channel TRPM4 in rat atrial myocytes via type 2 IP3Rs and Ca2+ release" Journal of Physiology, (2016) IF: 5.1
Sungmin Kang, Ho Won Lee, Young Hyun Jeon, Thoudam Debraj Singh, Yunju Choi, Ji Young Park, et al. "Combined Fluorescence and Magnetic Resonance Imaging of Primary Macrophage Migration to Sites of Acute Inflammation Using Near-Infrared Fluorescent Magnetic Nanoparticles." Molecular Imaging and Biology,(2015) IF: 3.09
Vijaya Sarangthem, Eun A Cho, Sang Mun Bae, Thoudam Debraj Singh, Sun-Ji Kim, et al. "Construction and application of elastin like polypeptide containing IL-4 receptor targeting peptide." Plos One,(2013) IF: 3.5
Krishna P. Subedi, Thoudam Debraj Singh*, Kim Jun Chul, Sun-Hee Woo "Cloning and expression of new inositol1,4,5-trisphosphate receptor type 1 splice variant in adult rat atrial myocytes." Cellular and Molecular Biology Letters,(2011) * Equal contribution, IF: 1.78
Awards and scholarships
·    Korean Research Fellowship (KRF), Ministry of Health and science, Republic of Korea, for the year (2006-2009)
·    Fellowship of Department of Science and Technology (DST), India, for the year (2003-04)
·    Recipient of Meritorious student scholarship from North Eastern Council (NEC), Ministry of Home Affairs, Government of India (2001-2002)
<![endif]>
Thoudam Debraj Singh