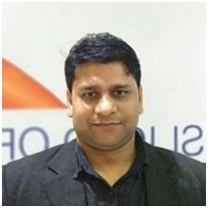 Dr. Pramod Kumar Gautam
Associate Professor
Room No 3040, 3rd Floor, Teaching block,
Department of Biochemistry
All India Institute of Medical Sciences
Ansari Nagar, New Delhi-110029
Official Phone: (O) 011-26594682 (Ext) 4682
Email id: This email address is being protected from spambots. You need JavaScript enabled to view it. , This email address is being protected from spambots. You need JavaScript enabled to view it.
Research Lab (Immunology and Cancer Immunotherapy)
The immune system is an interactive network of different lymphoid organs, cells, humoral factors, and cytokines. In many ways, it is like an army equipped with different weapons to provide protection against infection and malignancies. During tumor progression, transformed cell releases various immunosuppressive factors that suppress immune system either directly or by activating host's suppressor mechanism in many ways. Tumor milieu consists of stem cell, cancer stem cells, and immune suppressive cells which promotes tumor growth.    Specific antitumor immune responses are now the preferred approaches for treatment of malignancies, and traditional therapeutic approaches are being replaced by the use of agents which potentiate immune effector mechanisms, broadly called "immunotherapy". Therefore, several approach of cancer immunotherapy to target cell cycle, mitogenic and cell survival signaling, and apoptosis, tumor angiogenesis, DNA damage/repair and organ specific carcinogenesis to restrict the growth of such tumor and tumor mediated immunosuppression.  Discovering and evaluating anticancer activities of small bio-molecules and plant extracts and elucidating their effectiveness in regressing carcinogenesis. The goal is to develop mechanism-based non-toxic anticancer agents for their potential use in cancer management, check point inhibition, to develop targeted drug delivery and early detection of cancer in stage0-1.
Research Interests
Keywords:- Carcinogenesis, Cancer Chemoprevention, Cell Signaling, Cell Cycle, Cancer Stem Cells, stem cell regeneration, Modulating and targeting HSP70 in a lymphoma, Implication of Nanoparticles-Peptide Complex in Cancer Therapy, Targeting Stem cell for immunotherapy, Developing HSP based diagnostic Kit for Pre-stage of diagnosis of diseases,  Studying Cell-based Immunotherapy, Studying Herbal plant extract for immunotherapy, Early detection of cancer  & Kit development, Studying tumor-derived exosome and Mi RNA for immunotherapy, Indigenous ELISA kit development.  
Available position for Research
Two and Six-month summer and winter training, RA & Scientist position under different funding agencies, contact me via mail.  For Ph.D., students can apply via the AIIMS entrance exam.  Contact via mail.   
Research Projects  
S.

No.

Title of  Project

Funding agency

Funds

Tenure

Chief Investigator/

Co-Investigator

1

Role of Macrophage in the regulation of Bone and Blood forming stem cell and

progenitor cells migration and development

DST, New Delhi

35 Lakh

2017-2022

Chief Investigator

2.

Development of targeted drug delivery using liposomes/nanoparticles on cancer stem cell using herbal plant extract and hsp70- tumor antigen and to evaluate its anti-tumor function.

SERB,DST, New Delhi

49 Lakh

2019-2022 

Chief Investigator

3.

To emphasis the role of macrophage phenotype on mesenchymal stem cell in breast cancer

IRG, AIIMS, New Delhi

10 Lakh

2020-2022)

Chief Investigator

4.

To study the role of β-defensin on stem cells, cancer stem cells remodelling and its associated microenvironments

IRG, AIIMS, New Delhi

10 Lakh

2018-2020)

Chief Investigator

 5.

Development of single cell derived clonal spheroids as a tool for drug discovery in cancer research with focus on HNC

SERB,HRHR, DST, New Delhi

5.93 Cr

2018-2021

CO- Investigator

6.

Artificial Intelligence in oncology: Harnessing big data and advanced computing to

provide personalized diagnosis and treatment for cancer patient

MEITY, New Delhi

2.8 Cr

2018-2022

CO- Investigator

7.

Evaluation of tumor-derived exosomes in blood during pre and post treatment of pancreatic cancer patients

Inter-disciplinary IRG, AIIMS, New Delhi

20 lakh

2021-2023

Chief Investigator

8.

A pilot study evaluating role of Homoeopathic medicine in Cancer patients as adjuvant treatment to chemotherapy/radiotherapy, and correlating with Molecular Profiling 

DBT, GOI

1 Cr

2021-2024

CO- Investigator

9.

Immuno-epigenetics study of the humoral immune response in covid-19 patient from India,

SERB-IRHPA, DST, New Delhi

80 Lakh

2020-2023

CO- Investigator

10.

Study of humoral immune response and its genetic correlates in infection free "resisters" among household contacts of adult pulmonary tuberculosis.

SERB, New Delhi

 

39 Lakh

2022-2025

CO- Investigator

11.

Role of M1 macrophage on DNA methylation and PI3K-AKT Signaling Pathway 

analysis in tumor-associated mesenchymal stem cells in Breast cancer

IRG, AIIMS, New Delhi

10 Lakh

2022-2024

Chief Investigator
Research Publications (2009 – 2022) Total: 24  
Selected Publications in  3-5.0 Impact Factor Journals
Sl.

No

Journals

> 4.0 Impact Factor

Number of

articles

published

 

Year/ Impact factor

 

Citations

Google Scholar

 

1

Tumor Biology

3

2013, 2015/ 4.2

17

2

Scandinavian Journal of Immunology

 

1

2014/3.38

25

3

J Cancer

Res Ther.

 

1

2013/1.8

25

4

International Journal of Research in Science and Technology

2

2015/2.87

2

5

IJAREAS

2

2015/

6

6

European Journal of Inflammation – SAGE Journals

 

1

4.1

11

7

Immunological Investigations

1

2017/3.67

11

8

Journal of Cell Science & Therapy

1

2017/8.67

25

9

Biochemistry and Biophysics Reports

1

2017/2.53

29

 

Clinical and Translational Oncology

1

3.14

4

10

Int J Appl Biol

1

2020/4.05

2

11

Cytokine

1

2022/3.54

 

12

BMC Immunology

1

2022/3.92

-
List of students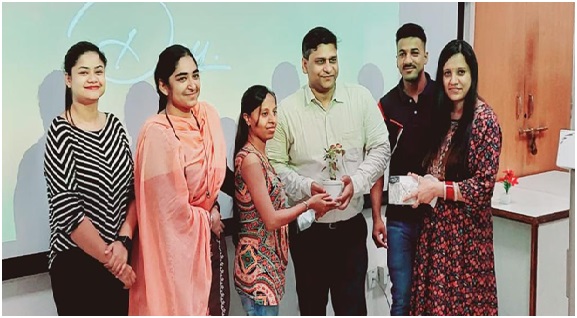 List of Lab members (Including attendants) (2021)
| | | |
| --- | --- | --- |
| S. No. | Name | Position |
| 1 | Anita Chauhan | Ph.D scholar (CSIR, SRF) |
| 2 | Khuswant Singh | Ph.D scholar (CSIR, SRF) |
| 3 | Rupinder Kaur | Ph.D scholar (JRF in Project) |
| 4 | Dr. Sonam Agarwal | Research Associate (ICMR) |
| 5 | Dr. Kunal Kumar | JRF |
| 6 | Dr. Marilyn Masih | MD student |
| 7 | Akshit Kumar | Lab Attendant (Project) |
Alumni Student 
1-            Ms. Dristhi (M.Sc. dissertation trainee)
2-            Sakshi Mittal (M.Sc. dissertation trainee)
3-            Neha (B.Sc. dissertation trainee)
4-            Mobashir Hamad (M.Sc. dissertation trainee)
5-            Dr. Vijay Mohan (Post Doc Fellow, USA)
6-            Jehangir Shah Syed bukhari (M.Sc. dissertation trainee)
7-            Nidhi Pandey ((M.Sc. dissertation trainee)
8-            Dr.  Kunal Kumar (Project JRF)