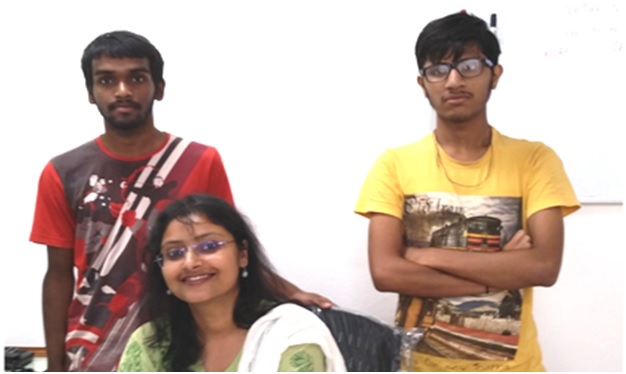 Left to right: K. David Raja, Dr. Pragyan Acharya, AkshayMunjal
Address: Room No. 3002,
                Teaching Block,
               AIIMS, New Delhi-29.
Phone:011- 26546431
Email id:dr.pragyan.acharyaATgmail.com
Social media links: https://in.linkedin.com/in/pragyan-acharya-40599b16
Academic Details:
| | | | |
| --- | --- | --- | --- |
| Degree | Subject | University/ Institution | Year |
| Ph.D. | Biochemistry | Indian Institute of Science, Bangalore | 2011 |
| M.S. | Biological Sciences (specialization Biochemistry) | Indian Institute of Science, Bangalore | 2004 |
| B.Sc. (H) | Biochemistry | Sri Venkateswara College, Delhi University | 2001 |
Positions held:
| | | | |
| --- | --- | --- | --- |
| Position | Department | University/ Institution | Dates |
| Assistant Professor | Biochemistry | AIIMS, New Delhi | October 2015-present |
| Visiting fellow | NIAID | National Institutes of Health, USA | February 2012-October 2015 |
GRANTS AND FELLOWSHIPS:
2016-DST Early Career Award
2016 AIIMS- Intra Mural Grant
Grant for 2017 EMBO Global Exchange Lecture Course entitled Malaria Genomics and Public Health.
AWARDS AND HONORS
Fellows Award for Research Excellence 2015- sponsored by the NIH Scientific Directors, the Office of Intramural Training & Education and FelCom/NIH.
Fellowship in the Khorana Nirenberg Scholars Program (US-India Career Transition Award- sponsored by DBT, India and NIH, USA) 2011
Ranbaxy Science Scholar 2010
Integrated Ph.D. Fellowship by Indian Institute of Science: 2001-2009 
SOCIETY MEMBERSHIP
Indian Society of Translational Research
Research Focus of the Lab
The research focus of our laboratory is the identification of metabolite, protein and nucleic acid based biomarkers that have diagnostic or prognostic value in different diseases. At the moment, we are studying the following conditions specifically-
(1) Celiac disease- biomarker identification through proteomics approaches.
(2) Organ Failure in Acute-on-chronic liver failure: biomarker identification through metabolomics approaches.
(3) Severe P. falciparum and P. vivax malaria: A systems biology approach towards understanding pathogenesis and identifying metabolite biomarkers of severe disease.
When it is appropriate, the mechanisms of disease pathogenesis will also be explored.
List of Lab members (Including technicians and attendants)
1. K. David Raja, M.Sc. Student
2.AkshayMunjal, M.Sc. Student
3.Poornima Gola, Technician
Positions available currently:
1 motivated JRF is required to work on the project titled "Investigating the association of Purine Salvage Pathway with Severe Malaria Outcomes".
I am happy to consider short term trainees.
Key publications
Research Papers 
1. Acharya P, Chaubey S, Grover M, Tatu U. An Exported Heat Shock Protein 40 Associates with Pathogenesis-Related Knobs in Plasmodium falciparum Infected Erythrocytes. PLoS One. 2012;7(9):e44605. Epub 2012 Sep 7.
2. Acharya P*, Pallavi R*, Chandran S, Dandavate V, Sayeed SK, Rochani A, Acharya J, Middha S, Kochar S, Kochar D, Ghosh SK, Tatu U. Clinical proteomics of the neglected human malarial parasite Plasmodium vivax. PLoS One. 2011;6(10):e26623.  Epub 2011 Oct 20. PubMed PMID: 22028927; PubMed Central PMCID: PMC3197670.*These authors have contributed equally.
3. Acharya P*, Pallavi R*, Chandran S, Chakravarti H, Middha S, Acharya J, KocharS,  Kochar D, Subudhi A, Boopathi AP, Garg S, Das A, Tatu U. A glimpse into the clinical proteome of human malaria parasites Plasmodium falciparum    and    Plasmodium    vivax.    Proteomics    Clin    Appl.    2009 Nov; 3(11):1314-25. doi: *These authors have contributed equally.
Selected as "Editor's Choice" in Science (2010) Vol. 327, pp 13.
4. Pallavi  R*,  Acharya  P*,  Chandran  S,  Daily  JP,  Tatu  U.  Chaperone expression profiles correlate with distinct physiological states of Plasmodium falciparum in malaria patients. Malar J. 2010 Aug 19;9: 236. PubMed PMID: 20719001. *These authors have contributed equally.
 5. PesceER,  Acharya P, Tatu U, Nicoll WS, Shonhai A, Hoppe HC, Blatch GL. The Plasmodium falciparum heat shock protein 40, Pfj4, associates with heat shock protein 70 and shows similar heat induction and localisation patterns. Int J Biochem Cell Biol. 2008;40(12):2914-26. Epub 2008 Jul 12.
Reviews
1. Acharya P, Kumar R, Tatu U. Chaperoning a cellular upheaval in malaria: heat shock proteins in Plasmodium falciparum. MolBiochemParasitol. 2007 Jun;153(2):85-94.
Book Chapters
1. Duffy P E,  Acharya P and Oleinikov A. Cytoadherence of the Malaria Parasite. Encyclopedia of Malaria. Springer Publications. (Accepted 2014)
2. Acharya P, Grover M and Tatu  U.Systems  Biology  of   Malaria  in Encyclopedia of Systems Biology. Springer Publications. 2013.
1. K. David Raja, M.Sc. Student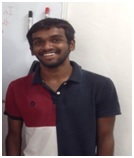 I did my graduation from Deshbandhu College, DU. I am trying to establish plasma derived nucleic acids as a source of biomarkers in Acute Chronic Liver Failure (ACLF). My current hobby is playing football and reading comics.
2. Akshay Munjal, M.Sc. Student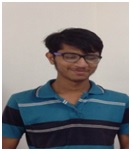 I did my graduation from Deshbandhu College, DU. I am trying to establish appropriate biomarkers for celiac disease using proteomics. My hobby is gardening. My field of interests is protein expression, purification and interaction studies.
3. Poornima Gola: Technician

Poornima helps with the general running of the lab and participates in indenting for materials and organizing help for the lab. She likes to read.