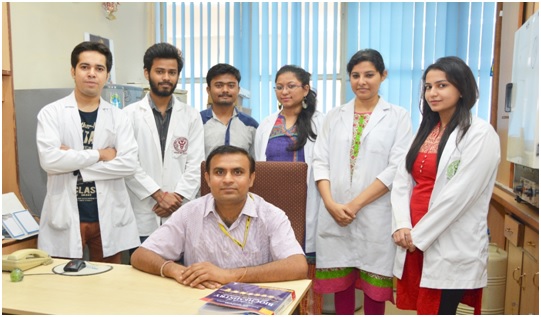 Address: Room No: 3029, Department of Biochemistry,
                (In-charge: NSC Neurobiochemistry lab)
                AIIMS, New Delhi.
Phone: 011-26593545
Email id: This email address is being protected from spambots. You need JavaScript enabled to view it.
This email address is being protected from spambots. You need JavaScript enabled to view it.
Skype ID:  ashoksharma35
http://scholar.google.com/citations?user=3ac275cAAAAJ&hl=en
https://www.researchgate.net/profile/Ashok_Sharma12/
Website:  Chromatin & Epigenetics Lab"
Areas of Research interest: Cancer Epigenetic, DNA Methylation, Chromatin remodelling & Regulation, Cancer Germline gene, Epithelial-Mesenchymal Transition, 
Academic Details:
| | | | |
| --- | --- | --- | --- |
| Degree | Subject | University/ Institution | Year |
| Ph.D | Biochemistry | All India Institute of Medical Sciences. New Delhi | Sept. 2008 |
| M.Sc | Biochemistry | M.D University, Rohtak, HR | 2001 |
| D. Pharmacy | Pharmacy | Pt. B.D.S PGIMS, Rohtak, HR | 1999 |
| B.Sc | Medical | D.G College, Gurugram, HR | 1997 |
| Advance Certificate courses | Epigenetic Control of Gene Expression | University of Melbourne, Australia | 2014 |
Positions held:
Position

Department

University/ Institution

Dates

Assistant Professor

 

Biochemistry

 

All India Institute of Medical Sciences, New Delhi

06/06/2015

DBT-Ramalingaswami Fellow

Dept. of Obstetrics &Gynecology

All India Institute of Medical Sciences, New Delhi

20/04/2015

Postdoctoral Fellow

Eppley Institute for Research in Cancer

University of Nebraska Medical Center (UNMC), Omaha, NE, USA

15/10/2012

Postdoctoral Fellow

Surgical Oncology

Vanderbilt Medical Center, Nashville, TN,  USA

15/10/2008
Awards/ Fellowships:
Ramanujan Fellowship Jan., 2015, DST, India
Ramalingaswami Re-entry Fellowship, Nov. 2014, DBT, India
Postdoctoral Travel Award in ASBMB Annual Meeting, held in conjunction with Experimental Biology 2012 in San Diego, CA, USA.
"AIIMS Excellence Award" (2012) for research article
Awarded by GeneCopoeia, Inc in AACR-2011 Conference held at Orlando, Florida, USA.
Senior Research Fellowship Award(ICMR- PHA/BMS/2006), Indian Council of Medical Research (ICMR),
'College colour' for outstanding performance in academics and co-curricular activities during B.Sc. at D. G College, Gurgaon (1997).
College colour' for outstanding performance in academics and co-curricular activities during B.Sc. at D. G College, Gurgaon (1996).
Society Memberships:
Life member of Indian Society of Cell Biology (ISCB) (2016)
Life member of Indian Association for Cancer research (IACR) (2015)
Member of International Epigenetics Society (DNA Methylation Society) (2013-till date)
Associate member of the American Association for Cancer Research (AACR)#247189(2009-till date)
Associate member of The American Society of Clinical Oncology (ASCO) # 205272 (2010-till date)
Associate member of the American Society for Biochemistry and Molecular Biology (ASBMB) #30959 (2012-till date)
Member of Gynecologic Oncology Group, UNMC, Nebraska, USA(2013-till date)
Member of "Association of Scientists of Indian Origin in America, Inc."(2012-till date)
Member of American Association of Nephrology # 176832(2011-till date)
Member of the American Association of Indian Scientists in cancerResearch (AAISCR)(2012-till date)

Life member of the, The Indian Biophysical Society" (L-549), India (Life member)
Research Focus of the Lab:
Assertive discoveries have been carried out during the past decade to explore the role of epigenetic mechanisms for the regulation of cellular phenotype. This regulation provides the software that packages DNA, modifications in gene expression without changing the DNA sequence of a gene. These are called epigenetic alterations. These alterations include methylation, acetylation, phosphorylation and ubiquitylation of DNA and histone proteins (nucleosomes) as well as chromatin remodelling. "Epigenetics" refers to heritable changes in gene expression patterns without changing the primary DNA sequence. Technological advancements in genome-wide DNA sequencing, RNA sequencing for coding and non-coding expression patterns, DNA methylation and chromatin assay and assessment of all of the above with advance bioinformatics tools are facilitating to delineate the cancer epigenome and permit key insights for developing personalized therapeutics. Our lab basically focuses on cancer epigenetics and we are trying to decipher the epigenome regulation that may lead to development of new epigenetic therapeutic drugs.  The recent discovery of Cancer Testis/Germline (CT/CG) antigen expression in cancer suggests a strong link between gametogenesis and carcinogenesis.CG antigens have the potential to serve as biomarkers for cancer stem cells and potential targets in cancer metastatic processes as well as in the recurrence of cancer after chemotherapy. We are indulging to open the new avenues for novel Cancer Testis/Germline (CT/CG) POTE antigens to be used for cancer immunotherapy for treating gynaecological cancer patients for better reproductive health. POTE (Prostate, Placenta, Ovary, and Testis-expressed) is a recently discovered gene family consisting of 13 autosomal and pericentromeric localized cancer-testis/germline antigen genes. The POTE paralogs gene family encodes proteins with cysteine-rich (CRR) domains, ankyrin repeat motifs and α-helical regions. It is established that epigenetic mechanisms control expression of CT/CG antigens. Epigenetic modulatory agents robustly promote expression of CG antigens, as well as the class-1 histocompatibility complex (MHCI).Thus, we emphasize the possible clinical use of epigenetic modulators to augment the immunotherapeutic potential of POTE family antigens, and how this will ultimately improve strategies for cancer detection and treatment.
Towards the mechanistic part, we are working on chromatin dynamics to be applied for answering key questions of alteration in pericentromeric localized gene expression during cancer. POTEs gene family are localized at pericentromeric regions, where duplicated genes are often abundant. Still, it is not clear how POTE paralogs escape pericentromeric repression and become expressed in cancer. Chromatin has a defined 3-D organization inside the nucleus, which guides gene expression. Although this 3D Genome organization is just recently being defined to the molecular levels, there is much to be answered in this area. Our lab is working to correlate the established molecular mechanisms for gene regulation e.g DNA methylation to be linked to the 3D genome organization inside the nucleus. It is known that there are several repressive compartments inside the nucleus where genes are dynamically located as a whole. Therefore what is the relation of epigenetic gene regulation to the gene localization and arrangement inside the nucleus? This is an inevitable question here. One such repressive compartment is nuclear lamina, where the associated sequences, called "Lamina-associated domains (LADs)" and "pericentromeric-associated domains (PADs)"are dynamically placed. We are trying to find factors, responsible for these LADs /PADs formation and regulation to be applied for cancer biology. Altogether this is an entirely new area in the field of cancer biology and studies are coming with new fascinating facts, and we are trying to be part of these strategies, with an ultimate goal to combat cancer. For further detail please visit my website: "Chromatin & Epigenetics Lab"
List of Lab Members:
Mohit Arora, CSIR-JRF
Dhruv Das, M.Sc Student
TriptiMehra,M.Sc Student
Dr. Arpita Suri, M.D, DNB (Senior Resident)
Dr. Syed Ghazanfar Imam, M.D student
Neeraj Kumar, Lab Attendant
Positions Available:
My laboratory is aimed to identify early detection, diagnosis and treatments for gynaecological cancer. The goal of our research program is to explore how epigenetic processes integrate cellular signalling and the metabolic state to influence cell proliferation, differentiation, and adaptation during both normal development and cancer.  We also concentrate to define the epigenomic programs, controlled by DNA methylation, chromatin, and nucleosome positioning, that control the extensive self-renewal properties associated with cancers. This research is providing new insights into cancer pathogenesis and unique opportunities to develop rational approaches for potential use of cancer testis/germline antigen as new personalized therapeutic strategies. Highly motivated and interested fellows and students are encouraged to inquire regarding the availability of research positions.
We are seeking applications from motivated, goal-oriented individuals with excellent academic background and having their own CSIR/DBT/ICMR/BINC/DST fellowships. Candidates with experience in Molecular Biology/Bioinformatics or other multidisciplinary are encouraged to contact and send their CV along with a cover letter at This email address is being protected from spambots. You need JavaScript enabled to view it.
Key publications:
Google Scholar, (http://scholar.google.com/citations?hl=en&user=3ac275cAAAAJ)
Bhagwan Sharma J, Sneha J, Singh UB, Kumar S, Kumar Roy K, Singh N, Dharmendra S, AshokSharma , Sharma E. Effect of Antitubercular Therapy on Endometrial Function in Infertile Women with Female Genital Tuberculosis.Infect Disord Drug Targets. 2016;16(2):101-8.
Smitha R. James#, Carlos Cedeno#, Ashok Sharma, Wa Zhang, James L. Mohler, KunleOdunsi. Elizabeth M. Wilson and Adam R. Karpf. DNA methylation and nucleosome occupancy regulate MAGEA11 expression in human cancer. Epigenetics, 2013. July, 8(8).PMID: 23839233
Ashok Sharma, Moorthy Krishnan Amar B. Singh, PunitaDhawan*. Trichostatin-A Modulates Claudin-1 mRNA Stability Through the Modulation of HuR and Tristetraprolin in Colon Cancer Cells.Carcinogenesis2013 Jul 23.PMID: 23880304
Jillian L. Pope, Ajaz. A. Bhat, Ashok Sharma, Rizwan Ahmad, Mary K. Washington, Robert D. Beauchamp, Amar B. SinghandPunitaDhawan. Claudin-1 Regulates Intestinal Epithelial Homeostasis through the Modulation of Notch Signaling. GUT, 2013 PMID: 23766441
Ashok Sharma*, Singh AB*, Dhawan P. Claudin-1 Expression Confers Resistance to Anoikis in Colon Cancer Cells in an Src-Dependent Manner. Carcinogenesis. 2012. Dec; 33(12): 2538-47. PMID: 22941059
Ajaz Ahmad Bhat, Ashok Sharma, Krishnan M, Mary K Washington, Amar B Singh, PunitaDhawan. "Caudal Homeobox Protein Cdx-2 Cooperates with Wnt pathway to Regulate Claudin-1 Expression in Colon Cancer Cells". PLoS One. 2012; 7(6): e37174.PMID: 22719836
Ashok Sharma*, Singh AB*, Krishnan M, Smith JJ, Beauchamp RD, Dhawan P. Claudin-1 regulates E-cadherin expression through ZEB-1/TCF-8/dEF-1 in Colon Cancer Cells. Gastroenterology, 2011. Dec; 141(6): 2140-53. PMID: 21878201
Akhter, zahid, Ashok Sharma and Moganty R. Rajeswari. Interaction of Adriamycin with a Promoter Region of hmga1 and its inhibitory effect on HMGA1 expression in A431 human squamous carcinoma cell line. MolBiosyst. 2011 Apr 1; 7(4): 1336-46. PMID: 21336378
Krishnan M, Singh AB, Smith JJ, Ashok Sharma, Chen X, Eschrich S, Yeatman TJ, Beauchamp RD, Dhawan P. HDAC inhibitors regulate claudin-1 expression in colon cancer cells through modulation of mRNA stability. Oncogene. 2010 Jan 14; 29(2): 305-12. PMID: 19881542
Ashok Sharma,Ramanjaneyulu A, Ray R, Rajeswari MR. Involvement of High Mobility Group B Proteins in Cisplatin-induced Cytotoxicity in Squamous Cell Carcinoma of Skin. DNA Cell Biol. 2009 Jul; 28(7): 311-318.PMID: 19435426
Current Grants:
Estimate the Serum Levels of Cancer-Testis Antigen POTE as a Biomarker in Epithelial Ovarian Cancer (2016)- Intramural, AIIMS
Genome-Wide DNA Methylation & Genomic Instability Profiling and Evaluating Its Potential as a Biomarker and Immunotherapeutic Target for Ovarian tumor- DBT, India
1. Mohit Arora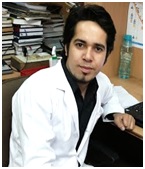 I am currently exploring the dynamics of chromatin organization and its relation to epigenetic remodelling during cancer. I have completed my Master's degree in Biotechnology from Banaras Hindu University in 2015, where I gained understandings of cancer biology and various treatment approaches for cancer. Now in AIIMS under the guidance of Dr. Ashok Sharma, I am exploring some novel tumor antigens and the epigenetic regulation in relation to dynamics of chromatin architecture in cancer.
2.  Parisha Singh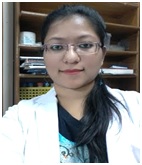 I have done my Post graduation in Bioinformatics from Banaras Hindu University, 2015. Recently I have joined Dr. Ashok Sharma's lab at AIIMS, New Delhi. I am looking forward to learning the wet lab techniques and applying my bioinformatics tools and skills to find out the expression and function of Cancer Testis Antigens in Ovarian Cancer so that we can diagnose it in future.
3. Triptimehra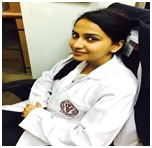 I am currently pursuing M.Sc Biochemistry, AIIMS. I have completed my graduation from Punjab University in Biotechnology. I am exploring epigenetic changes in Ovarian Cancer.
4. Dhruv das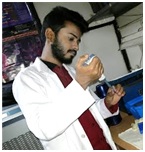 I am currently pursuing M.Sc in Biochemistry Department, AIIMS. I have completed my graduation in biochemistry from Deshbandhu College, University of Delhi. I had a great interest in the field of cancer biology and epigenetics, therefore, I am exploring ovarian cancer and epigenetic changes in it.
5.Dr Arpita Suri
She has completed her MBBS degree from MAMC, New Delhi in 2010. She has done her MD Biochemistry from Lady Harding Medical College in 2014. She worked on the role of cytokines, insulin resistance and TNF-α Polymorphisms in IHD patients as her MD dissertation for which she was awarded the Lord Sreenivasa of Seven Hills Gold Medal for original research in atherosclerosis at ISARCON. She has given poster presentations at various conferences and was also awarded NIMS best poster award at ACBICON, New Delhi. She has also won 2nd prizein the quiz competition at AMBICON,Delhi chapter, New Delhi. She also gave a oral presentation on her thesis work at ICCAD, Italy. She completed her DNB (Biochemistry) in 2015.She is currently pursuing her Senior Residency at AIIMS and working on a research project regarding the role of novel Cancer Testis antigen POTE and its epigenetic regulation in the aetiopathogenesis of epithelial ovarian cancer.