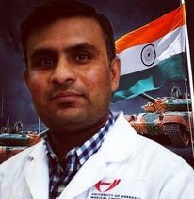 Ashok Sharma, Ph.D
Additional Professor
DBT-Ramalingaswami Fellow, DST-Ramanujan Fellowship Awardee
Room No-3029, Department of Biochemistry,
Posted: National Cancer Institute/AIIMS
Jhajjar Campus, Haryana, Bharat (India)
Phone   : +91-(11)-2659-3545(off.); 09818665092 (M)
Email    :   This email address is being protected from spambots. You need JavaScript enabled to view it.
http://scholar.google.com/citations?user=3ac275cAAAAJ&hl=en
https://www.researchgate.net/profile/Ashok_Sharma12/
Dr. Sharma is an Additional Professor in the Department of Biochemistry and Posted in NCI-India/AIIMS Jhajjar Campus, AIIMS, New Delhi.He received Ph.D. in Cancer Biology at the Department of Biochemistry at All India Institute of Medical Sciences (AIIMS), New Delhi, in 2009. He is the recipient of multiple awards, including the prestigious "DBT-Ramalingaswami fellowship" and "DST-Ramanujan fellowship" awards from Govt. of India and "Outstanding Immunologist Award", Immunocon, Indian Immunologist Society,  BHU.
In 2009, he joined the Vanderbilt Medical Center, Vanderbilt University, Nashville, TN USA as a postdoctoral fellow. He worked on tight junction proteins (claudins) and their role in regulating cell migration and epithelial-mesenchymal transition (EMT). In 2012, he joined the group of Adam R Karpf at Eppley Institute, UNMC, as a senior postdoc. He is working on the epigenetics & regulation of  Cancer-Testis/germline antigen POTE and its biomarkers/therapeutic potential. He has published multiple research articles and abstracts in national and international journals. He is actively involved in ePG-Pathshala, an MHRD, National Mission on Education through ICT (NME-ICT) venture to develop e-content at the postgraduate level that will help to improve the education system in India. Dr. Sharma has been the principal investigator and co-investigator in multiple projects for gynecological cancer. Dr. Sharma has been actively involved in establishing the "DBT-AIIMS/NCI-India Translational & Clinical Research Partnership Center" as PI with the help of DBT, GOI, and Early Detection Research Network (EDRN) at NCI-India with collaboration with EDRN-NCI-USA. 
Research Focus of the Lab:
Assertive discoveries have been carried out during the past decade to explore the role of epigenetic mechanisms in regulating cellular phenotype. This regulation provides the software that packages DNA, and modifications in gene expression without changing the DNA sequence of a gene. These are called epigenetic alterations. These alterations include methylation, acetylation, phosphorylation, and ubiquitylation of DNA and histone proteins (nucleosomes) as well as chromatin remodeling. "Epigenetics" refers to heritable changes in gene expression patterns without changing the primary DNA sequence. Technological advancements in genome-wide DNA sequencing, RNA sequencing for coding and non-coding expression patterns, DNA methylation and chromatin assay and assessment of all of the above with advanced bioinformatics tools are facilitating to delineate the cancer epigenome and permit key insights for developing personalized therapeutics. Our lab focuses on cancer epigenetics and is trying to decipher the epigenome regulation that may lead to the development of new epigenetic therapeutic drugs. The recent discovery of Cancer Testis/Germline (CT/CG) antigen expression in cancer suggests a strong link between gametogenesis and carcinogenesis.CG antigens can serve as biomarkers for cancer stem cells and potential targets in cancer metastatic processes as well as in the recurrence of cancer after chemotherapy. We are indulging in opening new avenues for novel Cancer Testis/Germline (CT/CG) POTE antigens to be used for cancer immunotherapy for treating gynecological cancer patients for better reproductive health. POTE (Prostate, Placenta, Ovary, and Testis-expressed) is a recently discovered gene family consisting of 14 autosomal and pericentromeric localized cancer-testis/germline antigen genes. The POTE paralogs gene family encodes proteins with cysteine-rich (CRR) domains, ankyrin repeat motifs, and α-helical regions. It is established that epigenetic mechanisms control the expression of CT/CG antigens. Epigenetic modulatory agents robustly promote the expression of CG antigens and the class-1 histocompatibility complex (MHCI).Thus, we emphasize the possible clinical use of epigenetic modulators to augment the immunotherapeutic potential of POTE family antigens and how this will ultimately improve cancer detection and treatment strategies.
Towards the mechanistic part, we are working on chromatin dynamics to be applied for answering key questions of alteration in pericentromeric localized gene expression during cancer. POTEs gene families are localized in pericentromeric regions, where duplicated genes are often abundant. Still, it is unclear how POTE paralogs escape pericentromeric repression and become expressed in cancer. Chromatin has a defined 3-D organization inside the nucleus, which guides gene expression. Although this 3D Genome organization is just recently being defined to the molecular levels, there is much to be answered in this area. Our lab is working to correlate the established molecular mechanisms for gene regulation e.g DNA methylation to be linked to the 3D genome organization inside the nucleus. It is known that there are several repressive compartments inside the nucleus where genes are dynamically located as a whole. Therefore what is the relation of epigenetic gene regulation to the gene localization and arrangement inside the nucleus? This is an inevitable question here. One such repressive compartment is nuclear lamina, where the associated sequences, called "Lamina-associated domains (LADs)" and "pericentromeric-associated domains (PADs)" are dynamically placed. We are trying to find factors responsible for these LADs /PADs formation and regulation to be applied for cancer biology. Altogether this is an entirely new area in the field of cancer biology, and studies are coming up with new fascinating facts; we are trying to be part of these strategies, with an ultimate goal to combat cancer. For further details, please visit "Laboratory of Chromatin and Cancer Epigenetics", the URL of which is at my researchgate profile.
Job/Research Experience:
July 2021- Present

 

Aug. 2020-June, 2021

: Additional Professor- Department of Biochemistry, National Cancer Institute, Jhajjar Campus, Haryana

: Associate Professor- Posted at National Cancer Institute, Jhajjar   Campus, Haryana

July 2018- June, 2021

: Associate Professor- Department of Biochemistry

Dec. 2015- Aug 2020

: Faculty In-Charge, Biochemistry Diagnostic lab

Jun 2015 - Jun 2018

: Assistant Professor- Department of Biochemistry

April 2015- Jun 2015

: DBT-Ramalingaswami Fellow- Dept. of Obstetrics & Gynaecology  

Postdoctoral Experience:

Oct.2012-March 2015

: Postdoctoral Research Associate - Eppley Institute for Research

in   Cancer, UNMC, Omaha, Nebraska,   USA

 

 

Project focus: Mechanisms of DNA hypomethylation in ovarian cancer and evaluating its contribution to tumour progression and potential as a biomarker for the disease.

⮚   Understand the role of DNA methylation changes in cancer, with a current emphasis on epithelial ovarian cancer (EOC)

⮚   Understand the role of Lamina Associated Domain (LADs) in genomic instability

⮚   Define the mechanisms leading to activation of Cancer-Germline POTE genes in cancer

⮚   Mechanisms under the current study include DNA methylation, histone modifications, nucleosome positioning, and the interaction of epigenetic factors with transcription factor-driven oncogenic signalling mechanisms.

Jan. 2009-Oct. 2012

: VUMC Research Fellow - Department of Surgical Oncology, Vanderbilt University, Nashville, TN, USA

 

Research focuses on "Elaborate the mechanism underlying the role of claudin 1 as a tumour promoter and metastasis in Colon cancer".

⮚   Epigenetic regulation of claudin 1 expression and role of ELAV family proteins in modulation of mRNA stability.

⮚   Explore the signalling and molecular mechanisms using anoikis as the study model, potentially applying to the in-vivo model of colon cancer metastasis and invasion.

⮚   Determine the role of APC and NOTCH signalling pathway in DSS/AOM induced IBD and cancer in claudin-1 overexpressed transgenic mice

⮚   Elaborating the mechanisms underlying using the different PKC and PKA inhibitors on the novel nuclear localization of claudin-1 in colon metastasis.

 

All India Institute of Medical Sciences (AIIMS), New Delhi, India

Jun.2005–Jan. 2009

Senior Research Fellow:

Project:Effect of Bleomycin on the Expression of High Mobility Group Proteins in Benzo(a)pyrene Induced Skin Tumour "awarded & funded by Indian Council of Medical Research (ICMR- PHA/BMS/2006).

Aug. 2003-May, 2005

Junior Research Fellow:                                                      

Project: Studies on Expression of HMGA Chromosomal Proteins In Cancer and Their Interaction with DNA ". Project funded by Department of Science & Technology (DST) (SP/SO/AS-55/2002), India

Aug. 2002-July 2003

Research Assistant:

Project: Preferential Binding of Quinolones to DNA with Alternating G, C/A, T Sequences: A Spectroscopic Study" funded by Indian Council of Medical Research (ICMR- 58/4/97-BMS-II).

 

 

 
Education:
The University of Melbourne, Australia, Jun 2014
Advanced Certificate courses in "Epigenetic Control of Gene Expression."
This course addresses the basic principles of epigenetics, the role of epigenetics in biological phenomena such as imprinting, X-inactivation, cellular identity, cellular reprogramming in several organisms, and a focus on mammals. It also deciphers the interplay between epigenetic control and the environment, the role of aberrant epigenetic mechanisms in human diseases, and finally, the development of epigenetically effective drugs. The program's objective is to provide a solid foundation of information, enabling participants to design experiments when returning to their own research lab.
All India Institute of Medical Sciences (AIIMS), New Delhi, India
Ph.D.  Department of Biochemistry, September 2008.
Thesis

:

Effect of Anticancer Agents on the Expression of High Mobility Group (HMG) Proteins in Skin Cancer"
⮚   Examined the mechanism of various anticancer agents like cisplatin, doxorubicin, Bleomycin through the expression of DNA binding high mobility group (HMGs) proteins in benzo(a)pyrene-induced squamous cell carcinoma of the skin.
⮚   I used various molecular and biochemical techniques, both In-vitro and In-vivo models, and basic microbiological and biochemical techniques and data corroborate with Magnetic Resonance Imaging in an animal model.
⮚   Results help in elucidation of the molecular mechanisms that mediate cisplatin. Doxorubicin resistance holds promise for the design of pharmacological strategies for preventing, overcoming, or reversing this form of drug resistance.
Maharshi Dayanand University, Rohtak, HR, India
Master of Science (M.Sc.) Specialization: Biochemistry, September 2001.
Dissertation

: Effect of NaCl Salinity on Oxalate Metabolism in Shoot of Barley during Early Phase of Growth ".

Results published in 'India Journal

.'  
Pt. B.D.S Post Graduate Institute of Medical Sciences, Rohtak, HR, India
D. Pharmacy, September 1999. Concentration in 'Pharmacology & Toxicology';Pharmaceutics; Pharmaceutical chemistry; Pharmaceutical Jurisprudence; 'Drugs store & Business Management' and 'Hospital & Clinical Pharmacy; along with three months training as an

Apprentice Pharmacist

in different departments at Pt. B.D. Sharma Post Graduate Institute of Medical Sciences, Rohtak, Haryana. Participated in summer's research program resulting in dissertation and presentation.

Dissertation

: Anti-dermatitis Potency of Stem Extract of Capparis deciduas
Key Publications (Selected):
 (http://scholar.google.com/citations?hl=en&user=3ac275cAAAAJ
Sahar Qazi, Bimal Prasad Jit, Abhishek Das, Muthukumarasamy Karthikeyan, Amit Saxena, M.D. Ray, Angel Ranjan Singh, Khalid Raza, B. Jayaram,

Ashok Sharma

. BESFA: bioinformatics based evolutionary, structural & functional analysis of prostrate, Placenta, Ovary, Testis, and Embryo (POTE) paralogs. Heliyon, Cell Press. 2022 Sep 5:e10476 (PMID: 36132183)

Rashmi Gupta, Bimal Prasad Jit, Santosh Kumar, Sandeep Mittan, Pranay Tanwer, M D Ray, Sandeep Mathur, Vanamail Perumal, Lalit Kumar, G K Rath, Ashok Sharma. Leveraging epigenetics to enhance the efficacy of cancer-testis antigen: a potential candidate for immunotherapy. Epigenomics, 2022 Jul;14(14):865-886. (PMID: 35872653)
Asgar Ansari, Shilpa Sachan, Bimal Prasad Jit,

Ashok Sharma

, Poonam Coshic, Alessandro Sette, Daniela Weiskopf, Nimesh Gupta. A highly efficient T-cell immunoassay provides assessment of B cell help function of SARS-CoV-2 specific memory CD4+ T cells. Cell Rep Methods. 2022 Jun 20;2(6):100224. doi: 10.1016/j.crmeth.2022.100224. (PMID: 35571764)
Sibi Raj, Kavindra Kumar Keshari, Arun Kumar, Brijesh Rathi,

Ashok Sharma

, Piyush Kumar Gupta, Saurab Kumar Jha, Niraj Kumar Jha, Petr Slama, Shubhadeep Roychoudhury, Dhruv Kumar, Molecular mechanism of regulation of c-MET/HGF signaling in head and neck cancer. Molecular Cancer, Jan 26, 2022, 10.1186/s12943-022-01503-1. (Review Article).
Dublin Lal Gupta,

Ashok Sharma,

Kapil Dev Soni, Syed Naqui Kazim, Sanjeev Bhoi, Dr. D.N Rao.  Changes in the behaviour of monocyte subsets in acute post-traumatic sepsis patients. Mol. Immunol., 2021 Jun 1;136:65-72. (PMID: 34087625)
Asgar Ansari, Rakesh Arya, Shilpa Sachan, Someshwar Nath Jha, Anurag Kalia, Anupam Lall, Alessandro Sette, Alba Grifoni, Daniela Weiskopf, Poonam Coshic,

Ashok Sharma

, Nimesh Gupta.  Immune memory in mild COVID-19 patients and unexposed donors reveals persistent T cell responses after SARS-CoV-2 infection. Front. Immunol. 2021 Mar 11; 12:636768. (PMID: 33777028)
Bimal Prasad Jit, Sahar Qazi, Rakesh Arya, Ankit Srivastava, Nimesh Gupta &

Ashok Sharma

*. An immune epigenetic insight to COVID-19 infection. Epigenomics (2021) Mar;13(6):465-480. (PMID: 33685230)
Subhadip Kundu, M.D Ray and

Ashok Sharma

*. The interplay between Genome organization and Epigenomic alterations of Pericentromeric DNA in Cancer. J. Genet. Genomics, (2021), Mar 6;S1673-8527 (PMID: 33840602)
Mann M, Kumar S, Chauhan SS, Gupta R,

Ashok Sharma*,

Kumar L*. PARP-1 inhibitor modulates β-catenin signaling to enhance cisplatin sensitivity in the cancer cervix. Oncotarget. 2019 Jul 30;10(46):4802. (PMID: 31413820) (*Co-Corresponding Author)
Yogindra S Abhyankar, Rajesh Harsh, Rajendra Badwe, GK Rath, Siddhartha Laskar, Bruce Faddegon, Joseph Perl, Harald Paganetti, Jan Schuemann,

Ashok Sharma,

Jeffrey Buchsbaum. Monte Carlo Processing on a Chip (MCoaC)-preliminary experiments toward the realization of optimal-hardware for TOPAS/Geant4 to drive discovery. Physica Medica.2019, July 64:166-173 (PMID:31515016)

Ashok Sharma,

Mustafa Albahrni et al. Epigenetics activation of POTE genes in ovarian cancer. Epigenetics. 2019 Feb 14. (PMID: 30764732)
Carter Barger, Wa Zhang,

Ashok Sharma

, Linda Chee, Smitha James, Christina Kufel, Austin Miller, Ronny Drapkin, Kunle Odunsi, David Klinkebiel, and Adam Karpf. Expression of the POTE gene family in human ovarian cancer. Sci Rep. 2018 Nov 20;8(1):17136. (PMID: 30459449)
14.  Smitha R. James#, Carlos Cedeno#, Ashok Sharma, Wa Zhang, James L. Mohler, Kunle Odunsi. Elizabeth M. Wilson and Adam R. Karpf. DNA methylation and nucleosome occupancy regulate MAGEA11 expression in human cancer. Epigenetics, 2013. July, 8(8).(PMID: 23839233)
15.  Ashok Sharma, Moorthy Krishnan Amar B. Singh, Punita Dhawan*. Trichostatin-A Modulates Claudin-1 mRNA Stability Through the Modulation of HuR and Tristetraprolin in Colon Cancer Cells. Carcinogenesis 2013 Jul 23. (PMID: 23880304)
Jillian L. Pope, Ajaz. A. Bhat, Ashok Sharma, Rizwan Ahmad, Mary K. Washington, Robert D. Beauchamp, Amar B. Singhand Punita Dhawan. Claudin-1 Regulates Intestinal Epithelial Homeostasis through the Modulation of Notch Signaling. GUT, 2013 (PMID: 23766441)
Ashok Sharma, Singh AB, Dhawan P. Claudin-1 Expression Confers Resistance to Anoikis in Colon Cancer Cells in an Src-dependent Manner. Carcinogenesis. 2012. Dec; 33(12): 2538-47. (PMID: 22941059)
Ashok Sharma, Singh AB, Krishnan M, Smith JJ, Beauchamp RD, Dhawan P. Claudin-1 regulates E-cadherin expression through ZEB-1/TCF-8/dEF-1 in Colon Cancer Cells. Gastroenterology, 2011. Dec; 141(6): 2140-53. (PMID: 21878201)
Krishnan M, Singh AB, Smith JJ, Ashok Sharma, Chen X, Eschrich S, Yeatman TJ, Beauchamp RD, Dhawan P. HDAC inhibitors regulate claudin-1 expression in colon cancer cells through modulation of mRNA stability. Oncogene. 2010 Jan 14; 29(2): 305-12. (PMID: 19881542)
Ashok Sharma, Ramanjaneyulu A, Ray R, Rajeswari MR. Involvement of High Mobility Group B Proteins in Cisplatin-induced Cytotoxicity in Squamous Cell Carcinoma of Skin. DNA Cell Biol. 2009 Jul; 28(7): 311-318. (PMID: 19435426)

Rajesh Vikkurthi1,9, Asgar Ansari1,9, Anupama R. Pai1, Someshwar Nath Jha1, Shilpa Sachan1,Suvechchha Pandit1, Bhushan Nikam1, Anurag Kalia1, Bimal Prasad Jit2, Hilal Ahmad Parray3,Savita Singh3, Pallavi Kshetrapal3, Nitya Wadhwa3, Tripti Shrivastava3, Poonam Coshic4, Suresh Kumar5, Pragya Sharma5, Nandini Sharma5, Juhi Taneja6, Anil K. Pandey6, Ashok Sharma2, Ramachandran Thiruvengadam 3, Alba Grifoni7, Daniela Weiskopf7, Alessandro Sette7,8, Shinjini Bhatnagar3 and Nimesh Gupta1. Inactivated whole-virion vaccine BBV152/Covaxin elicits robust cellular immune memory to SARS-CoV-2 and variants of concern. Nat Microbiol. 2022 Jun 9. doi: 10.1038/s41564-022-01161-5 (PMID: 35681012)
Positions Available:
Highly motivated and interested fellows and students are encouraged to inquire regarding the availability of research positions. We are seeking applications from motivated, goal-oriented individuals with excellent academic backgrounds and having their own CSIR/DBT/ICMR/BINC/DST fellowships. Candidates with experience in Molecular Biology/Bioinformatics or other multidisciplinary are encouraged to contact and send their CV along with a cover letter at  This email address is being protected from spambots. You need JavaScript enabled to view it.