Dr. Jayanth Kumar, Assistant Professor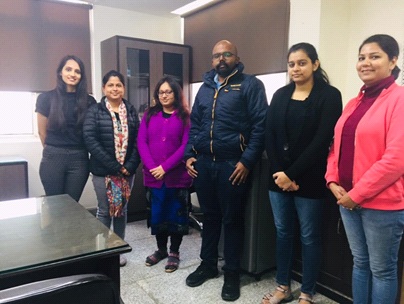 (From left to right: Sumedha Saluja, Nidhi Thakur, Gunjan Sharma, Jayanth Kumar, Shireen Shahjahan, Kriti Kaushik)
Address: Room No. 4008,   Convergence Block, AIIMS, New Delhi.
Phone:011-26594483
Email id: This email address is being protected from spambots. You need JavaScript enabled to view it.
Twitter handle: @jayanth1983
Academic Details
| | | | |
| --- | --- | --- | --- |
| Degree | Subject | University/ Institution | Year |
| MBBS | N/A | Government Stanley Medical College, Chennai | 2006 |
| MD | Biochemistry | AIIMS, New Delhi | 2009 |
Positions held:
Position

Department

University/ Institution

Year

Senior Resident

Biochemistry

AIIMS, New Delhi

2010-2012

Postdoctoral Research Fellow

Pathology and Lab Medicine

David Geffen School of Medicine

University of California

Los Angeles

2012-2014

Assistant Professor

Biochemistry

AIIMS, New Delhi

2014 onwards

Society Memberships
Associate Member: Indian Academy of Sciences
Active Member: American Association of Cancer Research (AACR)
Life Member: Indian Association of Cancer Research
Research Focus of the Lab
B-cell acute lymphoblastic leukemia/lymphoma (ALL) is a disease of the pediatric age group and is a major health problem worldwide. 50% of B-ALL tumors exhibit chromosomal rearrangements with ETV6-RUNX1 being the commonest.
RNA binding proteins (RBPs) regulate gene expression post-transcriptionally. Our preliminary study identified an RBP IGF2BP1 (Insulin like Growth Factor 2 mRNA Binding Protein 1) to be highly expressed in B-ALL with ETV6-RUNX1 translocations. IGF2BP1 has previously been implicated in multiple epithelial tumors.
 Our knowledge about the linkage behind ETV6-RUNX1 translocation and RBP IGF2BP1 overexpression is deficient.  Hence, we are attempting to answer the following research questions: Does IGF2BP1 expression correlate with disease progression? Does it synergize with ETV6-RUNX1 to cause leukemia? Being an RNA binding protein what are its direct targets in B-ALL? Can IGF2BP1 knockdown be a viable option to treat B-ALL?
 Our project hopes to define the clinical significance of IGF2BP1 in B-ALL, establish the RNA binding footprint for this protein and describe its mechanism of action in malignant transformation. Once the importance of IGF2BP1 in leukemogenesis is proven conclusively, it can be used as a diagnostic biomarker and possibly a therapeutic target in ETV6-RUNX1 positive B-ALL.
I am a DBT-Wellcome Trust-India Alliance Early Career Fellow. This helps me to do multifaceted research: We have clinical and in-vitro studies being carried out at AIIMS, the animal studies are carried out at UCLA and the iCLIP-Seq studies are being carried out at UCSC. All of us are working towards a common goal and we are addressing different aspects of the same problem.
I am grateful to Wellcome Trust/DBT India Alliance for allowing such a nexus to come together and do meaningful research to tackle an important health problem.
List of Lab members
Graduate Students

Gunjan Sharma
Sumedha Saluja
Shireen Shahjahan

Dr Kriti Kaushik: Postdoctoral Research Fellow
Dr Nidhi Thakur: MD Student
Positions Available
We are always on the lookout for excellent postdoctoral/graduate students. If you are interested in the type of work which we do and have an idea which you wish to work on, please drop an email to the above mentioned address. 
MBBS students for summer fellowships and short term training are always welcome as long as you are willing to put in the hard work J. Please let me know in advance so that we can plan something meaningful during your time here.
Key publications
 RNA-binding protein IGF2BP3 targeting of oncogenic transcripts promotes hematopoietic progenitor proliferation. Palanichamy JK, Tran TM, Howard JM, Contreras JR, Fernando TR, Sterne-Weiler T, Katzman S, Touloue M, Yan W, Basso G, Pigazzi M, Sanford JR, Rao DS. Journal of Clinical Investigation.(2016)126(4): 1495-511
HIF-2α mediates a marked increase in migration and stemness characteristics in a subset of glioma cells under hypoxia by activating an Oct-4/Sox-2-Mena (INV) axis. Bhagat M, Palanichamy JK, Ramalingam P, Irshad K, Mudassir M, Chosdol K, Sarkar C, Suri A, Seth P, Goswami S, Sinha S, Chattopadhyay P. The International Journal of Biochemistry and Cell Biology (2016) 74:60-71
Survivin siRNA increases sensitivity of primary cultures of ovarian cancer cells to paclitaxel. Kar R, Palanichamy JK, Banerjee A, Chattopadhyay P, Kumar S, Singh N. Clinical and Translational Oncology. (2015) 17 (9): 737-742
MicroRNA-146a modulates B-cell oncogenesis by targeting Egr1. Contreras JR, Palanichamy JK, Tran TM, Fernando TR, Rodriguez-Malave NI, Goswami N, Arboleda VA, Casero D, Rao DS. Oncotarget.(2015) 6(13):11023-37
miRNA dysregulation in cancer: towards a mechanistic understanding. Review. Palanichamy JK, Rao DS. Frontiers in Genetics.(2014)5:54.
Biogenesis of intronic miRNAs located in clusters by independent transcription and alternative splicing. RamalingamP,Palanichamy JK, Singh A, Das P, Bhagat M, Kassab MA, Sinha S, Chattopadhyay P.RNA (2014) 20(1):76-87
Long term suppression of HIV-1C virus production in human peripheral blood mononuclear cells by LTR heterochromatization with a short dsRNA. Singh A, Palanichamy JK, Ramalingam P, Kassab MA, Bhagat M, Andrabi R, Luthra K, Sinha S, Chattopadhyay P. Journal of Antimicrobial Chemotherapy. (2013) 69(2):404-15
CpGhypermethylation of the c-myc promoter by dsRNA results in growth suppression Mehndiratta M*, Palanichamy JK*, Pal A, Bhagat M, Singh A, Sinha S, Chattopadhyay P. Molecular Pharmaceutics.(2011) 8(6): 2302–2309.(Equal first authorship)
Silencing of integrated Human Papillomavirus-16 oncogenes by siRNA mediated heterochromatization. Palanichamy JK, Mehndiratta M, Bhagat M, Ramalingam P, Das B,  Das P, Sinha S, Chattopadhyay P.  Molecular Cancer Therapeutics.(2010) 9(7):2114-22
 Fluorescence acquisition during hybridization phase in quantitative real-time PCR improves specificity and signal-to-noise ratio. Mehndiratta M, Palanichamy JK, Ramalingam P, Pal A, Das P, Sinha S, Chattopadhyay P. Biotechniques.(2008) 45(6):625-630
Acknowledgments:
DBT-India Alliance for their generous funding support
AIIMS for their intramural research grant
All the patients for their contribution to our study
Alumni:
1. Dr. Elza Boby: Elza worked on the 'Role of IGF2BP1 in ETV6-RUNX1 translocation positive B-ALL'. She did her MD in Biochemistry in the lab and passed out in 2018. She is presently working at Calicut Medical College in the Department of Biochemistry as Assistant Professor.
2. Sanjeev Goswami: Sanjeev worked on the 'Role of IGF2BP3 in the invasion and migration of cancer cells' during his Masters in Biochemistry (2016-2018) in our lab. He is presently enrolled as a PhD student in Prof Kunzang's lab in the same department