Dr. Archna Singh, Additional Professor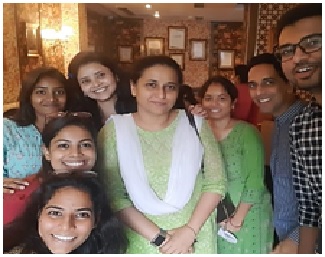 Address: Room Nos. 3044 and 3046a,
                 Department of biochemistry,
                 AIIMS, New Delhi.
Phone: 011-26593635; 26593478
Email id: This email address is being protected from spambots. You need JavaScript enabled to view it. , This email address is being protected from spambots. You need JavaScript enabled to view it.
Academic Details:
Degree

University

Subject

Year

MBBS

 

Nalanda Medical College, Patna, India

 

Medicine, Surgery, Gynecology

1998

 

M.D.

All India Institute of Medical Sciences, Delhi, India

Biochemistry

2004

Ph. D

All India Institute of Medical Sciences, Delhi, India

Biochemistry

2008

MPH

University of Michigan, Ann Arbor, US

Environmental Health (Nutrition concentration)

2008
Positions held:
S.

No.

Position held

Name of Institution/Place

From

To

 

Additional Professor

All India Institute of Medical Sciences, New Delhi, India.

July 2019

Present

 

Associate Professor

All India Institute of Medical Sciences, New Delhi, India.

July 2016

June 2019   

 

Assistant Professor.

All India Institute of Medical Sciences, New Delhi, India

Nov 2012

 

June 2015 

 

Assistant Professor

IIPH-D, Public Health Foundation of India, New Delhi, India.

Jan 2009

Oct 2012

 

Senior Resident

All India Institute of Medical Sciences, New Delhi, India

August 2004

July 2007

 

Junior Resident

All India Institute of Medical Sciences, New Delhi, India.

July              2001

 

June 2004
Society Memberships
1. Life Member of the Society for Mitochondrial Research and Medicine, India.
2. Life Member, Indian Association for Cancer Research.
3. Life Member of Immunology Society of India.
4. Life member of Association of Medical Biochemists of India
Research Focus of the Lab:
The broad research focus of my laboratory is on different aspects of lipid metabolism in cancer and obesity. Some of our research revolves around the role of ABCA1, involved in lipid efflux, in maintaining adipocyte homeostasis in obesity since we observed a lower gene expression of this transporter in the visceral adipose tissue of obese individuals. We are looking at pathways related to adipocyte ABCA1 and some lipid species that could drive insulin resistance in obesity.  We are also trying to understand the functional correlates of the athero-protective lipoprotein molecule, High Density Lipoprotein and its different components in coronary artery disease.  Our research is aimed at assessing the measure of HDL's function with respect to its key physiological roles i.e., in reverse cholesterol transport, antioxidative capacity, endothelial reactivity etc. Our aim is to understand the implications of changes in the quality of various HDL associated molecules such as ApoA1 and Sphingosine-1-phosphate. Our cancer research focuses on analysing various aspects of metabolic reprogramming in pediatric B-ALL. We have recently found inter-tumor heterogeneity in the expression of lipid metabolism enzymes like ACSM3, ACSL1 to pediatric B-ALL cases and we are planning to apply various approaches to explore the underlying mechanisms for this observation. Other aspects of interest include bioenergetics, mitochondrial biogenesis and factors regulating mitochondrial DNA copy number in leukemia.  We also engage in research devoted to public health nutrition in the context of dietary quality and nutritional status of indigenous tribal communities of India. Our work encompasses food systems sustainability research and I am a collaborator on a recently awarded Team Science Grant on this theme in which my role is to develop successful diagnostic technologies for micronutrient assessment that can be feasible and cost-effective for assessing micronutrient status in these vulnerable communities. We are ably supported in our research work by two experienced and sincere laboratory technicians. We are an enthusiastic research group, promoting collaborative work and constantly endeavouring to publish and disseminate our work across the global research community.
In keeping with our interest in metabolism, we enjoy experimenting with various cuisines and enjoy varied culinary experiences to rejuvenate ourselves occasionally.
We have a vibrant and enthusiastic team in the lab that is always striving to enhance their academic and extra-curricular skills.
List of Lab members
Dr.Bhanupriya Awasthi, Postdoctoral Fellow.

Dr. Vinnyfred Vincent, Doctoral student (Not in pic).

Ms. Sakshi Shukla, Doctoral student.

Dr.Anudeep P P, Doctoral student and Senior demonstrator(Not in pic).

Ms. Bhanupriya Tanwar, M.Sc. student.

Dr. Abishek G, MD student.

Ms.Dolly Rathore, Laboratory Technician.

Mr.Mudassir Ali, Laboratory Technician.
Positions Available: Expected in January 2023.
Some Key publications:
Singh A, Baalasubramanian S, Kalaivani M, Kapoor R, Bhagwat K, Ghosh-Jerath S. Standardisation and application of a novel multiplex assay for estimating micronutrient status and inflammatory markers in women of Sauria Paharia and Santhal tribes of Jharkhand. Br J Nutr. 2022:1-16. doi: 10.1017/S0007114522000320.

Sen A, Singh A, Roy A, Mohanty S, Naik N, Kalaivani M, Ramakrishnan L. Role of endothelial colony forming cells (ECFCs) Tetrahydrobiopterin (BH4) in determining ECFCs functionality in coronary artery disease (CAD) patients. Sci Rep. 2022;12(1):3076. doi: 10.1038/s41598-022-06758-8. PMID: 35197509.

Singh R, Jain A, Palanichamy JK, Nag TC, Bakhshi S, Singh A. Ultrastructural changes in cristae of lymphoblasts in acute lymphoblastic leukemia parallel alterations in biogenesis markers. Appl Microsc. 2021 Dec 29;51(1):20. doi: 10.1186/s42649-021-00069-4. PMID: 34964922.

Sachan A, Singh A, Shukla S, Aggarwal S, Mir I, Yadav R. An immediate post op and follow up assessment of circulating adipo-cytokines after bariatric surgery in morbid obesity. Metabol Open. 2021 Nov 1;13:100147. doi: 10.1016/j.metop.2021.100147. PMID: 34993466; PMCID: PMC8713110.

Thakkar H, Vincent V, Roy A, Gautam AK, Kutum R, Ramakrishnan L, Singh S, Singh A. Determinants of high-density lipoprotein (HDL) functions beyond proteome in Asian Indians: exploring the fatty acid profile of HDL phospholipids. Mol Cell Biochem. 2021. doi: 10.1007/s11010-021-04304-0. Epub ahead of print. PMID: 34843015.

Thakkar H, Vincent V, Shukla S, Sra M, Kanga U, Aggarwal S, Singh A. Improvements in cholesterol efflux capacity of HDL and adiponectin contribute to mitigation in cardiovascular disease risk after bariatric surgery in a cohort with morbid obesity. Diabetol Metab Syndr. 2021 Apr 17;13(1):46. doi: 10.1186/s13098-021-00662-3. PMID: 33865458; PMCID: PMC8053301.

Thakkar H, Vincent V, Sen A, Singh A, Roy A. Changing Perspectives on HDL: From Simple Quantity Measurements to Functional Quality Assessment. J Lipids. 2021 Apr 26;2021:5585521. doi: 10.1155/2021/5585521. PMID: 33996157; PMCID: PMC8096543.

Ghosh-Jerath S, Kapoor R, Singh A, Downs S, Barman S, Fanzo J. Leveraging Traditional Ecological Knowledge and Access to Nutrient-Rich Indigenous Foods to Help Achieve SDG 2: An Analysis of the Indigenous Foods of Sauria Paharias, a Vulnerable Tribal Community in Jharkhand, India. Front Nutr. 2020 Jun 2;7:61. doi: 10.3389/fnut.2020.00061. PMID: 32582750; PMCID: PMC7280452.

Thakkar H, Vincent V, Roy A, Singh S, Ramakrishnan L, Kalaivani M, Singh A. HDL functions and their interaction in patients with ST elevation myocardial infarction: a case control study. Lipids Health Dis. 2020 Apr 15;19(1):75. doi: 10.1186/s12944-020-01260-4. PMID: 32293456; PMCID: PMC7158160.

Vincent V, Thakkar H, Verma A, Sen A, Chandran N, Singh A. A novel flow cytometry-based quantitative monocyte adhesion assay to estimate endothelial cell activation in vitro. Biotechniques. 2020;68(6):325-333. doi:10.2144/btn-2019-0169. PMID: 32283953.

Ghosh-Jerath S, Downs S, Singh A, Paramanik S, Goldberg G, Fanzo J. Innovative matrix for applying a food systems approach for developing interventions to address nutrient deficiencies in indigenous communities in India: a study protocol. BMC Public Health. 2019;19(1):944. doi:10.1186/s12889-019-6963-2. PubMed PMID: 31307415.

Tyagi A, Pramanik R, Bakhshi R, Singh A, Vishnubhatla S, Bakhshi S. Expression of mitochondrial genes predicts survival in pediatric acute myeloid leukemia. Int J Hematol. 2019 Aug;110(2):205-212. doi: 10.1007/s12185-019-02666-2.

13.  Vinnyfred Vincent, Himani Thakkar, Sandeep Aggarwal, Asit Mridha, Lakshmy Ramakrishnan, Archna Singh. ATP binding cassette transporter A1 (ABCA1) expression in adipose tissue and its modulation with insulin resistance in obesity. Diabetes Metab Syndr Obes. 2019; 12:275-284. doi: 10.2147/DMSO.S186565.

Suparna Ghosh-Jerath, Archna Singh, Tanica Lyngdoh, Melina S Magsumbol, Preeti Kamboj, Gail Goldberg. Estimates of indigenous food consumption and their contribution to nutrient intake in Oraon tribal women of Jharkhand, India. Food and Nutrition Bulletin. 2018 Dec;39(4):581-594. doi: 10.1177/0379572118805652.

Tyagi A, Pramanik R, Vishnubhatla S, Ali S, Bakhshi R, Chopra A, Singh A, Bakhshi S. Pattern         of mitochondrial D-loop variations and their relation with mitochondrial encoded genes in pediatric acute myeloid leukemia. Mutat Res. 2018 Jul;810:13-18. doi: 10.1016/j.mrfmmm.2018.05.002.

Jain A, Bakhshi S, Thakkar H, Gerards M, Singh A. Elevated mitochondrial DNA copy numbers  in pediatric acute lymphoblastic leukemia: A potential biomarker for predicting inferior survival.   Pediatr Blood Cancer. 2018;65(3). doi: 10.1002/pbc.26874.

Ghosh-Jerath S, Singh A, Magsumbol MS, Lyngdoh T, Kamboj P, Goldberg G. Contribution of indigenous foods towards nutrient intakes and nutritional status of women in the Santhal tribal community of Jharkhand, India. Public Health Nutr. 2016, 16:1-12.

Gupta V, Downs SM, Ghosh-Jerath S, Lock K, Singh A. Unhealthy Fat in Street and Snack Foods in Low-Socioeconomic Settings in India: A Case Study of the Food Environments of Rural Villages and an Urban Slum. J Nutr Educ Behav. 2016, 48(4):269-279.e1. doi: 10.1016/j.jneb.2015.11.006.Epub 2016 Feb 9.