Dr. Archna Singh, Associate Professor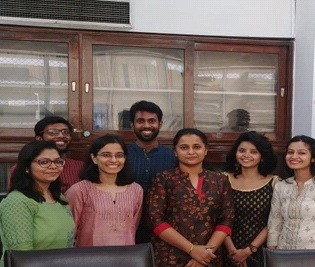 Left to right: Ritika Singh, Nikhil Chandran, Himani Thakkar, Vinnyfred Vincent, Archna Singh, Sakshi Shukla, Ayushi Jain.
Address: Room Nos. 3044 and 3046a,
                 Department of biochemistry,
                 AIIMS, New Delhi.
Phone: 011-26593635; 26593478
Email id: This email address is being protected from spambots. You need JavaScript enabled to view it. , This email address is being protected from spambots. You need JavaScript enabled to view it.
Academic Details:
Degree

University

Subject

Year

MBBS

 

Nalanda Medical College, Patna, India

 

Medicine, Surgery, Gynecology

1998

 

M.D.

All India Institute of Medical Sciences, Delhi, India

Biochemistry

2004

Ph. D

All India Institute of Medical Sciences, Delhi, India

Biochemistry

2008

MPH

University of Michigan, Ann Arbor, US

Environmental Health (Nutrition concentration)

2008
Positions held:
| | | | |
| --- | --- | --- | --- |
| Position | Institution/Place | From | To |
| Associate Professor | All India Institute of Medical Sciences, New Delhi, India. | July 2016 | Present |
| Assistant Professor | All India Institute of Medical Sciences, New Delhi, India. | Nov 2012 | June 2016 |
| Assistant Professor | IIPH-D, Public Health Foundation of India, New Delhi, India. | Jan 2009 | Oct 2012   |
| Senior Resident | All India Institute of Medical Sciences, New Delhi, India | 2004 | 2007:                  |
| Junior Resident | All India Institute of Medical Sciences, New Delhi, India. | 2001 | 2004 |
Society Memberships
Life Member of the Society for Mitochondrial Research and Medicine, India.
Life Member, Indian Association for Cancer Research.
Life Member of Immunology Society of India.
Life member of Association of Medical Biochemists of India
Research Focus of the Lab:
The broad research focus of my laboratory is on different aspects of lipid and tumor metabolism. Specifically, we are trying to understand the functionalcorrelates of the athero-protective lipoprotein molecule, High Density Lipoprotein and its different components in coronary artery disease.  Recent evidence calls for a re-evaluation of the classical measure of HDL function for estimating its protective effect which is HDL cholesterol. Our research is aimed at assessing the measure of HDL's functionwith respect to its key physiological roles i.e. in reverse cholesterol transport, antioxidative capacity, endothelial reactivity etc. We also want to analyse and understand the implications of  changes in the quality of the different molecules on  HDL that are necessary for these functions such as ApoA1, the HDL associated enzyme paraoxonase,and Sphingosine-1-phosphate.In the context of regulation intracellular lipid metabolism, some of our work is exploring the role of ABCA1 in maintaining adipocyte homeostasis in obesity since we have found lower expression of this transporter in the visceral adipose tissue of obese individuals. Our cancer research involves an attempt to grasp the relevance of alterations in mitochondrial DNA to leukemia metabolism. Our goal is to analyse the effect of changes in quantitative content of mitochondrial DNA on leukemia tumorigenesis, and possibly, reprogramming the metabolic state of the tumor cells. Our work involves the analysis of mitochondrial copy number, its regulation, relevance to intra-tumor heterogeneity and possible ramifications for mitochondrial biogenesis, bioenergetics and metabolism in pediatricleukemia.  I also engage in  public health nutrition research in the context of dietary quality and nutritional status of indigenous tribal communities and theconsumption of indigenous foods available from the unique agroforestry environment accessible to them and am a collaborator on a Wellcome Trust/DBT India Alliance fellowship on this theme.
We have a vibrant and enthusiastic team in the lab that is always looking to enhance their academic and extra-curricular skills.
List of Lab members
Ms. Himani Sharma, Doctoral student.
Ms. Ayushi Jain, Doctoral student.
Dr.Vinnyfred Vincent, Doctoral student and Wellcome Trust/DBT India Alliance  Fellow.
Ms. Sakshi Shukla, Doctoral student
Ms. Ritika Singh, M.Sc. student
Dr.Nikhil Chandran K , MD student
Positions Available: None
Key publications:
Vinnyfred Vincent, Himani Thakkar, Sandeep Aggarwal, AsitMridha, Lakshmy Ramakrishnan, Archna Singh. ATP binding cassette transporter A1 (ABCA1) expression in adipose tissue and its modulation with insulin resistance in obesity. Diabetes, Metabolic Syndrome and Obesity: Targets and Therapy. In Press
Suparna Ghosh-Jerath, Archna Singh, TanicaLyngdoh, Melina S Magsumbol, Preeti Kamboj, Gail Goldberg. Estimates of indigenous food consumption and their contribution to nutrient intake in Oraon tribal women of Jharkhand, India. Food and Nutrition Bulletin. In Press
Tyagi A, Pramanik R, Vishnubhatla S, Ali S, Bakhshi R, Chopra A, Singh A, Bakhshi S. Pattern of mitochondrial D-loop variations and their relation with mitochondrialencoded genes in pediatric acute myeloid leukemia. Mutat Res. 2018 Jul;810:13-18. doi: 10.1016/j.mrfmmm.2018.05.002. Epub 2018 May 24.
Jain A, Bakhshi S, Thakkar H, Gerards M, Singh A. Elevated mitochondrial DNA copy numbers in pediatric acute lymphoblastic leukemia: A potential biomarker for predicting inferior survival. Pediatr Blood Cancer. 2018;65(3). doi: 10.1002/pbc.26874.
Ghosh-Jerath S, Singh A, Magsumbol MS, Lyngdoh T, Kamboj P,Goldberg G. Contribution of indigenous foods towards nutrient intakes and nutritional status of women in the Santhal tribal community of Jharkhand, India. Public Health Nutr. 2016, 16:1-12.
Gupta V, Downs SM, Ghosh-Jerath S, Lock K, Singh A. Unhealthy Fat in Street and Snack Foods in Low-Socioeconomic Settings in India: A Case Study of the Food Environments of Rural Villages and an Urban Slum. J NutrEducBehav. 2016, 48(4):269-279.e1. doi: 10.1016/j.jneb.2015.11.006.Epub 2016 Feb 9.
Singh Archna, Gupta Vidhu, Ghosh Arpita, Lock Karen, Ghosh-JerathSuparna. Quantitative estimates of dietary intake with special emphasis on snacking pattern and nutritional status of free living adults in urban slums of Delhi: impact of nutrition transition. BMC Nutrition. 2015, 1:22. doi: 10.1186/s40795-015-0018-6
Shauna M Downs, Archna Singh, Vidhu Gupta, Karen Lock and Suparna Ghosh-Jerath.The need for multisectoral food chain approaches to reduce trans fat consumption in India. BMC Public Health. BMC Public Health. 2015;15(1):693. doi: 10.1186/s12889-015-1988-7.
Downs SM, Gupta V, Ghosh-Jerath S, Lock K, Thow AM, Singh A. Reformulating
partially hydrogenated vegetable oils to maximise health gains in India: is it feasible and will it meet consumer demand? BMC Public Health. 2013; 13: 1139. doi: 10.1186/1471-2458-13-1139.