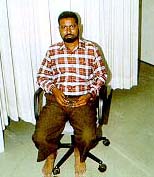 Shri Devi Ram, the first heart transplant patient in India, operated on 3 August 1994 at AIIMS.
However, the strength of AIIMS lies not in numbers, but in availability under one roof of the best
team of medical and surgical experts, state-of-the-art equipment, and our capacity to rise to the
occasion to meet diagnostic or public health challenges.Be it the autoanalyser or the linear
accelerator,magnetic resonance imaging or the gamma knife, AIIMS has them all. Once
something new arrives on the scene,someone, somewhere in the Institute takes the initiative and
musters the energy and drive required to get it
.